Reinforce border fence with pigs' heads to better repel refugees, Hungarian MEP proposes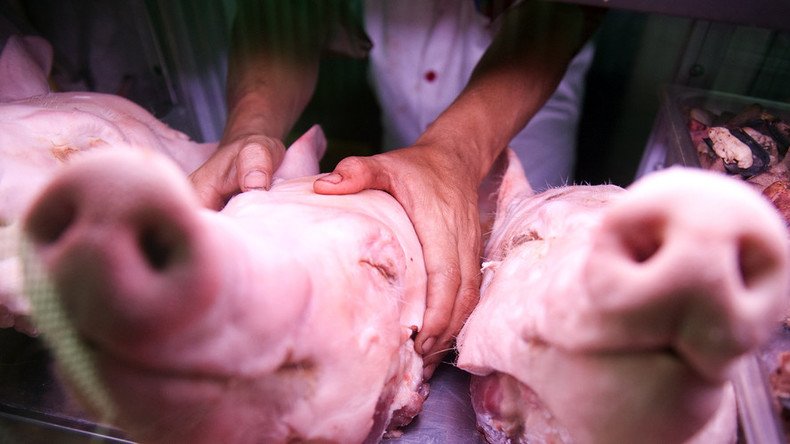 While makeshift scarecrows placed on border fences might keep refugees from entering Hungary, severed pigs' heads would be an even better deterrent, a Hungarian MEP has said sparking a barrage of criticism and drawing bitter comments online.
READ MORE: Creepy scarecrows keep migrants away from Hungarian border? (PHOTOS)
On Friday, Human Rights Watch director Andrew Stroehlein condemned the placement of vegetable-made masks on border fences in an alleged attempt to scare off refugees. The images of creepy-looking heads which were said to be carved from sugar beets emerged online last week.
"Refugees are fleeing war & torture, Hungary. Your root vegetable heads will not deter them," Stroehlein said on Twitter.
Responding to Stroehlein's remark, Hungarian politician Gyorgy Schopflin who represents the ruling Fidesz party in the European Parliament "agreed" that "pig's head would deter more effectively."
The two men then got into a heated argument joined by other Twitter users. Stroehlein said that it was absolutely unacceptable for an MP to come up with such a proposal.
"Your words are disgusting. I would expect that from anonymous neo-Nazi trolls but you're an MEP. Act like one," he said accusing the politician of "spouting such xenophobic filth".
In his turn, the MP said Schopflin's remarks "were beginning to resemble hate speech".
Others mocked the politician's proposal, saying it is a "shame" that people like him get to represent Hungary.
In a bid to counter illegal migrant-crossings Hungary erected a fence with barbed wire on a border with Serbia last year. It also introduced a state of emergency in the country in March 2015 due to the migrant crisis. The government is set to hold a referendum on October 2 which will decide if the country will further accept the EU's mandatory migrant quota system.
You can share this story on social media: