German police detain suspected ISIS supporter, say no evidence of terror plot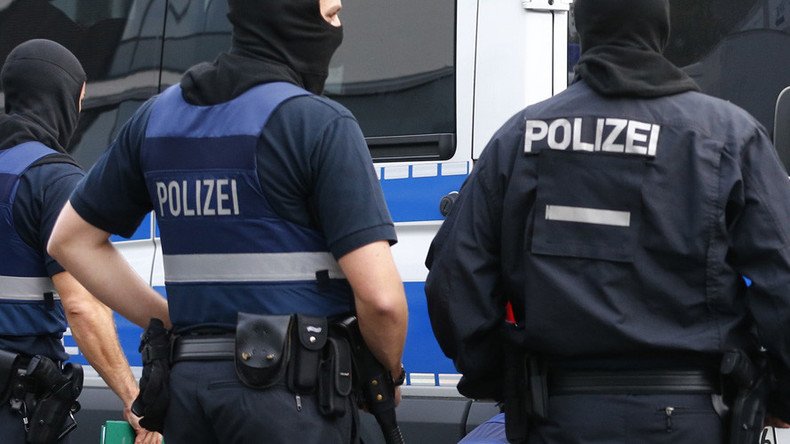 German officials have found no concrete evidence proving that a suspected ISIS supporter who was arrested in a town in east Germany on Wednesday had been plotting a terror attack. However, they said that a terror link is not off the table.
German authorities dismissed earlier reports in the German media that police detained a man, who had been planning a terrorist attack on a local festival in the German town of Eisenhuttenstadt, and that explosives had been found in his apartment.
As a result of the search of the suspect's apartment, police only managed to find "a small number of pyrotechnical products of foreign manufacture," a statement of the Prosecutor's Office in the city of Frankfurt (Oder) says.
The head of the regional Brandenburg Police Department, Hans-Juergen Moerke, told German broadcaster RBB that suspicion of terrorism against the detained man is yet "not off the table."
Moerke also stressed that many materials glorifying Islamic State (IS, formerly ISIS/ISIL) has been found in the suspect's apartment.
However, regional police department of the German state of Brandenburg also partly dismissed the allegations concerning the possible Salafist background of the suspect by saying that he was actually "mentally unstable" and was a member of both far right and far left youth groups over different periods of time.
Brandenburg's Prime Minister Dietmar Woidke explained the situation by saying that German authorities take every tip concerning a possible terrorist threat very seriously. At the same time, he did not rule out that the man detained on Wednesday might have an Islamist background.
Previous reports postulated that the suspect planned to set off an improvised explosive device filled with nails at the festival.
Eisenhuttenstadt is a town with 30,000 inhabitants located on the German border with Poland, 120 kilometers from Berlin. It also hosts the central refugee reception center in the German region of Brandenburg.
Woidke had previously confirmed his detention and told journalists that a "police operation was carried out on suspicion of [a man] possessing explosives and preparing a terrorist attack," as reported by Tagesspiegel daily. The detained person is also suspected of having links to Islamists.
Germany witnessed a series of terrorist attacks and violent incidents last months. Two attacks were linked to Islamic State and two more had no links to any terrorist group. On July 18, a 17-year-old "unaccompanied minor" of Afghan origin armed with an ax and a knife attacked commuters on a train in Wurzburg, injuring five people.
Another attack occurred on July 24 in the Bavarian city of Ansbach, where a 27-year-old Syrian, who had been rejected asylum, set off an improvised bomb hidden in his backpack, killing himself and injuring 12 people.
At the same time, Germany's domestic intelligence agency said on August 15 it has recorded at least 340 attempts by Islamic State and other Islamist groups to recruit potential fighters in refugee centers and local mosques.
Meanwhile, the Bavarian intelligence service warned that IS fighters could have infiltrated Germany posing as refugees, citing "irrefutable evidence" of planned attacks.
German domestic intelligence service (BfV) also estimates that about 43,000 Islamists live now in Germany, stressing that their numbers significantly increased in the last years, Bild daily reports. It also added that it sees many such Islamic radicals as "dangerous."
You can share this story on social media: