Refugees did not bring Islamist terrorism to Germany – Merkel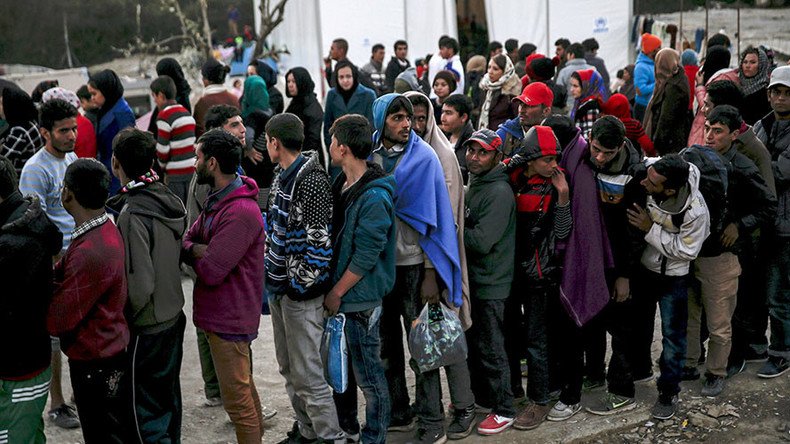 Refugees did not bring terrorism to Germany, Chancellor Angela Merkel has said stressing that Islamist extremism was already there before the migrant influx worsened. The comment comes a month after she admitted terrorists used the migrant flow to enter Europe.
"The phenomenon of Islamist terrorism, of IS, is not a phenomenon that came to us with the refugees, we rather have and had it," Merkel said as she spoke at an election campaign event ahead of the regional vote due to take place in the eastern region of Mecklenburg-Western Pomerania on September 4, Reuters reported on Wednesday. Terrorism is something Germany already had suffered in the past, Merkel noted.
The German leader added that Islam had a full right to exist in the country along with any other religion and could be practiced as long as it did not breach the constitution.
"We have said clearly that an Islam that works and lives on the basis of the constitution ... belongs to Germany," Merkel said, maintaining that terrorism and refugee influx are totally separate matters.
She went on to comment on mosques in which so-called "radical Islam" is allegedly being spread, saying "they are under surveillance, under strict surveillance, which is justified. I think that we have to be constantly up-to-date with this matter. We already said that we are going to do Imam courses at German universities for the sake of transparency."
Merkel vowed to increase the state's capacities in order to safeguard Germany's internal security.
"You can have as many police officers as you want – if they don't have the right mandates, if they are unmotivated because they are not allowed to do this or that, if certain things cannot be punished: Then it is not enough [to increase police personnel]," Merkel said. "Therefore it is right for the Union [CDU] to combine both elements – more personnel and more rights to intervene."
Merkel also voiced concern that a growing number of Germans have been traveling overseas to join ISIS. According to Interior Minister Thomas de Maiziere, a total of 800 people were reported to have gone to Syria and Iraq.
"This group has worried us for several years," Merkel said.
Merkel's statements come a month after she admitted that militant groups used the refugee influx to smuggle terrorists into Europe. "In part, the refugee flow was even used to smuggle terrorists," she said.
Fleeing war-zones and poverty, more than a million refugees arrived to Germany last year. An anti-refugee sentiment has been especially high among German citizens since the country saw a spate of attacks last month. Those included a shooting spree in Munich, an ax attack near the town of Würzburg and a suicide bombing in Bavarian city of Ansbach. Migrants are said to be responsible for three recent incidents, two of which were linked to Islamist terrorism.
In the wake of the series of attacks Merkel saw another sharp drop in her ratings while the anti-immigration Alternative for Germany party (AfD) has been enjoying increased support. According to the latest poll, Merkel's approval ratings dropped by 12 points and currently stand at 47 percent. Despite a drop in popularity and recent attacks, Merkel reiterated that Germany's refugee policy will remain unchanged.
You can share this story on social media: