Merkel's party calls for full-face Muslim veil ban as 'burqa contrary to integration'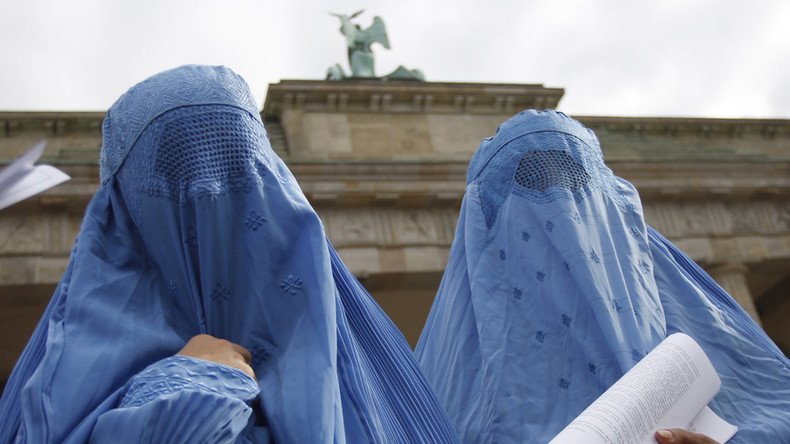 Angela Merkel's conservative party is considering prohibiting burqa in public places, adding that a full-face veil does not help Muslims to integrate. The announcement comes after three French towns introduced a ban on burqinis, Muslim female swimwear.
The proposal was announced on Monday by members of the conservative Christian Democrats (CDU) party.
"The CDU agrees that the full-face veil is contrary to integration," CDU party general secretary Peter Tauber said, as cited by DPA agency. "We therefore reject it."
The calls by the CDU come despite the fact that Germany's Interior Minister Thomas de Maiziere remains opposed to the general ban.
"You can't forbid everything you reject," he said earlier.
German Green Party member Tarek Al-Wazir said on Friday that though he finds "full-face veil wrong, but you can't ban everything you refuse."
Germany has been on high alert since a number of deadly attacks there. In July an 18-year-old German-Iranian went on shooting spree in the city of Munich, leaving 10 people dead, including the shooter. At least 27 others were injured, some critically.
READ MORE: Burqinis banned by one more French resort, mayor cites 'hygienic reasons'
Also in July, five people were injured and over a dozen left in shock when an ax- and knife-wielding man assaulted passengers on a train near the town of Würzburg. The attacker, also linked to Islamic State (IS, formerly ISIS), then tried to escape the train, but was cornered by German special forces and eventually gunned down.
One more incident in July left at least 12 people injured after a backpack bomb struck a bar in the southern German city of Ansbach, Bavaria. The bomber who had pledged allegiance to the IS, was the only fatality.
Following the spate of attacks, Germany's leading coalition parties said they were readying a set of new security laws to fight extremism. De Maiziere is reportedly planning to include a ban on financing of mosques by extremist organizations and the abolition of dual citizenship.
The proposal to ban burqa is not the first 'crackdown' on Muslim women wear from EU officials in the recent weeks.
The mayor of Cannes, on the French Riviera, David Lisnard, had ruled that burqinis should be banned on the city's beaches. The town's head of municipal services, Thierry Migoule, said the ruling concerns only "ostentatious clothing which refers to an allegiance to terrorist movements which are at war with us."
Then another French town in French Riviera, Villeneuve-Loubet, outlawed burqinis for "hygienic reasons," according to the town's mayor, Lionnel Luca, who made the decision.
READ MORE: Corsica mayor bans burqinis after violent brawl sparked by Muslim swimwear
A village on the French island of Corsica became the third place in France to ban burqinis after the female Muslim swimwear reportedly caused a violent brawl between locals and migrants of North African origin there.
On Monday, the Pennes-Mirabeau commune near Marseille canceled a controversial pool party that had been planned by a Muslim group due to strong public reaction. The organizers, the Smile 13 group, which describes itself on Facebook as a sports and social event group for women and children, said they had received death threats, with one person even claiming they had received bullets in the mail.
You can share this story on social media: