Burqinis banned by one more French resort, mayor cites 'hygienic reasons'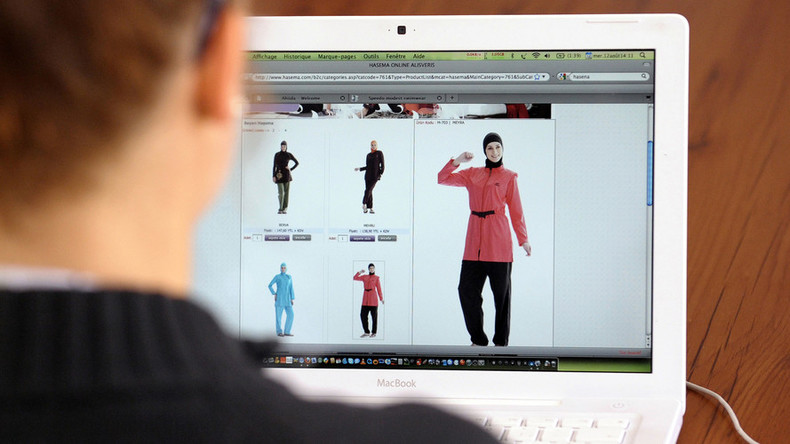 One more French Riviera town has outlawed burqinis since the city of Cannes issued a ban on the Muslim swimwear for women. This time, the mayor says the decision was made for "hygienic reasons."
"I was informed that there was a couple on one of our beaches where the wife was swimming fully dressed," Lionnel Luca, the mayor of Villeneuve-Loubet, a town with 15,000 residents, told AFP. "I considered that unacceptable for hygienic reasons and that, in general, it was unwelcome."
The decree enacting the ban was signed on August 5, but was only made public on Saturday. The text of the order says "access to swimming is prohibited from July 1 to August 31 for anyone not in appropriate dress, which respects morality and the principle of secularism, and respects the rules of hygiene and safety," the Le Monde newspaper, which saw the text, reported.
Luca explained that the ban was put in place "to avoid any disturbance to public order in a region that has been hit by [recent terrorist] attacks."
According to Luca, in France, people don't come to the beach "dressed to display one's religious convictions, especially as they are false convictions which the religion does not ask for."
Earlier on Friday, it was announced that Cannes Mayor David Lisnard had ruled that burqinis should be banned on the city's beaches. "Access to beaches and for swimming is banned to anyone who does not have [bathing apparel] that respects good customs and secularism," his ruling read.
People who are seen wearing burqinis on the beach will first be verbally told to change their swimwear or leave. If they refuse to comply, they will be fined €38.
On Saturday ten girls from Cannes contacted the Muslim Federation of the South, saying they had not been allowed to swim, Federation spokesman Feiza Ben Mohamed told Le Monde.
READ MORE: 'Burqini' pool party near Marseille canceled, organizers cite death threats
On Monday, the Pennes-Mirabeau commune near Marseille cancelled a controversial "burqini" pool party planned by a Muslim group following strong reaction from the public. The organizers, the Smile 13 group, which describes itself on Facebook as a sports and social event group for women and children, said they had received death threats, with one person even claiming that they had received bullets in the mail.
France has been hit by a series of Islamic State-linked (IS, formerly ISIS/ISIL) attacks since January of 2015. The worst occurred in November of 2015, when at least 130 people were killed in Paris, after which France introduced a state of emergency that is still in place.
Another tragedy took place in Nice, killing at least 84 people on July 14, when a truck driven by an IS sympathizer plowed through a crowd during Bastille Day celebrations.
You can share this story on social media: