Burqinis banned from Cannes beaches for showing 'allegiance to terrorists' – French official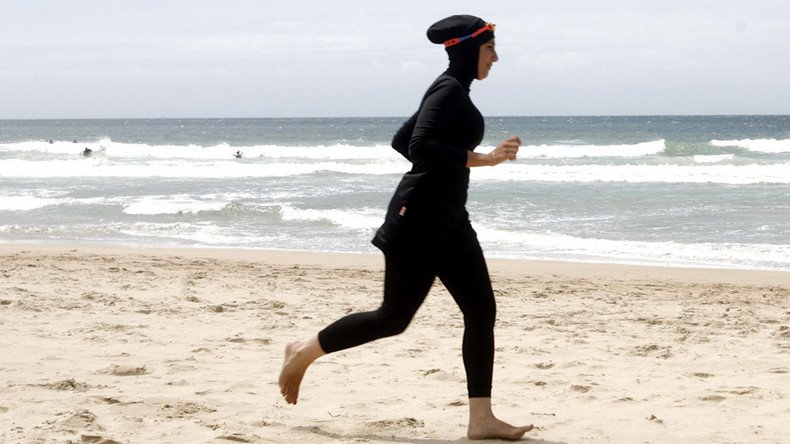 Cannes Mayor David Lisnard has ruled that burqinis, a special Muslim swimsuit that covers the entire body, should be banned on the city's beaches.
"Access to beaches and for swimming is banned to anyone who does not have [bathing apparel] which respects good customs and secularism," his ruling read, as quoted by AFP.
"Beachwear which ostentatiously displays religious affiliation, when France and places of worship are currently the target of terrorist attacks, is liable to create risks of disrupting public order (crowds, scuffles etc) which it is necessary to prevent," it added.
The decree was initially signed on July 28, and is set to remain in force until August 31, French media reported.
People who are seen wearing burqinis on the beach will first be verbally told to change their swimwear or leave. If they refuse to comply, they will be fined €38.
The town's head of municipal services, Thierry Migoule, said the ruling doesn't ban "the wearing of religious symbols on the beach" completely, but only "ostentatious clothing which refers to an allegiance to terrorist movements which are at war with us."
Migoule noted that no burqinis have been seen on any beach in Cannes since the ruling was signed.
This isn't the first burqini scandal this summer. At the beginning of August, a controversial "burqini pool party" that had been planned in Marseille was canceled after the event received outrageous and sometimes insulting comments on social networks. Some of the organizers even received death threats.
Tensions are running high in France since a number of deadly and chilling terrorist attacks have rocked the country this summer.
On July 26, two attackers stormed into a church in northern France and slit the throat of an 86-year-old priest, while taking several people hostage.
On July 14, Bastille Day, a truck plowed through a crowd in Nice, leaving 85 people dead and hundreds injured.
You can share this story on social media: