Turkey's military cracks down on Kurds in anti-PKK op
Published time: 17 Mar, 2016 05:05
Edited time: 18 Mar, 2016 12:25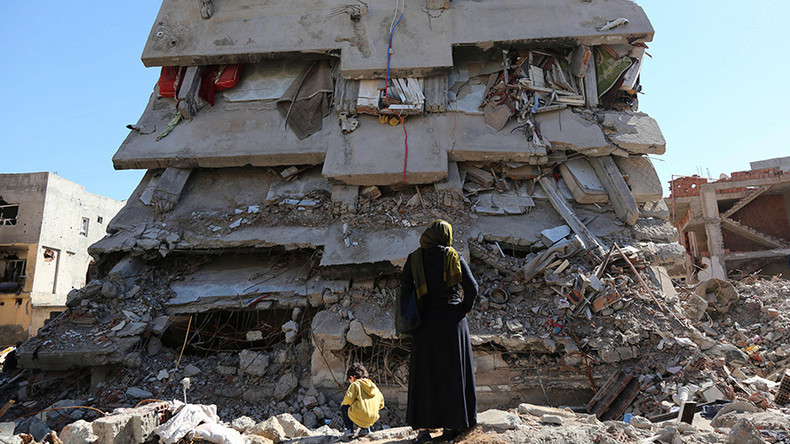 Harrowing accounts of the alleged massacre of dozens of Kurdish civilians in the Turkish town of Cizre have emerged, as Ankara continues its crackdown on Kurdish fighters in the country's southeast, coupled with shelling Kurds' positions in Syria and bombing them in Iraq.
10 May 2016

13:49 GMT

Human Rights Watch (HRW) says Turkish border guards are continuing to shoot and abuse Syrian refugees, and has urged Ankara to investigate. It has also called on Turkey to re-open its borders, despite Ankara claiming that it has an open-door policy for migrants.

05 April 2016

10:28 GMT

A curfew has been declared in another town inhabited by Kurds in southeast Turkey. Silopi came under curfew following an attack by Kurdish militants on a police convoy that left one dead and four injured.

10:25 GMT

About 100 children and 96 women have died since July 2015, during the new spike in the conflict between the Turkish government and Kurdish nationals, reports RIA Novosti, citing a bulletin from the Turkish Democratic Peoples' Party (HDP).

10:15 GMT

The Turkish military has inflicted airstrikes in northern Iraq on targets belonging to the Kurdistan Workers' Party (PKK). The airstrikes were delivered in Iraqi Kurdistan's remote mountainous Qandil region, the principle base of the PKK. The Turkish army reported the strikes eliminated various PKK installations, among them weapon stores and hideouts.

29 March 2016

12:27 GMT

Fighters from the Kurdistan Workers' Party (PKK) have kidnapped a Turkish official, Salih Zeki Cetinkaya, Turkish media report. He was abducted on Tuesday while on his way from Erzurum to Sanliurfa province after his car was stopped by Kurdish militants and his identification revealed.

"The kidnapping occurred as Cetinkaya was traveling with his brother and another person from Erzurum to Sanliurfa," the party's Erzurum provincial president, Fatih Yesilyurt said, as reported by Anadolu news agency.

"The [fighters] released Cetinkaya's brother and the third person, taking Cetinkaya with them. Cetinkaya's brother and the third person are at the Duru Gendarmerie Station of Lice town in Diyarbakır province," he added.

Cetinkaya is the head of the Turkish AK (Justice and Development) Party for the district of Ispir. The party is the largest in Turkey and has a majority in parliament. Its former head is the country's President Recep Tayyip Erdogan.

28 March 2016

13:20 GMT

The curfew imposed in the Turkish towns of Cizre and Silopi has been mildly relaxed, as reported by Turkish news outlet Milliyet.

Under new regulations, the curfew will be in place from 9:30pm to 4:30am local time.

A written statement from the governor of Sirnak stated as follows:

"Cities of Cizre and Silopi are the center of the separatist terrorist organization. To neutralize its members and protect our citizens' lives, we impose a partial curfew to be applied on Monday, March 28, from 9:30 in the evening to 4:30 in the morning."

The previous regulations applied in Silopi on January, 19 imposed a curfew from 6pm to 5am local time, while in Cizre, starting on March, 2, the curfew was in action from 7:30pm to 5am local time.

12:39 GMT

President Recep Tayyip Erdogan says Turkish security forces have neutralized 5,359 militants from the Kurdistan Workers' Party (PKK) within the country and beyond its borders since July 2015, while more than 350 servicemen have lost their lives.

"Since the beginning of the anti-terror operation in July last year, we lost 355 people to date - including 215 soldiers, 133 policemen and seven security guards, but we will not leave the shedding of the blood of our heroes unpunished. During the same period within the country and abroad we neutralized, injured or captured 5,359 extremists," Erdogan said while speaking at a military academy, as reported by Anadolu news agency.

He added that Ankara will continue its crackdown on the PKK, which is deemed a terrorist organization in Turkey. "Despite the fact that terrorists are receiving support from abroad, […] we will continue to walk our way without compromising," he said.

Representatives of the pro-Kurdish People's Party claim that hundreds of civilians have been killed since the army began its crackdown on the Kurds.

25 March 2016

12:00 GMT

18 villages and townships in the Silvan district of Diyarbakar have been given curfews, which took effect today at 11:00am local time, Turkish media report.

24 March 2016

18:10 GMT

The Foreign Affairs Committee of the British House of Commons has called on the UK Foreign Office to put pressure on Turkey to stop the attacks on Syrian Kurdish People's Protection Units (YPG), a report issued on Thursday said.

"The UK must press Turkey to refrain from taking any further action against YPG forces and play a constructive role towards shared objectives in the defeat of ISIL [Islamic State, IS, Daesh, formerly ISIS]," the document said, according to Sputnik.

"It is not acceptable for the UK, in return for Turkish co-operation on EU migration priorities as per the deal agreed on March 18, to turn a blind eye towards the brutal Turkish government suppression of legitimate Kurdish aspirations at home and in neighboring states," it added.