RT reporter teargassed while filming unrest in Diyarbakir, Turkey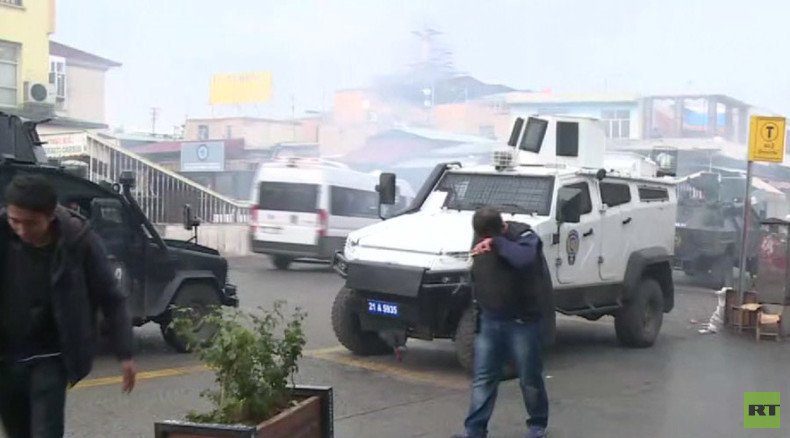 An RT news crew has been caught in a tear gas attack by Turkish police in Diyarbakir. Police responded as Kurds were protesting the killing of a prominent lawyer, Tahir Elci, shot dead by unidentified gunmen while giving a public speech on Saturday.
"We came into the city center of Diyarbakir just now," said RT correspondent William Whiteman. "The whole city had been on lockdown over night after there were sounds of heavy automatic gunfire and there were a lot of explosions during the night."
He said the barricades in the city center were removed early on Monday morning and the RT crew tried to enter the center of Diyarbakir. They were looking to get to the spot where the lawyer Tahir Elci was shot.
"As soon as we arrived here there was a very tense situation and there were security forces out in full force in the streets with guns and we heard gunshots," Whiteman reported.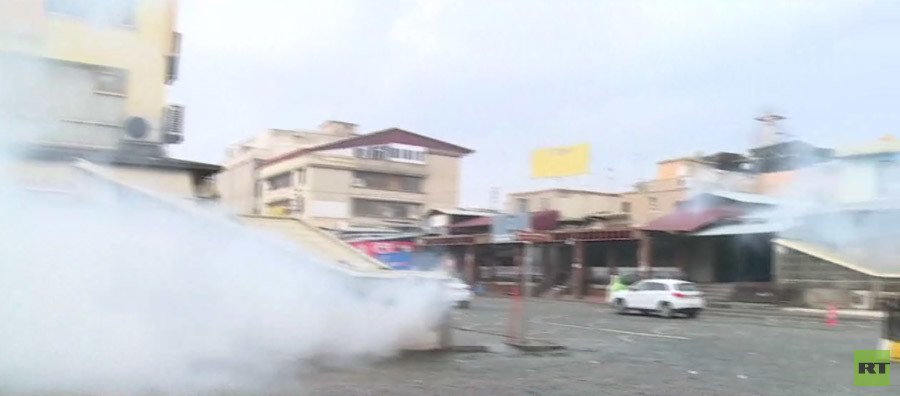 "We have just managed to escape the gas now and it is very intense here," Whiteman added.
A campaigner for Kurdish rights, Tahir Elci had been criticized for challenging Turkey's official stance of calling the Kurdistan Workers Party (PKK) a terrorist organization.
He was subsequently shot dead on Saturday, while giving a public speech in the city.
"The government came out about an hour after he was killed and said it was the PKK that had killed him, even despite the fact that Tahir Elci was actively defending the PKK and calling for them to be no longer recognized as a terrorist organization, given all of their involvement in fighting ISIL in Syria," Whiteman mentioned, describing why local Kurds have been even more incensed by the shooting of the rights campaigner.
"This assassination is a deliberate act of political intimidation against all those who take part in political struggles against injustice in Turkey," Firat Anli, a human rights lawyer and friend of Tahir Elci told RT.
"Social media and the mass media say this has been carried out by the PKK, but the Kurdish region does not buy any of this," he added.
Whiteman mentioned that there is a lot of skepticism amongst the local Kurdish population as to the claims made by the government, while adding that the Turkish authorities are using this as an excuse to clamp down further against the Kurdish minorities in south eastern Turkey.
You can share this story on social media: