Pro-Kurdish rallies hit European capitals following Turkish bombing raids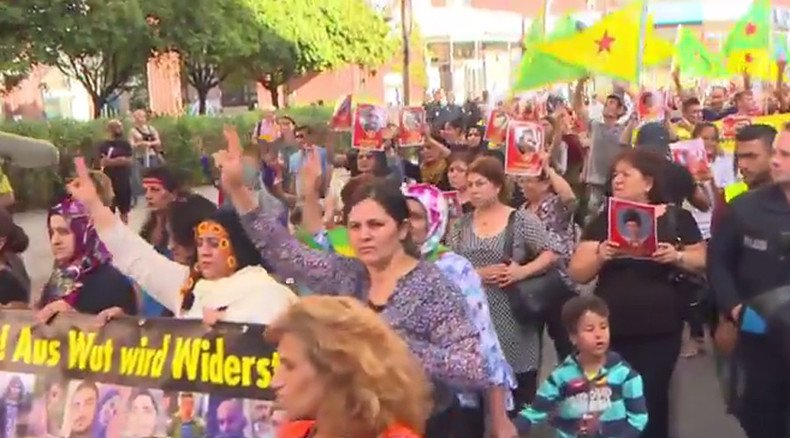 Hundreds of pro-Kurdish protesters have taken to the streets in the capitals of Europe's three largest economies, rallying against Turkish airstrikes targeting Kurdistan Workers' Party (PKK) fighters in northern Iraq and Syria.
Protesters in Germany, France and the UK rallied on Saturday against the Turkish government, whose airstrikes on Kurdish Peshmerga militia positions in northern Iraq broke a truce that had lasted since 2013.
In Great Britain, a pro-Kurdish rally blocked BBC headquarters in London, during a march that started at Downing Street. Protestors were angry with the Turkish government in a show of solidarity with the victims of the Suruc massacre.
The protesters carried banners "Turkish government funds ISIS," "Mass action to defeat ISIS," "Down with fascism in Turkey," "Erdogan [Turkish PM], blood on your hands" "No to terror! No to imperialism," and chanted "BBC, shame on you!" and "We want justice!"
Many protesters held photos bearing victims's names in the terror act in Turkey's Suruc last Monday. Others carried red flags of the Kurdistan Workers' Party (PKK).
Only a handful of police officers were present, symbolically protecting the entrance to BBC headquarters. The nature of the protest was markedly peaceful.
Hundreds of pro-Kurdish protesters rallied in the German capital on Saturday to remember the Suruc massacre victims and express support for the Turkish Kurds. The demonstrators carried portraits of Suruc victims, red and green flags of the PKK, flags of the unrecognized Kurdistan state and chanted songs in Kurdish.
The police presence during the march in Berlin was much heavier than in the British capital. German law enforcement officers were dressed in riot gear, although they carried the helmets in their hands or attached to their belts.
In London, speakers addressed the protesting crowd mostly in English, while at the Berlin rally Kurdish was mostly heard over the loudspeakers. However, banners carried by protesters were almost all in German.
The pro-Kurdish rally in France was probably the largest, with around 2,000 protesters gathering in the streets of Paris to rally against the recent Turkish airstrikes targeting Kurdistan Workers' Party (PKK) fighters in northern Iraq.
Young activists in red T-shirts carried portraits of Suruc victims and chanted "Erdogan assassin."
Last Monday, a suicide bomber, a 20-year-old Kurdish national, killed 32 youth activists in the town of Suruc. All the victims were Kurds and Islamic State claimed responsibility for the atrocity.
The terror attack caused a new eruption of violence in Turkey. The Kurds have accused the Turkish authorities of a laissez-faire approach towards Islamic State.
A series of terror acts targeting Turkish police, carried out by Kurdish activists this week, claimed the lives of two Turkish law enforcers and wounded seven.
In return, Ankara began bombing positions of the Kurdish Peshmerga militia in northern Iraq on Friday evening.
The Kurdistan Workers Party announced on its website that after the airstrikes and ground military attacks against the Peshmerga, who are fighting Islamic State on the Syrian-Turkish border, the truce with Turkey has "no meaning anymore."
You can share this story on social media: