4 Kurdish civilians killed after home shelled by Turkish army in anti-PKK operation - reports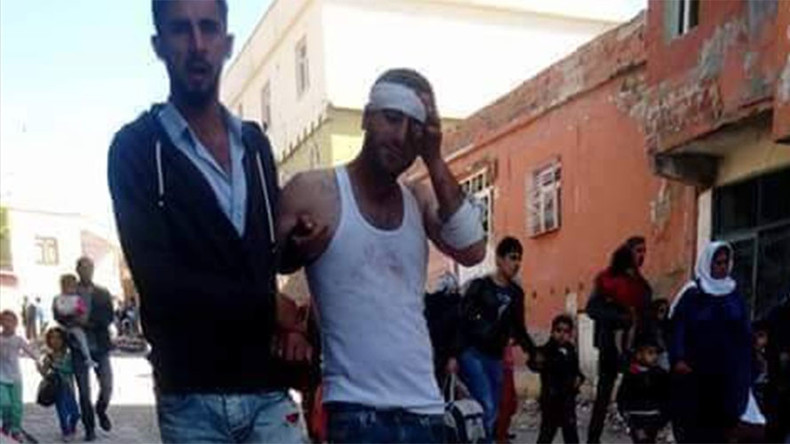 Four civilians were killed after their house was bombed in the Kurdish city of Silopi, Turkey, the pro-Kurdish Dicle News Agency (DİHA) reported. The shelling by Ankara forced many residents to flee the area, according to social media reports.
The four victims were from the same family, among them a 70-year-old woman, according to Ferhat Encü, an MP from the Peoples' Democratic Party (HDP) who represents Silopi.
A photo posted online showed smoke billowing from the premises.
Another picture showed the destruction left behind by the shelling.
The bombardment reportedly prompted many residents to flee Silopi, located close to the Syrian and Iraqi borders, with suitcases and personal belongings.
"Some of them are trying to leave the town," Encü told RT.
Two neighborhoods in the city have been emptied by security forces, and people are being detained at various locations, Encü said. He added that heavy clashes between security forces and PKK fighters are taking place in both of the neighborhoods which are being evacuated.
"There are a lot houses being [set] on fire. People are being forced to leave their homes. They are being beaten," Encü said.
Twitter user @biliyorlar reported that authorities are forcibly evacuating people from their homes using water cannon, even though they have no place to go. He added that tanks are continuing to fire.
It comes just one day after a curfew was imposed on Silopi, following an attack on an armored police vehicle that left one officer dead and four injured. The curfew was announced to residents via loudspeakers mounted on minarets and police vehicles.
The bombardment and curfew come as Ankara continues its operation against militants from the Kurdistan Workers Party (PKK) in the southeast, which Turkish President Tayyip Erdogan has vowed will continue until the last militant is "neutralized."
The military campaign began in mid-2015, after Ankara ended a two-year ceasefire agreement and revived a conflict that has claimed more than 40,000 lives since 1984.
Since then, the operation has been condemned by European leaders and human rights organizations. RT also launched a petition urging the UN to investigate claims of alleged mass killing of Kurdish civilians.
Kurdish militants are fighting for the right to self-determination and greater autonomy for Kurds – demands which Ankara rejects. Since July, almost 400 soldiers and police and several thousand militants have been killed in the conflict, according to government figures. Opposition parties say between 500 and 1,000 civilians have also been killed in the fighting.