'Erasing from map'? Scenes of destruction as Turkish military besiege Kurdish town of Silvan (VIDEO)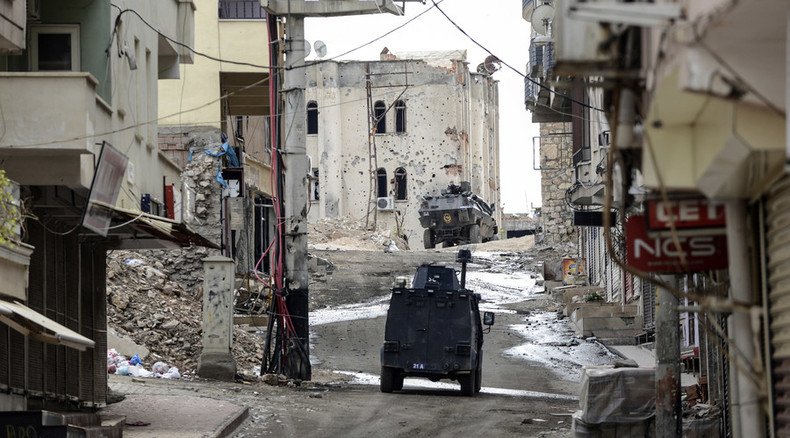 Armored vehicles patrolling the streets, reports of starvation looming and civilians killed - a small pro-Kurdish town of Silvan has become a hotspot after the Turkish military launched an operation on November 3. The curfew has entered its second week.
The city neighborhoods of Tekel, Mescit and Konak have been mostly hit by the shelling as journalists at the scene reported of shattered glass, debris in the streets and bullet-riddled buildings.
"Witnesses said the police had started shooting at the tea house out of the blue," said Omer Onen, the co-chair of HDP's Diyarbakir office, as cited by AFP. "There is no access to communication, people are at risk of starvation. They [Turkish military] didn't give us any permission to distribute food."
HDP deputy Ziya Pir claimed an official from the Interior Ministry told them that the security forces "will erase three Silvan neighborhoods from the map," as cited by Evrensel newspaper.
Several people have been killed since the curfew was launched in the city on November 3. AFP reported seven casualties, which included two civilians and a policeman. Local IMC news website said that a small boy was killed in the shelling.
LISTEN MORE:
"You can be killed while drinking tea or while going to buy bread by snipers or police vehicles in Silvan," another deputy from the HDP, Çaglar Demirel, said.
Peoples' Democratic Party (HDP) lawmaker Sibel Yigitalp told AFP that Turkish soldiers have been randomly shelling civilian homes in Silvan.
"If you are using tanks in residential areas, it means you have launched a war on your own people."
She later told Cihan news agency that HDP can't "get any information from the people living there."
"We are concerned about their lives. They cannot even meet their basic needs under the curfew. There is no power and clean water," Yigitalp said.
READ MORE: Turkey threatens 'whatever necessary' to combat Kurdish autonomy 'mindset' in Syria
READ MORE: 17 PKK members killed in Turkish military assault on Kurdish city of Silvan – reports
The city of Silvan (population 43,000) has seen clashes between Turkish forces and members of the Kurdistan Workers Party (PKK) since August this year.
The PKK, founded in 1978, has been fighting the Turkish state since 1984 for the Kurdish self-determination. Kurds make up 10-25 percent of Turkey's population.
READ MORE: Kurdish PKK militant group pledges to stop attacks in Turkey ahead of elections
PKK is considered as a terrorist organization by Turkey, the US and NATO. In October, Ankara deployed armored vehicles and helicopters in Silvan. At least 17 PKK were killed as a result of the operation.
READ MORE: Turkey arrests opposition journalists for 'plotting coup' in wide-ranging crackdown
"If you look at the pictures from the town of Silvan now it looks as if you were looking at pictures from the town of Aleppo [Syria] or any other war-torn city in Syria," Middle East political risk analysts Shwan Zulal told RT.
"If you look at the recent events in the past six months, since June's election, the violence has escalated," he said. "Obviously the president's party did not get the majority they wanted in June, and given the escalation of violence, and what happened a couple of weeks ago in the Turkish election, where the violence really paid off for the ruling AK party in Turkey."
You can share this story on social media: