Turkish troops make Iraq incursion to pursue PKK militants following fatal attack – report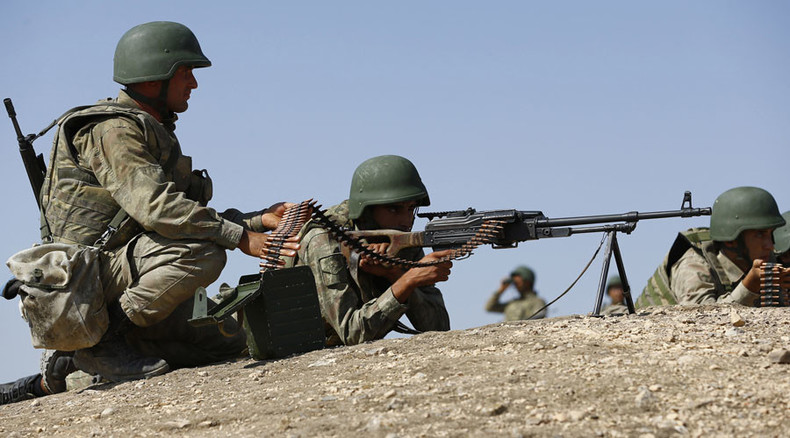 Turkish special forces have crossed into northern Iraq in a ground incursion aimed at pursuing Kurdistan Workers' Party (PKK) militants who launched a fatal attack on the army on Sunday.
Two units have entered the country to chase in "hot pursuit" two 20-strong groups of PKK militants after an attack that left 16 soldiers dead, Dogan news agency reported.
The surprise attack on an armored convoy took place in Turkey's Hakkari province on Sunday, located near the borders with Iraq and Iran.
On Tuesday, four Turkish police officers were wounded in a rocket attack on an armored vehicle by PKK militants in the southeast, according to a security source.
Earlier in the day, at least 13 officers were killed in a bomb attack on a police minibus in the Turkish province of Igdir, a government official told Reuters. The bus was reportedly transporting police officers to the Dilucu border post that links Turkey to Azerbaijan's Nakhchivan Autonomous Republic when it was hit near the village of Hasankoy.
Kurds, who have lived in Turkey for centuries, have been fighting with Turkish authorities for several decades. They are demanding an independent state or at least greater autonomy.
The Turkish government has been 'Turkinizing' Kurds, and has been cracking down them for hundreds of years.
The PKK, the Turkish Kurds' main insurgent group, is considered a terrorist organization by Turkey, the US and NATO. It was founded in 1978 and has been engaged in fighting with Turkey since 1984.
Kurds also live in neighboring Iraq, Syria, and Iran.