Kurdish militants claim killing 15 Turkish soldiers in ambush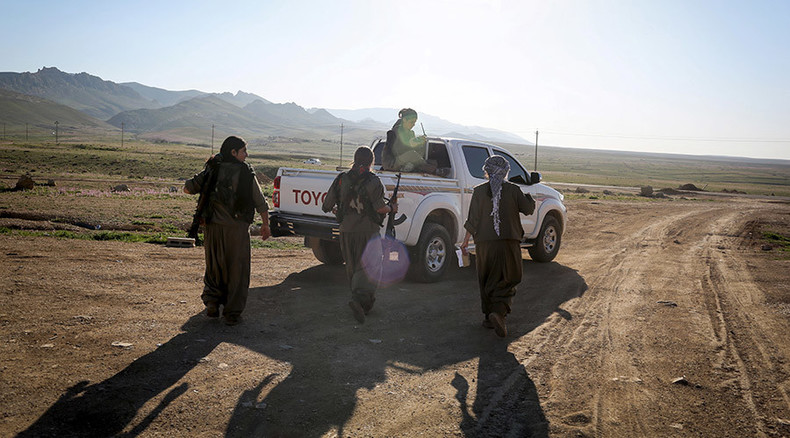 The Kurdistan Workers' Party (PKK) has claimed that its fighters have killed 15 Turkish soldiers in a surprise attack on an armored convoy. While Ankara has not yet confirmed the number of casualties, Turkish jets reportedly retaliated to the attack, hitting almost a dozen PPK targets.
PKK militants ambushed the military convoy in Turkey's southeastern Yuksekova district, according to the group's statement posted online on Sunday. The attack allegedly left "15 soldiers dead," while the Kurdish fighters managed to seize "a large number of weapons."
In a TV speech, the Turkish President, Recep Teyyip Erdogan, confirmed that the incident had occurred in the country's Hakkari province, not far from the borders with Iraq and Iran, although he neither confirmed nor disproved the PPK's claims concerning the number of casualties among the Turkish soldiers.
Turkish jets retaliated, hitting at least 10 PKK targets, a senior security official told Reuters, adding that those behind the ambush were targeted as well.
The Sunday ambush became the high point in a series of attacks carried out by Kurdish fighters since July, which, according to Turkish officials, have resulted in the deaths of at least 70 Turkish security services personnel and hundreds of Kurdish militants, as reported by Reuters.
Kurds have been fighting with Turkish authorities for several decades, demanding an independent state or at least greater autonomy. The Turkish Kurds' main insurgent group, the PKK, considered as a terrorist organization by Turkey, the US and NATO, was founded in 1978 and has been engaged in fighting with Turkey since 1984.
In 2013, a ceasefire was brokered between Turkey and the PKK, although a new outbreak of violence occurred after the deadly Islamic State attack on the Turkish town of Suruc which claimed the lives mostly of Kurdish people. The Kurds accused Turkey of "supporting and cultivating" the Islamic State and of using Kurds as a shield.
The end of July witnessed a series of attacks against Turkish police and military personnel, for which Turkey blamed the Kurdish Workers' Party. Several suspected PKK members were killed by the Turkish security services in various border regions of Turkey, with the country's forces attacking Kurdistan Workers' Party (PKK) targets in northern Iraq alongside Islamic State positions.