Turkish jets strike Kurdish positions in Iraq amid rising tension between Ankara & Baghdad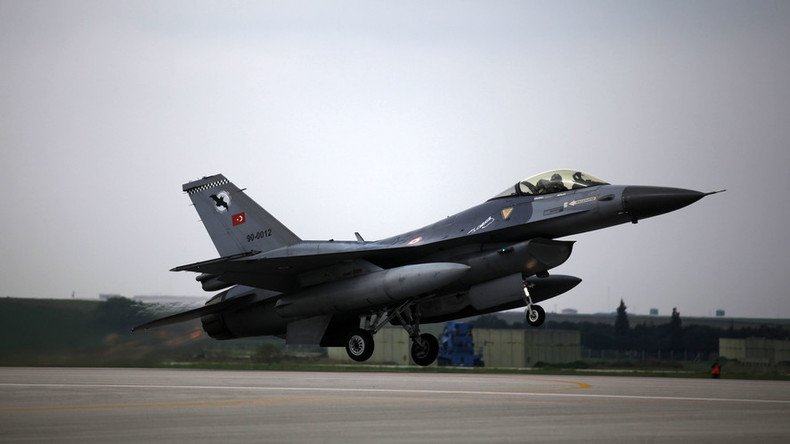 Ankara carried out airstrikes targeting Kurdistan Workers' Party (PKK) forces in northern Iraq, the Turkish army said on Wednesday. The action comes in the wake of rising tensions between Ankara and Baghdad over the deployment of Turkish troops in Iraq.
Ten F-16 fighter jets launched an attack between 10pm and 10:50pm on Tuesday, targeting PKK positions in the Kandil, Hakurk, Zap and Avasin-Baysan regions in northern Iraq, the Turkish General Staff said in a statement. It added that the targets were "destroyed in an aerial campaign."
Tensions have been rising between Ankara and Baghdad after Turkey deployed hundreds of troops equipped with tanks and artillery to Iraq's northern Nineveh Governorate last Thursday, saying they will train forces battling Islamic State (IS, formerly ISIS/ISIL).
Baghdad said it had not asked for the help of Turkish forces, and demanded their withdrawal after it said Turkey had "illegally" sent the troops into Iraq. Describing the move as violation of sovereignty, the Iraqi government also asked NATO to intervene.
Meanwhile, Shiite paramilitary groups have threatened to use force against Turkey unless it pulls its forces out of Iraq. Likening the Turkish incursion to the occupation of Iraq by IS militants, Badr Brigade spokesman Karim al-Nuri said "all options" were available.
"We have the right to respond and we do not exclude any type of response until the Turks have learned their lesson," Nuri said on Wednesday. "Do they have a dream of restoring Ottoman greatness? This is a great delusion and they will pay dearly because of Turkish arrogance."
Also on Wednesday, the Iraqi parliament unanimously approved a motion condemning the Turkish intervention, supporting the government in taking whatever measures it viewed as appropriate.
Russia raised the issue at a meeting of the UN Security Council on Tuesday, expressing hope that Ankara will avoid escalating the situation in the region with any further reckless actions. Following the meeting, Russia's UN envoy Vitaly Churkin said that Moscow expects Ankara to "settle the situation in Iraq in a way that would satisfy the Iraqi government."
"Now the situation is within the focus of the attention of the Security Council, so we hope it will help resolve [it] to the satisfaction of the Iraqi government, whose sovereignty, territorial integrity and independence will be respected," he said.
Russian Foreign Minister Sergey Lavrov slammed Ankara's actions while speaking to Italian media on Wednesday.
Lavrov proposed a thorough examination of how Turkey performs goals set by the coalition in Syria. "We need to examine how a member of the US-led coalition – the Republic of Turkey – performs goals set by the coalition," the minister said. "Why is it not bombing terrorists as such, but the Kurds instead?"
READ MORE: West's reaction to Turkish invasion – an exercise in hypocrisy
On Wednesday, Ankara argued that Turkish soldiers were sent to northern Iraq after a threat from IS to Turkish military trainers in the area. Prime Minister Ahmet Davutoglu said that the deployment was an act of solidarity, not aggression.
"The [military] trainers in the Bashiqa camp were threatened by Daesh (Islamic State) because it is 15-20 kilometers from Mosul and they have only light arms," he told media in Istanbul. "So when these threats increased... we sent some troops to protect the camp, not as an act of aggression but as an act of solidarity."
You can share this story on social media: