Ukraine authorities in massive 'Rename Soviet Places' drive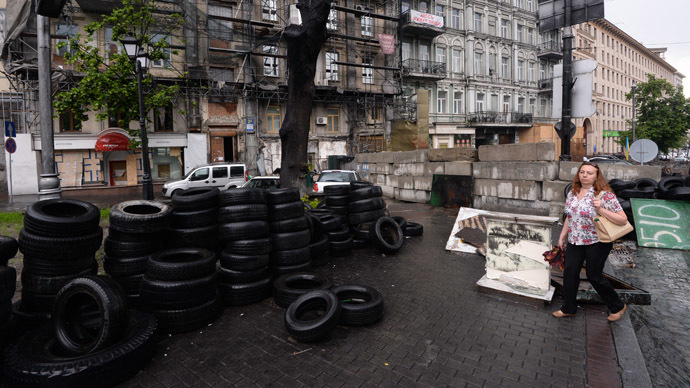 Authorities in the Ukrainian capital, Kiev, are set to rename several dozen streets, replacing the names of Soviet revolutionaries and commanders with those of Ukrainian public figures, to further cut historical connection to joint history with Russia.
President Petro Poroshenko's aide Yury Lutsenko wrote on his Facebook page that all paperwork for renaming 26 of the capital's streets is ready and now needs to be submitted to the city council by Kiev's Mayor Vitaly Klitschko.
"This is routine. There's no other way," Lutsenko wrote.
The first time the idea to rename streets was voiced in July by the deputy head of Dnepropetrovsk Region administration, Andrey Filatov.
READ MORE: Massive Lenin statue sawn down, toppled in Ukraine's Kharkov (PHOTOS, VIDEO)
Though the Maidan revolution has been over for six months now, the campaign against Soviet monuments continues as another Lenin statue was recently taken down in the city of Kharkov by a nationalist-led mob. Moods to reinstate Nazi collaborators as national heroes, on the other hand, are yet again on the rise.
Whatever the ideology, renaming the streets is a costly undertaking, as replacing old signs with new ones will force a deep dip into Kiev's budget, not to mention the necessity to rewrite all addresses of citizens and businesses in official documents.
Under the conditions of total budget deficit in the Ukrainian capital, the bill for the patriotic initiative of Kiev authorities is most likely to be footed by Ukrainian taxpayers.
The country's economy is walking a tightrope, being ravaged by financing the military offensive in eastern Ukraine and eliminating economic ties with Russia.
READ MORE: Ukraine turmoil result of European-wide security crisis - Lavrov
With winter looming and the capital living without hot water for two months now, Kiev authorities may have had more pressing issues on which to spend money.
You can share this story on social media: