The Cost of War: Ukraine's economy to pay heavy price for offensive in the east
Financing the military offensive in eastern Ukraine is now proving to be a major economic headache for Kiev. The cost of rebuilding conflict-torn eastern Ukraine may reach $8 billion, Prime Minister Arseny Yatsenyuk has indicated.
As long as the military offensive in the east continues, Ukraine has to further dig into its fast-depleting state coffers to support the operation. If the war continues through next year, it could cost the country more than $1.5 billion, or $6 million per day.
"According to preliminary estimates we've ran, if the anti-terror operation continues at its current level, next year we will need 20 billion hryvnia ($1.6 billion)," Ukraine's Deputy Minister of Finance Vladimir Matvychuk said last week.
In August, President Petro Poroshenko said $6 million was being spent per day on the military operation, which prompted Prime Minister Arseny Yatsenyuk to promise more for the defense budget.
On Tuesday, Yatsenyuk indicated the cost of rebuilding the conflict-torn eastern regions may reach $8 billion. "Two months ago our estimates were 8 billion hryvnia, now I assure you that you can change hryvnia to dollars [in the estimate] – its cost is billions of dollars of destroyed infrastructure," the PM said.
Each soldier fighting in Kiev's military offensive receives a basic salary of $640 (8,000 UAH) per month, and battalion commanders earn twice that, $1275 (16,000 UAH), according to figures from an official recruiting office in Kiev. Both beat the average Ukrainian monthly salary of $280 (3,537 UAH) in July 2014, according to the Ukrainian Bureau of Statistics.
The price is a high for an economy that is on the verge of default, and is struggling to pay its debt, and keep its currency stable while to military conflict continues.
On Thursday, the Organization for Security and Cooperation in Europe (OSCE) said the Ukraine crisis cannot be solved by military means.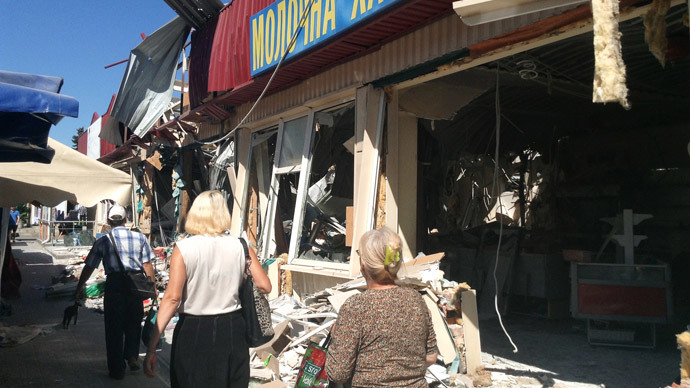 The International Monetary Fund said that Kiev may need an additional $19 billion in external foreign aid if the war does not end by 2015.
"They were in a depression before, and they couldn't get out of it- they needed IMF or Russian money. And now that's been magnified by the costs of the war," Gerald Celente, the Publisher of Trends Journal, told RT.
The war has stunted economic output in the country's eastern regions.
Continuous fighting in the east has more or less killed business in the industrial areas, which account for about 15 percent of Ukraine's gross domestic product. The loss of production is especially hitting the energy sector - 90 percent of country's coal mines are in the eastern Donbass region, and most are closed.
"How many markets will close down? How many opportunities will be lost? How much infrastructure will be destroyed? So the cost of war is far greater than being estimated now by 'officials and authorities'," Celente asks.
Fighting between the Ukrainian army and anti-government forces has hit agriculture, construction, and trade as well.
But the most devastating loss does not have a monetary value. Over 2,600 civilians have been killed since April, or 36 people per day and over 1 million people have been forced to flee their homes.
You can share this story on social media: