Ukraine moves step closer to default - Fitch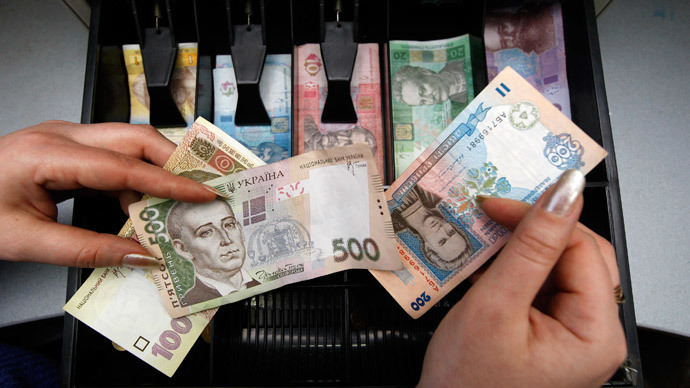 The Fitch ratings agency has downgraded Ukraine one step closer to default grade, as the Ukrainian currency the hryvnia hits a record low, and the economy balances on the brink of a collapse.
Fitch cut the long-term local currency Issuer Default Rating (IDR) of Ukraine from B-,signifying a default risk, to CCC, where default is a real possibility, and affirmed its long-term foreign currency IDR at CCC, it said in a statement on Friday.
The downgrade came amid deteriorating economic outlook due to the ongoing military conflict in Ukraine.
"Although the government has recaptured territory from the rebels, conflict may persist or intensify, delaying economic revival and damaging productive assets," says Fitch's statement.
The Ukrainian currency has lost 39 percent against the US dollar this year, on Friday reaching an all-time low at 13.7 hryvnia to the dollar. Last week the hryvnia lost 3.1 percent, while in August the currency fell by 9.4 percent.
Exports to Russia, Ukraine's largest export market, and source of energy imports plunged by 24 percent in the first half of 2014. Gas supplies from Gazprom were cutin June in a payment dispute threatening energy shortages.
Fitch forecasts the real GDP to shrink at least 6.5 percent by the end of the year; a figure much worse than the agency expected in February. The growth forecast for 2015 and 2016 is assumed to be zero.
Among all the 104 countries that are rated by Fitch, only Argentina which could not pay the interest on the debt and declared a default the last month is lower than Ukraine.
The current year has been disastrous for the Ukrainian economy.
The government sought help from the International Monetary Fund (IMF), which promised to provide a loan of $17 billion to stave off bankruptcy.
The first $3.2 billion tranche was provided in May, but the decision to provide the second is still pending.
The second tranche of financial aid will promote the stabilization of the hryvnia, Ukraine's Prime Minister Arseniy Yatsenyuk said on August 19.
The Washington-based lender said Ukraine qualifies for the $1.4 billion disbursement, which may be approved by August 29, according to Yatsenyuk.
READ MORE: War in east Ukraine to leave economy in ashes. Who will pay for recovery?
In February, another rating agency S&P downgraded Ukraine's rating to CCC, meanwhile Moody's Investors Service rating is at Caa3 (poor quality and very high credit risk) which is two steps above default.
You can share this story on social media: