London stock exchange takes a hit over Ukraine crisis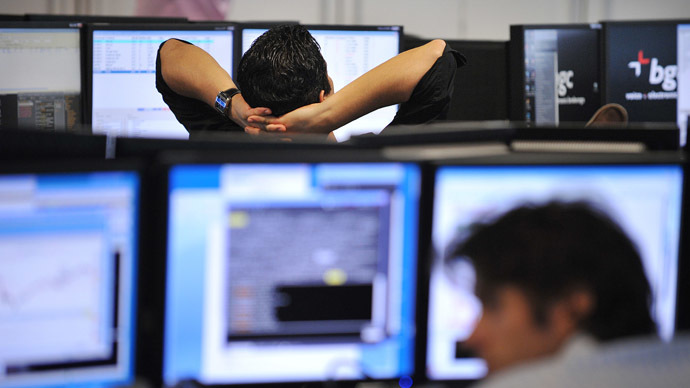 The index of Britain's 100 most valuable shares slumped on Wednesday amid rising concerns over the Ukraine crisis and some gloomy economic data.
News of slumping British shares on the London Stock Exchange follow reports that British industrial output and manufacturing grew less than forecast in June.
The FTSE 100 – a share index of the UK's 100 leading companies by market capitalization – had fallen 1.2 percent by Wednesday afternoon. That put it on course for its biggest fall since July 8 and a three-month low.
Markets were also reacting to reports that Russian President Vladimir Putin has ordered retaliatory economic measures against Western sanctions.
A one-year ban has been imposed on certain agricultural produce, foods and raw materials from countries that have sanctioned Russia. A law on economic measures to protect the country's security has been signed by President Putin.
Following the gloomy British industrial output and manufacturing forecast, analysts warned that the strength of the pound and the weakness of the eurozone economies could be holding back growth in manufacturing.
The slump ended a two-day recovery for markets after last week's trading was dented by a string of global events, including a debt default in Argentina and the banking crisis in Portugal.
"As the tensions mount, we'll see more of a correction on the equity markets. The mentality now is not to buy on dips but to sell on rallies," said Securequity sales trader Jawaid Afsar.
The European Union and the United States recently agreed tough new sanctions against Russia, marking a new phase in the biggest confrontation between Moscow and the West since the Cold War.
The package of sanctions include an arms embargo, a ban on the sale of bonds and equities in European capital markets by state-owned Russian banks and a ban on the sale of dual use and sensitive technology.
Early predictions suggest London would be hit hardest among the EU powers because of its intimate financial relationship with Moscow.
London has more than 50 companies that have operations in Russia on its $3.6 billion Stock Exchange. Russian companies often choose London for their initial public offerings, and borrow from London-based banks.
Russia's ambassador to Britain, Alexander Yakovenko, has said expanding sanctions to major banks in Moscow will have a contagious effect on London and the world economy.
Yakovenko said more sanctions "will trigger a long anticipated endgame of the present global crisis," and called them "illegal, unreasonable and counter-productive."
You can share this story on social media: