'EU sanctions on Russia will hit UK economy' – Foreign Secretary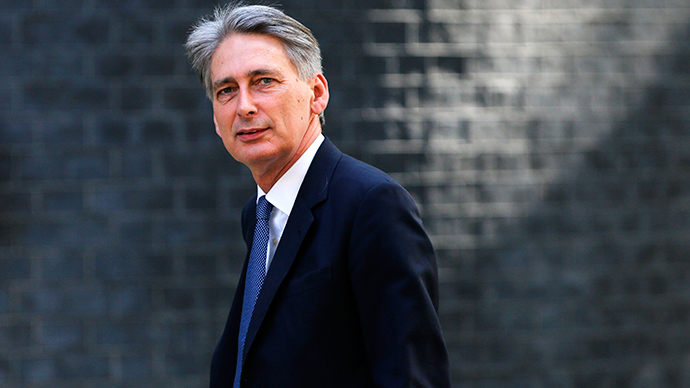 EU sanctions aimed at 'imposing economic pain' on Russia following the MH17 crash will hit the UK economy, Foreign Secretary Philip Hammond has warned, saying 'you can't make an omelette without breaking eggs'.
Read more:EU sanctions on Russian finance could cripple London
EU sanctions: Moscow disappointed by EU's inability to act independently of US
The package of sanctions include an arms embargo, a ban on the sale of bonds and equities in European capital markets by state-owned Russian banks and a ban on the sale of dual use and sensitive technology. Eight Russian officials also face asset freezes and travel bans.
Hammond said the measures had been "designed to maximize the impact on Russia and minimize the impact on EU economies."
"It will affect our economy... but you can't make an omelet without breaking eggs, and if we want to impose economic pain on Russia in order to try to encourage it to behave properly in eastern Ukraine and to give access to the crash site, then we have to be prepared to take these measures," he told Sky.
"We have spent a lot of time making sure the package is balanced so the pain is fairly shared across the big EU economies, but we can't expect to be able to do this without any impact at all on our own economies."
On Wednesday, The Russian Foreign Ministry criticized the new package of EU sanctions, saying it was disappointed Europe was unable to act independently form Washington in the International arena.

"We feel ashamed for the European Union who, after long searching for a unified voice is now speaking with Washington's voice, having practically abandoned basic European values, including the presumption of innocence," the Foreign Ministry said in a statement.
The EU's adoption of new anti-Russian sanctions on July 29 demonstrates its lack of political will in general, as well as a lack of determination to resolve the Ukrainian crisis, the Ministry added.
Meanwhile, London will be hit hardest among the EU powers because of its intimate financial relationship with Moscow. Ripples will be felt in the City of London – the heart of the world's financial centre.
Between 2004 and 2008, Russia's top two lenders raised $16.4 billion in floats – the process of changing a private company into a public company by issuing shares and calling on the public to buy them. A ban on such financing would cost London hundreds of millions of pounds, the Times reports.
London has more than 50 companies that have operations in Russia on its $3.6 billion Stock Exchange. Russian companies often choose London for their initial public offerings, and borrow debt from London-based banks.
Russia's ambassador to Britain, Alexander Yakovenko, said expanding sanctions to major banks in Moscow will have a contagion effect on London and the world economy.
Yakovenko said more sanctions "will trigger a long anticipated endgame of the present global crisis," and called them "illegal, unreasonable and counter-productive."
You can share this story on social media: