Putin bans agricultural imports from sanctioning countries for 1 year
A one-year ban has been imposed on certain agricultural produce, foods and raw materials from countries that have sanctioned Russia. An order on economic measures to protect the country's security has been signed by President Putin.
UPDATE: Russia to ban all US agricultural products, EU fruit & vegetable imports - watchdog
The decree "on the use of specific economic measures" has been signed in response to sanctions imposed on Russia by a number of states over the Ukrainian crisis, the Kremlin said on its website.
While the law comes into force immediately, the government has been tasked to come up with a concrete list of imports to be banned.
The decree orders the Cabinet to take measures to provide a balance on product markets and prevent rapid price growth. The government has also to join efforts with manufacturers, businesses and retail store chains to increase the Russian goods supply.
An executive order has been signed on adopting special economic measures to provide for Russia's security http://t.co/vV5y7VUgoe

— President of Russia (@KremlinRussia_E) August 6, 2014
Meanwhile, ministers are already drafting a list of products that could be affected by the ban and it can be ready already on Thursday, Natalia Timakova, a press-secretary for PM Dmitry Medvedev told Vedomosti newspaper.
The register of the banned or restricted products will be flexible, a source in the government told Vedomosti daily. It will include different kinds of vegetables, fruit, and meat. However, wine and baby foods will "definitely" not come under sanctions, the source added. According to another government official, cheeses, meat, and dairy products are those most likely be affected by the ban.
Last week, the European Union approved a new (the harshest so far) round of sanctions against Russia in addition to steps taken earlier. The package targeted financial, energy and defense sectors of the Russian economy. The so-called sectorial sanctions hit five Russian banks, including the country's biggest, Sberbank. The banks were banned from raising capital on the EU's capital markets. Also, the EU introduced an embargo on the import and export of arms and related material to and from Russia.
Speaking on Tuesday, ahead of signing the decree, Putin stressed that Moscow's response should be "cautious."
"Obviously we need to do it cautiously in order to support domestic manufacturers, but not hurt consumers," he said.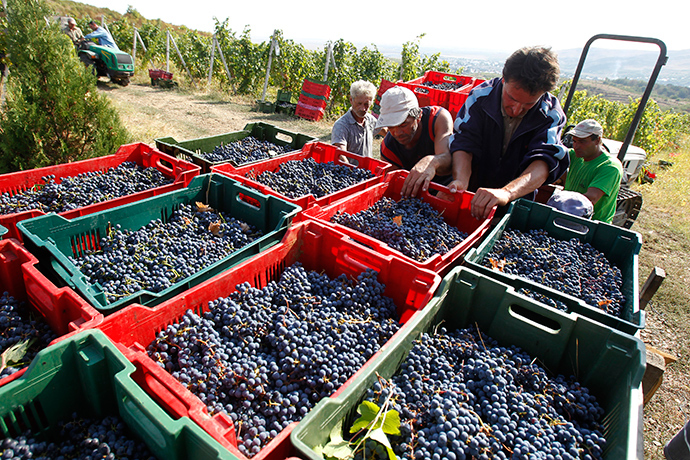 Putin described the political tools of pressure being used against the Russian economy as unacceptable and added that they go against international rules and norms.
A day earlier, Medvedev said that Moscow would consider possible responses to EU sanctions against Russian airlines.
Vedomosti daily has been reporting Russia would limit European flights to Asia that cross Siberia, in response to EU sanctions that caused Aeroflot subsidiary, Dobrolet, to suspend flights on Monday. However, Foreign Minister Sergey Lavrov said Wednesday the report was a baseless rumor.
The Russian Retailers' Association gave an assurance that the ban on agricultural imports will only affect the premium market segment, and ordinary customers will not feel the impact. The group's executive director, Andrey Karpov told RIA Novosti that the association will now reconsider the pool of foreign suppliers and increase the number of Russian vendors.
At the same time, Russia's import limitations will not change the European Union's stance on Ukraine, the EU ambassador to Moscow, Vygaudas Ušackas, told RIA Novosti.
You can share this story on social media: