War in east Ukraine to leave economy in ashes. Who will pay for recovery?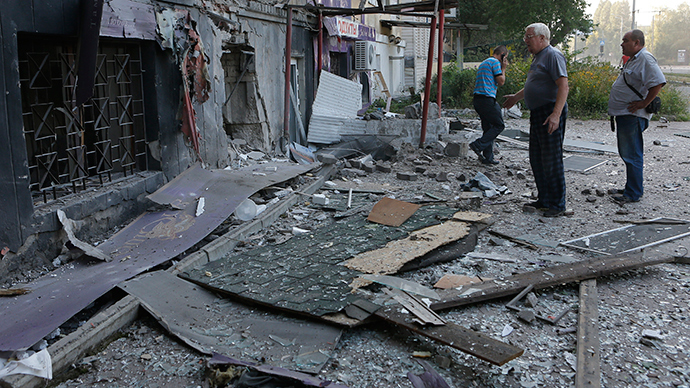 The turmoil in eastern Ukraine has devastated the economy, putting the International Monetary Fund (IMF) and other Western backers under pressure to save the sinking financial wreck.
"If the conflict lingers for another few months in its current form the cost to the Ukrainian economy would be huge," Vitaly Vavryshchuk, an analyst at Kiev-based SP Advisors, told the Financial Times.
The MF has delayed Ukraine's second $1.4 billion aid installment, and now Kiev is asking to combine the third and fourth tranche into a $2.2 billion package, according to Ukraine's Finance Minister Oleksandr Shlapak.
In order for the loans to be disbursed, the IMF has to confirm the multi-billion dollar debt restructuring plan is sustainable, which it may not be at present.
Gabriel Sterne of Oxford Economics predicts that Ukraine's GDP-to-debt ratio is on the rise, and by 2018 could hit 87 percent.
"We think the Ukraine economy and the IMF program face such difficulties that a default is likely, possibly imminent," Sterne wrote in an August report.
"It could take the form of a 'precautionary' default in which debt falling due over the next three years is forcibly rolled over. If there is a full-blown Russian invasion then deeper haircuts may be required," Sterne wrote.
The IMF approved a two-year $17 billion loan package in April, and the first disbursement of $3.2 billion was delivered in May.
If the IMF program falls apart, the country faces default, which would further discredit the lending institution after its failed efforts in Greece and other debt-ridden economies.
Before, the IMF money was a sure thing; now many analysts predicted Ukraine could default by the end of the year.
Another looming financial burden hanging over Kiev is the $3 billion in Eurobonds issued from Russia in December 2013. Moscow can demand repayment before the bonds are due in 2015 if Ukraine's debt-to-GDP surpasses 60 percent, which at present, seems likely.
Other Western aid includes a $1 billion loan guarantee from the US, up to $3 billion from the World Bank, €600 million from the EU, and $100 million from Japan.
Kiev losing control
Ukraine's eastern industrial base is a large chunk of the country's GDP, about 16 percent according to Investment Capital Ukraine. Lugansk and Donetsk regions account for 25 percent of industrial goods and services.
"But the situation is dramatic. The country is fighting for survival. Unfortunately so far there is not much change," Dmitry Sologoub, Director of Research at Raiffeisen Aval Bank in Kiev, told FT.
Shlapak estimates the total damage from the armed conflict in Eastern Ukraine will exceed $600 million.
Much of the fighting has been centered around key infrastructure and industry - airports, highways, utility lines, and gas pipes. The country spent over $6 billion to upgrade infrastructure in Kiev, Lvov, Kharkov, and Donetsk for the 2012 Euro Cup, which it hosted with Poland.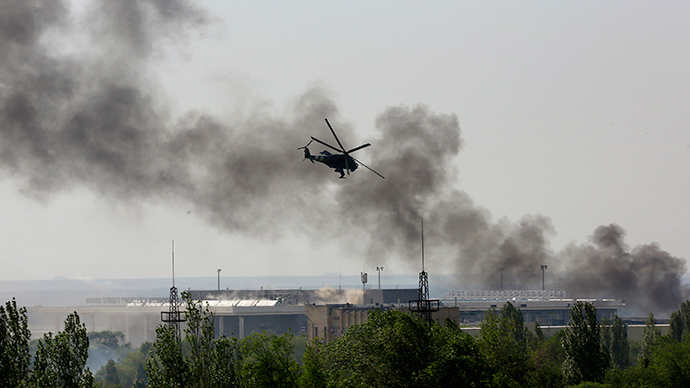 Another big economic blow to Ukraine was the loss of Crimea to Russia in March after the peninsula voted to rejoin Russia. Kiev-based Dragon Capital says the loss of Crimea will result in an automatic 3.7 percent GDP contraction.
Kiev has cut economic ties with Russia over the political crisis- first by signing the European Trade Association Agreement and second by signing a law that allows sanctions against Russia, which will affect European gas deliveries.
"I think that the West understands: If Russia boycotted the country economically, Ukraine has no chance," Fyodor Lukyanov, a leading Russian foreign policy expert, said in an interview with Der Spiegel.
Ukraine plans to ratify the EU trade agreement in September, President Petro Poroshenko has said.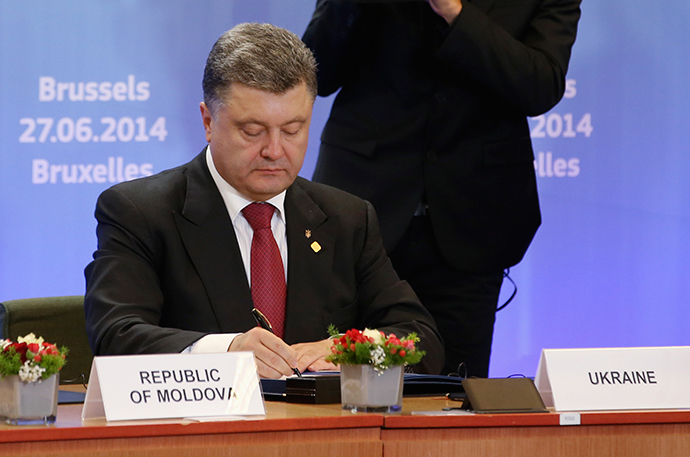 Gas, growth, and hryvnia woes
Gaping holes in Ukraine's state budget and foreign reserves, and instability in financial markets have brought havoc to Ukraine's macroeconomic situation.
Ukraine's Economy Minister Pavel Sheremeta resigned on Thursday frustrated with the slow pace of economic reform. Sheremeta, who was appointed soon after the ousting of President Viktor Yanukovich in February, said on his Facebook page that he no longer wanted to "fight against yesterday's system."
Fitch Ratings predicts the economy will contract by 5 percent in 2014, a pretty conservative estimate compared to other analysis, which predict a 6.5 percent drop (IMF) or even 8 percent (Oxford Economics). In 2013, GDP growth was zero.
The national currency, the hryvnia, has weakened to 13.35 against the dollar, making it the world's second-worst performing currency. In January 2014, before protests turned violent, the hryvnia was pegged at 8.235 to the US dollar.
Depleting natural gas reserves also pose a direct threat to Ukraine's economy and general well-being.
Naftogaz, the state-owned oil and gas company, owes over $5 billion to Russia's Gazprom for unpaid bills.
"The gas needs to be addressed in all its breadth: the debts of Ukraine, the price of gas, the question of transit," Lukyanov said.
Amassing debt prompted Gazprom to cut off gas supplies to Ukraine, leaving the country in a difficult energy pinch before the winter. Ukraine's energy minister reports the country has 16-17 billion cubic meters in reserve, which on its own isn't enough to heat the country through the winter months. The government has already ordered a 30 percent cut in gas consumption to save up for winter.
You can share this story on social media: