​World Bank to lend Ukraine $3bn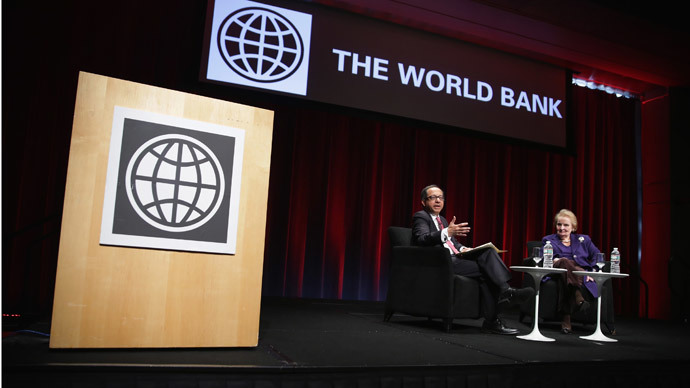 The World Bank is ready to grant almost bankrupt Ukraine a loan of up to $3 billion this year to support reforms and infrastructure projects.
The Washington-based organization already has several projects in Ukraine aimed at reducing poverty.
Around $2 billion will be allocated to the ongoing projects. The other $1 billion would go directly to the government on condition it implements economic reforms to fix the financial mess, Reuters says.
"We are committed to supporting the people of Ukraine in these difficult times and very much hope that the situation in the country stabilizes soon," said World Bank President Jim Yong Kim.
"We are moving forward with our pipeline of projects and aim to support the government to undertake the reforms badly needed to put the economy on a path to sustainability", he said.
The terms of the loan have not been announced, however the bank says priority is to be given "to restoring macroeconomic stability, strengthening the banking sector, reforming the energy sector, seriously tackling corruption and improving accountability, enhancing the investment climate and better targeting social assistance towards the poor and the vulnerable."
The $3 billion loan may become additional help to the ongoing investment and guarantee program of about $3.7 billion. In particular the World Bank supports the improvement of basic public service delivery in areas such as water supply, sanitation, power and roads, and supports the private sector.
However Timur Nigmatullin, the Investcafe analyst, is sure Ukraine needs a much larger sum to get out of the crisis.
"In order to solve the economic problems of Ukraine, needs not less than $15-25 billion, probably nearer to $35 billion … Without external help we will see a Ukrainian default within the next few months," Nigmatullin said.
The Vice-President of the European Commission Olli Rehn said, at a euro group meeting on Monday evening, the EU can allocate up to $2.2 billion (1.6 billion euro) of direct financial help to Ukraine,
However, Rehn emphasized that at first Ukraine has to sign a contract with the International Monetary Fund (IMF) and undertake a commitment to carry out economic reforms.
You can share this story on social media: