Ukraine's GDP to drop by 5% in 2014 – Fitch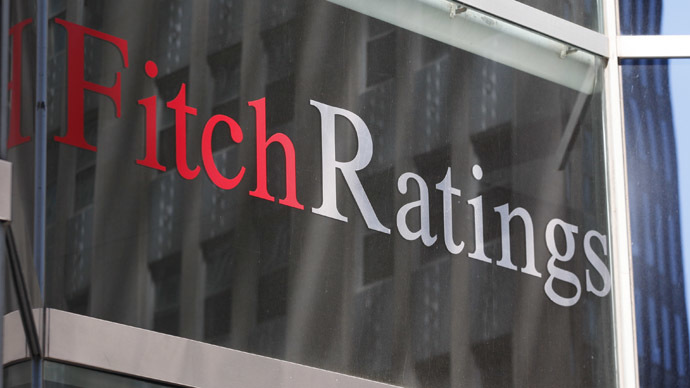 Fitch Ratings has predicted that Ukraine's GDP will diminish by five percent in 2014, as the crisis will continue to weigh on the protest-torn country's economy.
"We forecast GDP to contract by 5 percent this year," Charles Seville, director for sovereigns at Fitch Ratings in London, said in an article titled 'New Ukrainian President Faces Major Challenges.'
"Ex-Crimea, industrial production shrank 6 percent year on year in April, and consumer spending is well down, especially in the east," he continued.
While inflation in April was 3.3 percent, the agency predicts it will rise due to gas tariffs and pass-through of exchange rate depreciation.
"Public finances are under pressure but the government has increased tax collection and contained spending, narrowing the fiscal deficit," the article states.
Earlier this month, effective May 1, Ukraine increased the minimal rate for natural gas for the needs of the population by 51.1 percent. From June 1, it will increase the fees for electricity by between 20 to 60 percent, depending on the volume of electricity consumption.
At the same time, "political stability, sustainable growth, and moderation in fiscal and external imbalances would be credit positive and could ultimately result in an upgrade."
Ukraine's presidential election may reduce near-term political uncertainty and, hence, offer some support to its sovereign credit profile as well "potentially" bring partial agreement with Russia, according to Fitch's Seville.
The country's "most pressing problems" include instability and uprising in the east, the dispute with Russia over gas payments, obeying the IMF program - as the execution risk remains high - and maintaining reserves while meeting external funding needs, Seville wrote.
"Some immediate risks have receded. The disbursement of US$3.2 billion by the IMF and issuance of a $1 billion bond guaranteed by the US on May 16 eased immediate external liquidity concerns and covers Ukraine's scheduled $1 billion Eurobond maturity next week. But external repayments remain heavy in 2014, including Naftogaz's government-guaranteed September Eurobond," he added.
You can share this story on social media: