Ukraine receives first $3.2 billion from IMF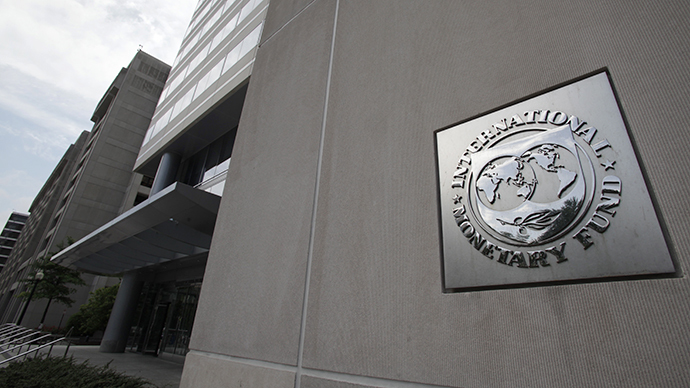 Ukraine, a nation on the brink of civil war and bankruptcy, has received its first emergency rescue money from the International Monetary Fund (IMF), the National Bank of Ukraine reported.
The two-year program will shell out over $17bn in aid to Ukraine's troubled economy, and was approved by the IMF's 24-member board at the end of April.
National Bank Chairman Stepan Kubiv said that a portion of the first loan will be used to boost gold and currency reserves and help stabilize the fast-falling hryvnia. Foreign currency reserves have been wiped out as the Bank spends money to prop up the weak currency, and have reached a critically low level of under $12 billion.
Ukraine has over $9 billion in debt it needs to address immediately. In total, $27 billion in international aid has been pledged to Ukraine, but this is the first monetary promise the West has delivered on. In December, Russia provided Ukraine with a $15 billion no-strings-attached loan. Ukraine only received $3 billion after Moscow rescinded the offer once protests broke out and a coup-appointed government was installed in Kiev.
The IMF money comes with stringent terms, requiring various cuts and economic reforms. In the case of Ukraine, the requirements include a 50 percent increase in the price of household gas, as well as a quick pension reform and lower government spending.
The money came on the same day that Naftogaz, Ukraine's money-hemorrhaging national oil and gas company, is due to start paying off its $3.5 billion debt to Russia's Gazprom, or risk the introduction of a pre-payment system.
It has been previously reported that Naftogaz may receive $2.16 billion of the first tranche of IMF money to pay off its massive debt to Gazprom, according to documents prepared by the IMF. If the money isn't used to pay Gazprom, Russia's gas company has the right to ask for advanced payments.
Yury Prodan, Ukraine's Energy Minister, has hailed the IMF loan as a needed reprieve for state-owned Naftogaz, as well as a way to "switch on" the country's dilapidated economy.
Ukraine's economy contracted 1.1 percent in the first three months of 2014, a poor performance that puts the economy on track to slow 4 percent overall in 2014. This year, the hryvnia has already slumped nearly 30 percent. The Central Bank, which is running dangerously low on foreign exchange reserves, may not be able to prop it up for much longer.
Economic default is 'imminent' before the end of the year, Moody's ratings agency says.
You can share this story on social media: