OSCE slams Ukraine's repressive censorship of Russian TV channels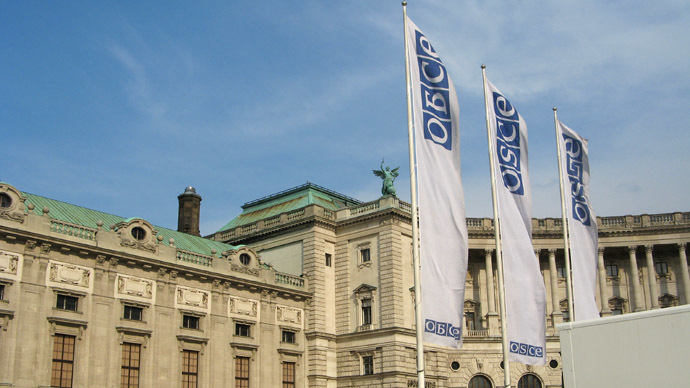 The OSCE has criticised Kiev's "repressive" move to shut down the broadcasting of Russian TV channels after the media watchdog reported over 50% of providers have already fulfilled the order allegedly aimed at "ensuring national security and sovereignty."
"As of 11:00 GMT, March 11th, 50 percent of providers throughout Ukraine have disabled broadcasting of foreign channels," others are preparing to follow, the National Television and Radio Broadcasting Council of Ukraine, said on its website.
The Organization for Security and Co-operation in Europe has voiced strong concerns over the decision.
"I repeat my call to the authorities not to initiate these repressive measures," OSCE Representative on Freedom of the Media Dunja Mijatović said. "Banning programming without a legal basis is a form of censorship; national security concerns should not be used at the expense of media freedom."
"While I deplore any kind of state propaganda and hate speech as part of the current information war, everyone has the right to receive information from as many sources as he or she wishes," Mijatovic said. "Switching off and banning channels is not the way to address these problems; any potentially problematic speech should be countered with arguments and more speech."
So far at least 5 Russian channels have been excluded from the list of options, following an appeal by the National Security and Defense Council of Ukraine last week.
"The National Television and Radio Broadcasting Council of Ukraine requires the program service providers to stop the broadcast of the Russian TV channels Vesti, Russia 24, Channel One (worldwide transmission), RTR 'Planeta', and NTV-World in their network," the National Council order says.
More than half of Ukraine's population speaks Russian regularly and one third say it's their native tongue. In Crimea over 90 percent of the population uses Russian on an everyday basis.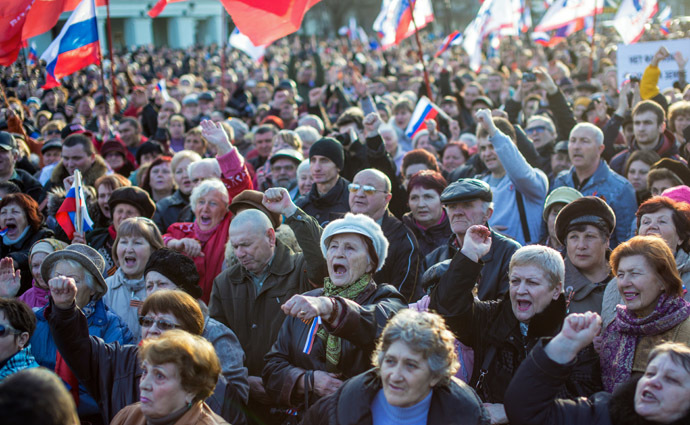 On Sunday, Republic of Crimea began broadcasting Russian TV channels on frequencies earlier occupied by Ukrainian television. It has been done because of "legal reasons and moral principles," Crimea's information minister Dmitry Polonsky told Itar-tass.
"From the moral point of view, all Ukrainian TV channels were rigidly censored by Kiev's illegitimate authorities. In violation of fundamental principles they broadcast only one point of view – Crimean politicians, community leaders and Crimeans were unable to comment on the situation," Polonsky said, adding that their round the clock false reporting of "Russia occupying Crimea" or "declaring war on Ukraine" did not correspond to reality and was used to aggravate the situation and escalate violence.
Polonsky also said that existing contracts should be brought into line with the "current legal situation", as he urged Ukrainian TV channels to renegotiate contracts for new frequencies with the Crimean broadcasting authorities.
Following the move Ukraine's media watchdog Goskomteleradio demanded an immediate resumption of Ukrainian TV channels broadcast in Crimea, accusing Russia of "aggression."
"We regard this as a manifestation of undisguised information aggression against Ukraine by the Russian Federation," the statement reads.
Russia has long voiced concerns over banning Russian media broadcasts on Ukraine's national frequencies, calling it a violation of human rights.
"We are aware of proposals to prohibit broadcasts in Ukraine by companies of countries that are not signatories to the European Broadcasting Convention," Russian foreign minister Sergey Lavrov said late February after the proposal to ban some channels were first introduced by Svoboda Party in Ukraine.
"Russia is not a signatory to this convention, but this circumstance has not stopped us from broadcasting across Europe. Such broadcasts have not encountered any problems in any country of the European Union. If such a decision is adopted in Ukraine, it will be serious violation of freedom of speech," Lavrov added.
You can share this story on social media: