Ukraine's new authorities resort to 'dictatorial' methods in regions – Russia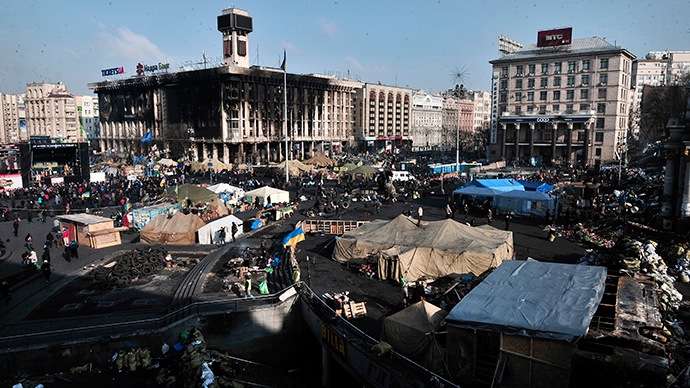 Russia has lashed out at the new regime in Kiev, accusing it of using "dictatorial" and "terrorist" methods to suppress dissent in the country, with backing from the West which is "acting out of geopolitical self-interest."
"The position of some of our Western partners doesn't show genuine concern, but a desire to act out of geopolitical self-interest," said a statement on the Russian foreign ministry's website.
"There is no condemnation of criminal actions by extremists, including manifestations or neo-Nazism and anti-Semitism. In fact, these are being encouraged."
The statement went on to say that "outside sponsors" are advancing a "regime change" in the country, without a desire to find "national consensus."
Attempts,which are made to involve international structures,including @UN Secretariat in order to justify this policy, arouse great concern

— MFA Russia (@mfa_russia) February 24, 2014
"We urge those embroiled in the crisis in Ukraine to show responsibility, and to prevent further deterioration of the situation, to return to the rule of law, and to stop the extremists in their bid for power."
An escalating three-month standoff between the opposition and the government came to an end at the weekend, when President Viktor Yanukovich escaped Kiev.
Since then, a Rada composed of opposition deputies and defectors from Yanukovich's Party of Regions has assumed control, stripping him of his powers, and making its speaker Aleksandr Turchinov the interim head of state.
Referring to 'revolutionary expediency',parliament 'prints' resolutions and laws aimed at infringing upon humanitarian rights of Russians

— MFA Russia (@mfa_russia) February 24, 2014
The Russian foreign ministry said "paramilitaries... refuse to leave the cities, or abandon the administrative buildings they have occupied, while they continue to carry out acts of violence". It also censures them for mocking historical memorials.
The statement says that the legitimacy of the Rada is "questionable", and says that the opinions of the largely pro-Russian regions should not be ignored.
We are sure that the interests of deputies of eastern and southern regions of #Ukraine, #Crimea and #Sevastopol should be met

— MFA Russia (@mfa_russia) February 24, 2014
Moscow accuses the Ukrainian MPs of using "revolutionary expediency" for calls to "virtually forbid the use of the Russian language entirely, encourage a lustration, liquidateparties, shut down certain media, and remove the limitations on Neo-Nazi propaganda".
The Rada revoked a law that allowed Russian and other minority languages to be recognized as official in multi-cultural regions, and has also proposed an initiative that would forbid officials from the former regime from occupying official posts. One nationalist leader has called for Russian TV stations to be barred from broadcasting in Ukraine.
The Russian ministry has also condemned the announced May 25 presidential election date, saying that according to the February 21 agreement between the authorities and the opposition, made before Viktor Yanukovich left Kiev, that any polls could only be staged after a constitutional reform.
To ensure the success of the reform, any changes to the Constitution should be put to a national referendum, Moscow stressed.
You can share this story on social media: