Kiev orders crackdown on Ukrainian providers broadcasting Russian TV channels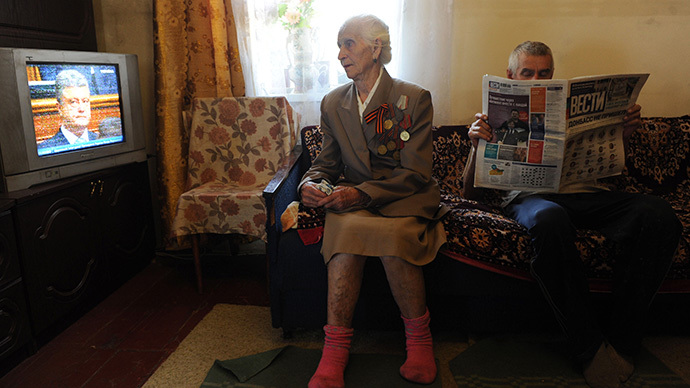 Ukrainian cable providers could face heavy fines or have their licenses revoked if they broadcast leading Russian channels – including RT – which were earlier "suspended" by a series of court orders.
"Ukraine is a sovereign state and must defend its media space from outside aggression from Russia, which is purposely inciting hatred between different groups of Ukrainians within the country," said interior ministry adviser Anton Geraschenko in a statement on his Facebook page.
Kiev has promised "total monitoring" of all outlets, including "hotels, sanatoriums and hospitals" which have been instructed to switch off their Russian feeds "before officers of the law pay a visit."
Major providers have not carried Russian channels since a ban that followed Crimea's vote to join the Russian Federation in March. Officials then claimed that the sanction was a result of Ukrainian channels being cut off on the peninsula.
A further order to curtail Moscow broadcasts was produced by a Kiev court in July, but many cable operators in the east have continued to show their audiences Russian broadcasts, in defiance of the law.
Banned Channels:

1. Channel One. World Feed

2. RTR-Planeta

3. Rossiya 24

4. NTV-Mir

5. TVCI

6. Rossiya 1

7. NTV

8. TNT

9. Peterburg 5

10. Zvezda

11. REN-TV

12. RT

13. Life News

14. RBK-TV
The ban encompasses all Russian national channels and large regional broadcasters that transmit news bulletins.
Geraschenko said that if Russia attempted to install retransmitters that would allow its channels to be received in the border regions, Ukraine would activate its Soviet-era jammers, used decades ago to prevent Western media outlets such as BBC from reaching the USSR.
OSCE Representative on Freedom of the Media Dunja Mijatović criticized the initial bans as "repressive" and "a form of censorship without legal basis."
About a third of Ukrainians consider Russian their native language, including the majority of those in Donetsk and Lugansk regions, and while some Ukrainian channels broadcast in Russian, Moscow-based outlets have enjoyed enduring popularity in the country.