OSCE calls on Kiev to free Russian journalists, 'stop intimidating media'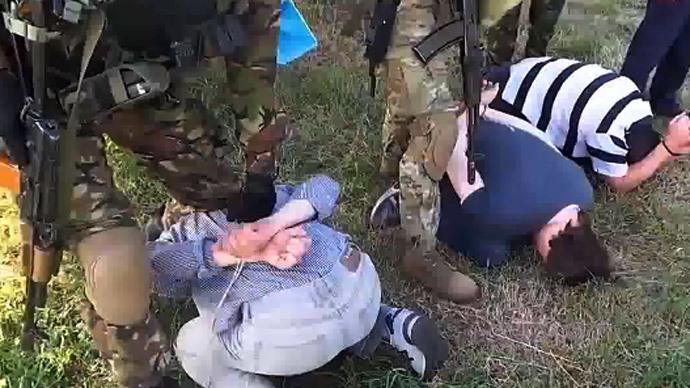 The Organization for Security and Co-operation in Europe (OSCE) has urged Kiev authorities to release the Russian journalists captured in eastern Ukraine, saying that intimidation and obstruction of media working in the country is "unacceptable."
The OSCE's representative on freedom of the media, Dunja Mijatovic, has addressed the coup-imposed acting Ukrainian Interior Minister Arsen Avakov in a letter, urging to release the LifeNews journalists detained by Kiev forces on Sunday and thoroughly investigate the incident, Itar-Tass reports.
Mijatovic has condemned the harassment of journalists in Ukraine, noting that on May 15-16 a host of Russian journalists from Channel One, NTV, TVC and Zvezda channels were denied entrance at the country's border despite "all of them have been accredited by the Ukrainian authorities for covering the presidential elections."
In the letter, the OSCE representative has urged to "stop intimidating and threatening members of the media," stressing that journalists must be allowed to do their jobs without fearing for their security.
The political powers in Ukraine "must fully realize that obstruction of the freedom of media is unacceptable," Mijatovic said.
The detained journalists, Oleg Sidyakin and Marat Saichenko, are being investigated on the charges of "aiding the terrorist groups," deputy secretary of Ukraine's National Security and Defense Council (SNBO), Victoria Sumar, wrote on her Facebook page.
She added that there is "direct video evidence" of her claims, pointing at footage released on Monday showing Ukrainian troops rudely forcing a group of handcuffed people to get down on their knees and looking through belongings that appeared to have belonged to them.
Along with a close-up of the documents of two LifeNews journalists, the video showed some journalistic equipment, a pile of Ukrainian hrivnyas and Russian rubles, and a MANPAD with inscriptions in Polish. The third man shown kneeling on the ground was not identified.
The Ukrainian Security Service said on Monday, without elaborating, that two Russian citizens detained in the Donetsk Region with video equipment have been brought to Kiev for interrogation.
Meanwhile, a member of Russia's presidential Human Rights Council negotiating with Kiev authorities, Maksim Shevchenko, said that the journalists are being accused of allegedly taking part in "violent interrogations" of 'Alfa' Ukrainian special service officers, and asking questions.
Shevchenko said he believes that the detained journalists did not take part in any interrogations, but some other journalists did, and in this sense LifeNews reporters were "set up" by those other people. The human rights activist said the council will ask distinguished Kiev lawyers to defend the LifeNews journalists in court.
Russian Foreign Minister Sergey Lavrov on Monday stressed that the Russian journalists detained in the Donetsk Region must be released immediately.
"We are concerned that during combat actions, which are led by [Ukrainian] armed forces with the participation of radicals, extremists, militants of the Right Sector and other groups, some journalists are suffering. Very often they are detained, faced with fictitious demands, which do not fit into generally recognized norms. The latter concerns two journalists from the LifeNews channel," Lavrov said.
According to Lavrov, Moscow has been using all available OSCE channels, urging the organization to facilitate the journalists' release.
LifeNews journalists meanwhile started a Twitter campaign under the hashtag #SaveOurGuys. In just hours, thousands have shared their pictures with the hashtag written on sheets of paper, or retweeted them.
#SaveOurGuyspic.twitter.com/PGQVMqNG3h

— AntiMaydan Ukraine (@AntiMaydanUA) May 19, 2014
Representatives from the Russian Union of Journalists started OSCE-brokered Vienna negotiations with the counterparts from Ukraine on Monday. The Ukrainian side has been asked to help prevent cases of detention and harassment of Russian journalists.

The union's head, Pavel Gusev, told Itar-Tass that it is appealing to international organizations, including the OSCE, with a statement demanding the reporters' release.

"This is a heinous campaign, when the journalists are being presented as terrorists and their work is obstructed...All the actions of the Ukrainian side contradict with international norms," Gusev said, calling on Kiev to free the Russian journalists and apologize to them.

Numerous cases of Kiev-installed authorities banning Russian media workers from entering Ukraine have intensified, along with cases of their detention and deportation by special services and law enforcement for covering the events in eastern Ukraine.

Moreover, several cases of Ukrainian troops firing at people with cameras, even at those wearing blue press vests, have been reported. A video journalist working for RT's Ruptly crew in the volatile eastern Ukrainian city of Mariupol was shot at and seriously injured during Kiev's military operation on May 9. A medical jet sent for him was allowed to land in Donetsk only after three days of negotiations.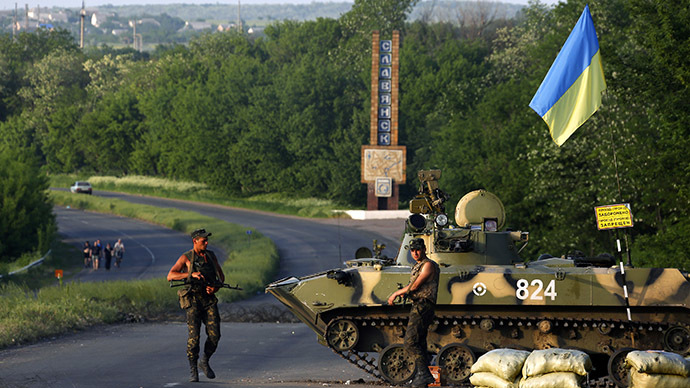 'Kiev very keen to stop journalists'
The situation with the LifeNews crew is "bad news" for journalists working in Ukraine and for the international community, and it will only get worse as the Ukrainian election – set for May 25 – nears, Martin McCauley, an Eastern Europe expert from the University of London, told RT.

"In the week up to next Sunday's presidential election, the situation will be very tense and the Kiev authorities will be very keen to stop journalists whom they regard as supporting the other side, or supporting separatism, and so on, from doing their jobs," McCauley said.

According to the analyst, the international community should "do more" to ensure the rights of journalists are observed in Ukraine.

"It is up to the OSCE and the European Union and others to make clear to the authorities in Kiev that journalists should be allowed to do their job. If they are accused of terrorism, then they should be brought before a court with due judicial process being observed...It is up to the Kiev authorities to present the evidence and then a have a due process of law," he said.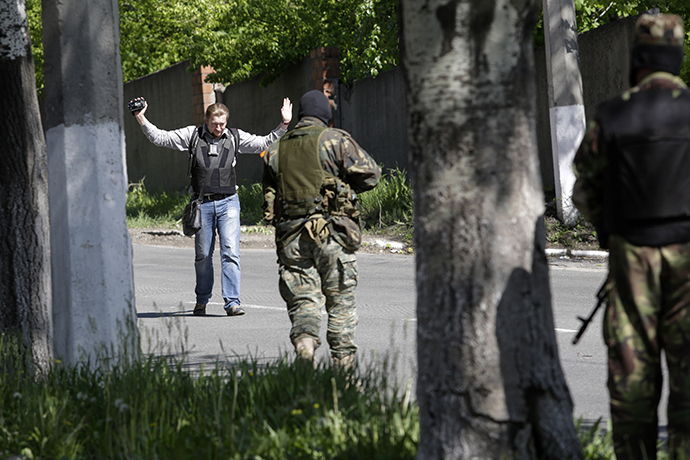 Keeping the journalists in detention and isolation, which the Ukrainian authorities are doing instead,
"is not correct and is not acceptable.""It has got to a situation where if the Kiev authorities believe that all separatists are terrorists, then all journalists who communicate with them and engage in interviews with them and pass on information to them, they then become terrorists as well. So therefore you have got an extraordinary situation in which journalists are not able to carry out their duties in eastern Ukraine,"
McCauley said.
You can share this story on social media: