Russian news crew abducted by security service in Ukraine and deported to Russia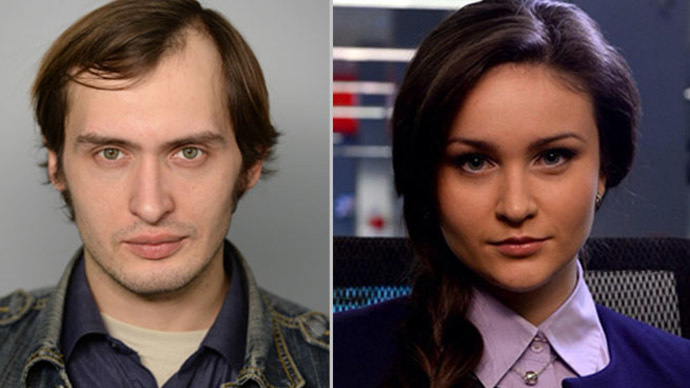 Correspondents from Russia's LifeNews media outlet have been attacked by an armed group and kidnapped while they were filming an interview with an opposition leader. The crew has already been deported to Russia.
Anti-Kiev protesters believe the seizure was a covert operation by Ukrainian security forces, LifeNews reports.
News Media-Rus general director Aram Gabrelyanov, the founder of the LifeNews media outlet, announced that the journalists had established contact with him and informed him that they were being held by the operatives of the Security Service of Ukraine.
Later, Julia Shustraya and Mikhail Pudovkin were brought to a border checkpoint and deported from Ukraine to Russia.
The initial incident with the Russian journalists took place at a cottage on the grounds of a leisure resort.
Journalist Julia Shustraya and Mikhail Pudovkin arranged a meeting with an activist of the federalization movement in Ukraine, Ignat Kromskoy, call sign Topaz. The interview was taken at a cottage where journalists and Kromskoy stayed overnight.
In the morning, a group of armed men arrived at the leisure resort in a dark blue Renault Logan and broke into the cottage.
An eyewitness, identified only as Vladimir, said there were five young men, about 25 years old, armed with Kalashnikov assault rifles, Makarov pistols and wearing body armor. They said they were police, though they wore no uniforms. The journalists and a cameraman were ordered to get on their knees, and stripped of their documents and electronic devices.
The leader of the militants was an older, tightly built bald man of about 35. He was heard to say, "We've got them, call the cops."
Then about 10 police officers arrived and the journalists were taken away, otherwise unharmed.
On Thursday, Ukraine's SBU Security Service reported that a producer working for Russia's NTV channel, Belorussian national Stepan Chirich, was detained in the city of Pershotravensk in the Dnipropetrovsk region. Chirich currently remains in custody, after being accused of bringing an undeclared video camera into Ukraine. A Ukrainian cameraman from the city of Lugansk who accompanied Chirich also remains under arrest.
Last Sunday anti-government activists in eastern Ukraine's protester-held town of Slavyansk detained prominent Maidan activist Irma Krat. She rejected accusations that she was acting as a spy for the Kiev authorities, saying she was in the Donetsk region in her capacity as a journalist.
On Monday, Simon Ostrovsky, a journalist for the New York-based Vice News,was detained by self-defense forces in Slavyansk, eastern Ukraine. After being detained for three days, Ostrovsky was released Thursday.
Moscow is indignant over the increasing number of incidents with Russian journalists on Ukrainian territory and the fact that international institutions and rights organizations keep ignoring them, the Foreign Ministry said in a statement.
"Yet again we have to draw the attention of the OSCE Representative on Freedom of the Media, Dunja Mijatović, to the necessity of efficient and nonselective reaction to mass repressions of media workers that come amid the military operations launched by Kiev regime in the southeast of Ukraine," it reads.
Mijatović expressed concern on Friday over the disappearance of the LifeNews journalists.
"I am very concerned by repeated attacks and disappearances of journalists. Journalists must be allowed to report freely and their safety ensured by all those in charge," she said, as cited by the OSCE website.
The Representative on the Freedom of the Media sent a letter to Ukrainian Interior Minister Arsen Avakov requesting information on the case.
Speaking the same day to Russian Ekho Moskvy radio station, she noted that "any journalist" is potentially dangerous for "those who consider themselves authorities" in Eastern Ukraine.
"Foreign and Ukrainian journalists who are not seen as loyal in Eastern Ukraine – are the first target," Mijatović said. "Everyone is under threat: cameramen, photographers, TV journalists."
You can share this story on social media: