Forbes, Ruptly journalists banned entry to Ukraine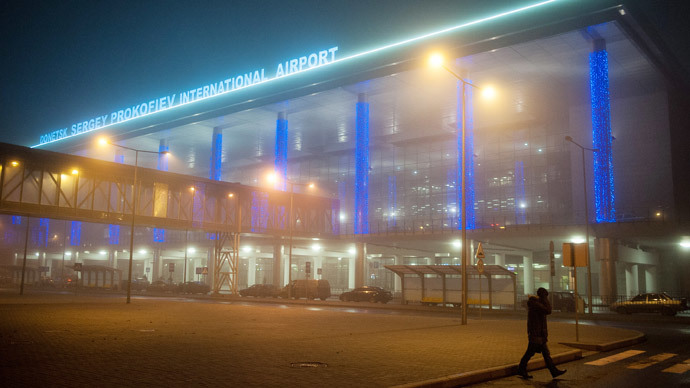 Ukrainian border guards have denied entry to two reporters for Forbes Russia and a journalist from RT video agency Ruptly, who were to cover events in the southeast of the crisis-torn country, where protests against the new government continue.
Andrey Ivanov – Ruptly's journalist and cameraman – was stopped and questioned at the airport in Donetsk, eastern Ukraine, on Monday morning.
Border guards barred the journalist from entering Ukraine, saying that he did not have enough money to stay in the county. At the same time, Ivanov's proposal to show them a bank statement was ignored.
According to the journalist, officials took his passport away - promising to give it back only when he returned to Russia – and put him on a plane to Moscow.
Журналиста видеоагентства @Ruptly не пустили на Украину http://t.co/Ohc3IZsRVJpic.twitter.com/Nc7YDILN3G

— RT на русском (@RT_russian) April 7, 2014
Within the past few months, Ivanov has repeatedly traveled to Ukraine as part of the Ruptly crew. Until today, he had no problems crossing the country's border.
Later on Monday, two journalists for the Russian version of Forbes magazine, holders of Russian passports, were also banned from crossing the Ukrainian border.
The reporters, Pavel Sedakov and Atryom Goloshchapov, were traveling on a train from Moscow to Dnepropetrovsk, in southeast Ukraine. However, at Kazachya Lopan – the station where passport and customs control takes place – the journalists were told to get off and then put on the first train going back to Russia, Forbes.ru writes.
The official explanation of the decision, as in the case with the Ruptly reporter, was that the two did not have enough money for the trip. Also, the goal of the journey was unconfirmed. According to the magazine, border guards also told the reporters that if they attempt to cross the border again, they would be denied entry for three years.
On April 7, new limitations on the period of stay for Russian citizens came into effect in Ukraine. According to the rules introduced by Ukraine's State Border Service and the Foreign Ministry, Russian Federation citizens are allowed to stay on Ukrainian territory for up to 90 days in a 180-day period, since the date of the first entry.
Before, Russians were also allowed to stay in the country for up to three months. However, upon the expiry of the period, they could leave and re-enter the country immediately.
You can share this story on social media: