Abducted Ukrainian journalist found killed, believed to be tortured first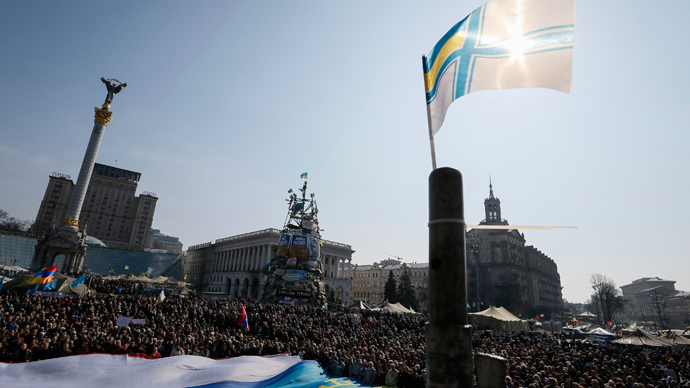 A kidnapped Ukrainian journalist and Maidan activist has been found dead in a forest some 150 kilometers (90 miles) from the capital Kiev. The reporter is believed to have been brutally tortured before being killed and buried, local media report.
According to the local prosecutor's office, Vasily Sergiyenko was beaten and abducted in his home city of Korsun-Shevchenkivsky, central Ukraine, on Friday evening.
"It has been established that at around 20:30 on April 4 perpetrators kidnapped Vasily Sergiyenko. Later he was killed and his body was buried in a forest in an attempt to hide the evidence," Cherkassk province's prosecutors announced in a statement on Sunday.
The nationalist Svoboda (Freedom) party, of which Sergiyenko was a member, said that according to witnesses a group of three unknown men attacked the local newspaper reporter outside his home on Friday evening. There was a fight, and Sergiyenko was forced into a white car.
This version was corroborated by the journalist's mother who called the police right after her son was attacked and abducted.
Sergiyenko's body with stab wounds and signs of beatings to his head and knees was discovered on Saturday afternoon, when a group of self-defense unit members found a freshly heaped up mound disguised as a dump.
"In the afternoon guys from local self-defense forces found a spot of freshly dug pit. They waited until police came and started digging out the rubbish-covered spot. They found a man's body lying with his face down with hand-cuffs on his wrists," the local Gazeta.ua online newspaper cited Oleg Sobchenko as saying. "After they lifted the man's body we saw the signs of terrible torture: Vasiliy's head was completely smashed, his knees fractured, [he had] several knife wounds in the area of his kidneys, a knife wound in the heart area and several knife wounds to his heart from his back, his neck was also cut."
Svoboda Party believes the killing bears the hallmarks of a politically motivated hit. Vasily Sergiyenko played an active role during Maidan protests in February, which resulted in the ouster of President Viktor Yanukovich and the incumbent government.
At the same time, the prosecution isn't ruling out that Sergiyenko's death could be somehow connected with the former head of the Cherkassk region, Sergey Tulube. The murdered journalist wrote a number of critical pieces about Tulube, who is now wanted by police.
This is the second case of a journalist being murdered in the past few months of political crisis in Ukraine. In mid-February the journalist, Vyacheslav Veremyi, of the local "Vremya" ("Time") pro-government newspaper died of a gunshot to the chest. The reporter and his colleague, an IT specialist, were attacked by unknown people about 800 meters away from Independence Square (Maidan), while going home by taxi. The two were beaten up and shot. The journalist sustained deadly injuries, while his colleague's face was seriously maimed.
You can share this story on social media: