Ukraine turmoil result of European-wide security crisis - Lavrov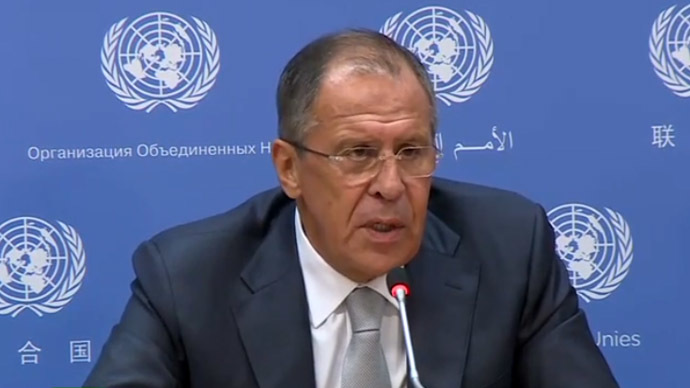 The security crisis in the European Union was not caused by the crisis in Ukraine, but the events in Ukraine reflect the contradictions within the Euro-Atlantic region, Russian Foreign Minister Sergey Lavrov told reporters at the UN.
One of the "key components" for the European Union's security is in Ukraine's non-NATO member status, Lavrov stressed at a press-conference on the sidelines of the current UN General Assembly session in New York.
"As for NATO, there is a law in Ukraine, which stipulates its non-aligned status. And we believe that this is one of the most important components to ensure European security," he said and then added that NATO's expansion is an "absolutely senseless business."
"It is provocative and is undermining the role of European institutions," the Russian Foreign Minister concluded.
Russia will continue doing everything possible to continue a dialogue with Kiev and the self-proclaimed Donetsk and Lugansk People's Republics, Sergey Lavrov said.
"There is a dialogue, no one denies it and no matter what Kiev, Donetsk or Lugansk say, they agree on further steps within the framework of the Minsk process. We actively support this, we will do everything that depends on us to continue such negotiations and make them effective," Russia's foreign minister told reporters.
Lavrov said it was important to influence both sides of the Ukrainian conflict "in a constructive manner," rather than "incited to actions that would undermine the peace process."
"In our contacts with our American and European colleagues, we constantly draw their attention to the fact that both sides in Ukraine must be influenced in a constructive manner, not incited to actions that would undermine the peace process," he said. "One may get an impression that some members of the Ukrainian government and its prime minister, Arseny Yatsenyuk, in particular, do not support the steps leading up to normalization with the southeast of the country."
When asked if Russia is going to target Ukraine's economy in retaliation to a free trade zone agreement between Kiev and the EU, Lavrov said Moscow has never considered such a development.
"We have never said that we are going to punish anyone.Nobody has considered or planning to consider any punitive measures against Ukraine, or actions to undermine the Ukrainian economy," Lavrov said.
New Cold War? 'Russia didn't worsen relations with the US'
One of the questions to Lavrov touched upon US-Russia relations and the situation in Ukraine playing a significant role in its deterioration.
Asked what should be done to bring the relationships "back on track", Lavrov said that Russia did not "worsen the situation" and Moscow will continue keeping communication channels open.
"What to do to improve relations with the US? We did not worsen them, just like we did not worsen then during the "Magnitsky case", and when Snowden suddenly blew in and Americans felt hurt and decided to postpone Barack Obama's visit," Lavrov said. "We did not worsen the relations and are doing everything to keep communication channels open."
Russia, he stressed, is ready for honest and equitable work with the US as well as other partners.
"When the partners are ready [for a dialogue], they are welcome," Lavrov said.