'World's first bitcoin only' candidate runs for Swedish parliament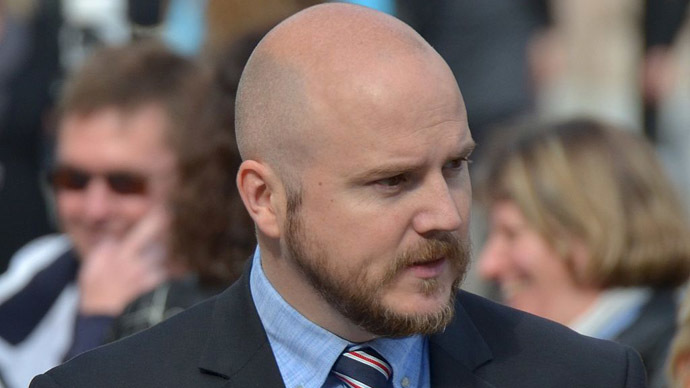 While a number of politicians around the world have embraced the most popular digital cryptocurrency for fundraising, a candidate for the Swedish parliament takes it a step further and says he accepts nothing but bitcoins for his campaign.
"The World's First Political Bitcoin Only Candidate" - that's how Mathias Sundin, 36, the deputy mayor of Norrköping, eastern Sweden and a member of the Liberal Party (Folkpartiet) describes himself in his Twitter account.

"If you want to support my campaign, you can't give me dollars, euros or Swedish kronor, you must donate in bitcoins," Sundin writes in his blog.

In April, a candidate in local Irish elections, Ossian Smyth, announced he was the first politician in the country to accept bitcoins, saying this was "the most transparent ways of receiving donations," according to Siliconrepublic. A number of politicians in the US earlier announced they were accepting virtual currency as donations as well. They have not rejected other ways of fundraising though.
Sundin believes exclusively sticking to bitcoin can help spread the digital currency. The politician also promises to "resist knee-jerk regulation of bitcoin, other digital currencies, and disruptive innovation in general," if he is elected.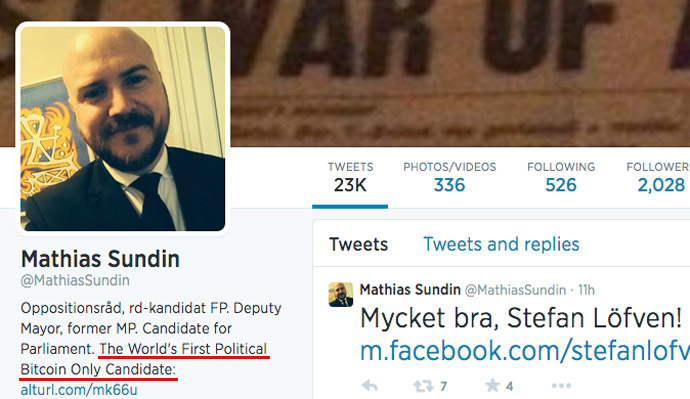 Earlier this year, Sweden's central bank issued a report warning of the risks that virtual currencies pose.

"There are clear disadvantages with virtual currencies," the report says. "Issuing these currencies is not subject to regulation and the issuers are not under financial supervision. This means that consumer protection is weak in certain aspects and that the users may be exposed to risks."
Sundin confesses he also used to be a skeptic in the past. What made him change his mind was actually ordering pizza with bitcoin.

"Personally, at first, I only saw the negative headlines about bitcoin and thought it was some sort of unserious speculation bubble," he recalls. "Then I read up on it and understood that it has the potential to change the world. (Or, really, it was when I realised that I could order pizza and pay in bitcoin)."

Trust in the digital currencies was put to the test earlier this year, when the world's largest bitcoin exchange Mt. Gox Co. lost around 850,000 bitcoins ($500 million at current prices), allegedly following a hacker attack. Later Mt Gox said it had recovered 200,000 bitcoins.

Bitcoin's reputation has also been tainted by the fact it was used for purchases at the Silk Road black market website, which offered goods ranging from Schedule I narcotics to highly illegal weapons. The website was shut down and its alleged owner arrested in October, 2013.

Despite the big risks and setbacks, the popularity of the virtual currency has been growing. The Bank of Russia has recently signaled it is ready to legalize bitcoin, with a top official saying "the instrument could be the future."

California Governor Jerry Brown signed into law a bill making alternative currencies, including bitcoin, lawful in the state. Authors of the bill said they wanted the state to catch up with "growing and innovative payments market."

With the amount of publicity – good or bad – bitcoin receives, making it a centerpiece of one's political campaign might not be that strange or unwise.
You can share this story on social media: