Deadlock around South Stream needs to be resolved to avoid cold winter – Putin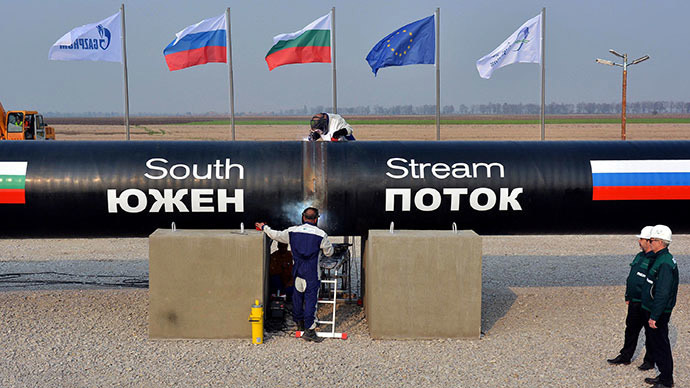 The development of South Stream gas transit to Europe is essential in providing energy security for Europe, but Ukraine is still a thorny obstacle that may cause disruptions, and alternative routes are needed, Russian President Vladimir Putin has said.
"We are convinced that this project will significantly contribute to integrated energy security in Europe. It will benefit everybody, Russia as well as the European consumers, including Serbia," Putin told the Serbian daily Politika ahead of his visit to Belgrade on Thursday.
For a full transcript of the interview, click here.
The South Stream gas pipeline will deliver gas to south and central Europe via the Black Sea and the Balkans, instead of through Ukraine. The project is seen as critical for European energy security. Ukraine has been an unreliable transit country, and building a new transport grid presents less risk than using Ukraine's aging pipes.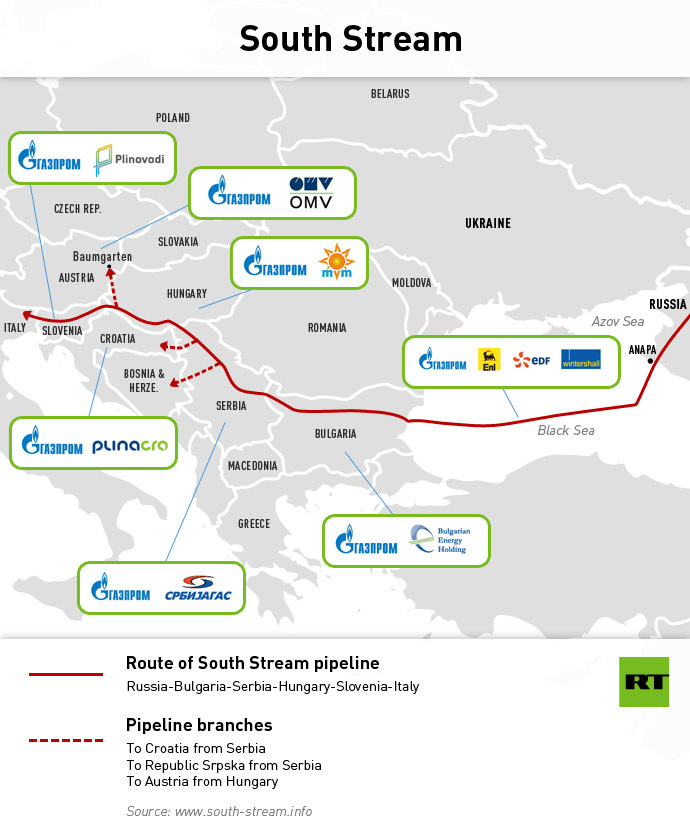 "As for the future of Russian gas exports to Europe, the problem of transit across Ukrainian territory remains. One of the more obvious solutions might be to diversify the delivery routes. In this regard, we hope that the European Commission will finally make a decision in the near future about the use of the OPAL gas pipeline at full capacity," Putin said.
OPAL (Ostsee Pipeline Anbindungs-Leitung) is a 470-kilometer transit pipeline, which links Russia's Nord Stream and Europe.
Brussels and Moscow are negotiating the volume that Gazprom can pump into the pipeline, and Gazprom wants to be the sole company filling OPAL, which the EU says would violate its Third Energy Package, which doesn't allow one single company to both produce and transport oil and gas.
A decision on OPAL is expected to be reached on October 20.
Energy deadlock
South Stream has been held up by the European Commission mainly due to back-and-forth talks on the so-called Third Energy Package. Other groups want to leverage South Stream to achieve goals in Ukraine.
Both Serbia and Bulgaria have faced pressure to halt work on the project.
"We need to resolve the deadlock concerning South Stream," Putin said.
Moscow broke ground on the South Stream project after securing bilateral agreements with Austria, Bulgaria, Croatia, Greece, Hungary, Slovenia and soon-to-be EU member Serbia. These countries all need to come to an agreement with the EU over the anti-monopoly law.
READ MORE: EU gives Gazprom preliminary 'OK' for South Stream gas pipeline
Strategic partners in the South Stream project are Italy's Eni, France's EDF, and Germany's Wintershall; European utilities that want to see the project become a reality to reduce reliance on gas deliveries from North Africa.
"We intend to further deepen our cooperation with the EU in the energy sector, where we are natural partners, on a transparent and predictable basis," Putin said.
In June, Gazprom was forced to cut supplies to Ukraine after authorities in Kiev refused to pay off its over $5 billion debt.
The South Stream pipeline will deliver about 64 billion cubic meters to Europe, Russia's biggest gas client. In 2013, Russia sent 162.7 billion cubic meters of gas to Europe.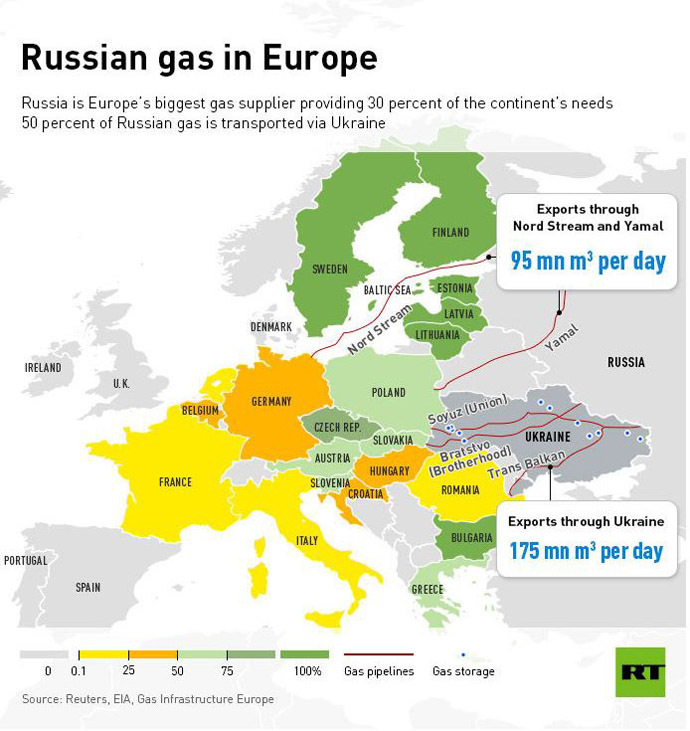 President Putin stressed that Russia has always been a reliable supplier of energy.
"Since the beginning of the 21st century, we have successfully implemented a number of major projects together with our European partners. This includes Nord Stream, which is an important factor in minimizing transit risks and ensuring uninterrupted gas supplies to Europe," the President said.
"Over recent months, Gazprom has been actively increasing gas reserves in European underground storage facilities.These measures are aimed at preventing transit disruptions and meeting peak demand in winter," Putin said.
On October 8, Gazprom bought Europe's largest gas storage facility, in the northern German town of Rehden.
Serbian investment
The Serbian portion of the pipeline will stretch 420 kilometers and Gazprom will work together with Centrgaz to construct the South Stream pipeline through Serbia. Gas will begin flowing through the Serbian part by the end of 2016.
READ MORE: Russia launches South Stream gas pipeline in Serbia
"The South Stream project will provide Serbia with more than €2 billion in new investment and significantly strengthen the country's energy security," Putin said.
Russian investment in Serbia has already exceeded $3 billion, most of which has been in the energy industry, particularly in Petroleum Industry of Serbia, a once-defunct company that is now a major contributor to the state budget. Serbia's rail infrastructure is also getting an upgrade with the financial support of Russian Railways.
Serbia and Russia are strong economic partners; Russia is Serbia's third largest foreign trade partner, after the EU and non EU-aligned countries in Southeast Europe. Trade in 2013 reached $3 billion. Russia and Serbia have had a free trade agreement since 2000. Twelve percent of Serbian imports come from Russia.
Bypassing Ukraine
Russia's main motivation in the Nord and South Stream projects is to cut Ukraine out of the energy equation to ensure uninterrupted deliveries to Europe.
The last round of trilateral gas talks, held in Berlin on September 26, concluded with a plan that Naftogaz, Ukraine's national oil and gas company, will pay off at least $3 billion of Gazprom debt by end of 2014, and then Russia will resume gas deliveries.
READ MORE: Ukraine's pipelines will lose 50% of value when South Stream starts - Naftogaz head
Russia supplies about a third of Europe's energy needs, about half of which travels via Ukraine.
Another compelling reason for South Stream is it being a new pipeline, instead of Ukraine's outdated transit system, which Gazprom estimates would cost as much as $19.5 billion to upgrade. The South Stream project is estimated to cost $45 billion, but will factor out risky Ukrainian politics in delivery.
You can share this story on social media: