No changes to South Stream gas pipeline – Serbian Prime Minister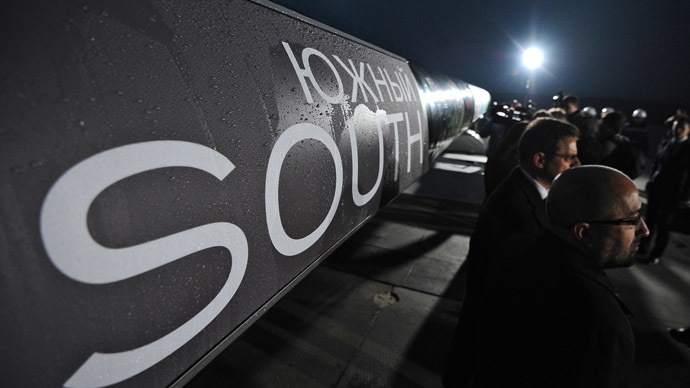 "Everything will go as planned," Prime Minister Aleksandar Vucic said, in response to earlier reports today that his country was halting operations on Gazprom's South Stream gas pipeline project.
The Serbian government has not made any new decisions regarding the construction of the South Stream pipeline, which will stretch 422 kilometers across the country and send Russian gas to European markets bypassing Ukraine.
"This decision must be made by the government, which is not currently in session. If everything goes as planned. If there are any changes, the government will make a decision and you will be notified about it," Prime Minister Vucic said Monday.
Earlier during the day, Serbia's Deputy Prime Minister and Minister for Transport and Infrastructure Zorana Mihailovich announced Serbia was halting work on the gas line, in response to Bulgaria's yesterday's decision to suspend.
Serbia didn't cite political reasons, but rather said that they can't complete their part of the project while there is a delay in Bulgaria. Mikhailovich said Serbia will wait until Bulgaria completes negotiations or Russia changes the pipeline route.
"Bulgaria - is the center. Until Bulgaria finishes negotiations with Brussels and the European Union and Russia, the project is suspended. Or until Russia changes the route. Either way, the first and second scenarios means there will be a delay in construction in our country," Mihailovich was quoted as saying in Belgrade's Blitz newspaper on Monday.
So far the Kremlin has remained mum, not commenting on the developments. Russian President Vladimir Putin's spokesperson Dmitry Peskov told RIA Novosti, "we need to check, it is too early to say anything."
Bulgaria unexpectedly ordered work on South Stream to be suspended on Sunday after holding talks with US Senators, and EU authorities ordered a freeze on the project.
Just last Thursday Serbia announced it had no plans to delay the start of construction, scheduled for July, over pressure from the EU.
Gazprom's $45 billion South Stream project, slated to open in 2018 and deliver 64 billion cubic meters of natural gas to Europe, is a strategy for Russia to bypass politically unstable Ukraine as a transit country, and helps ensure the reliability of gas supplies to Europe.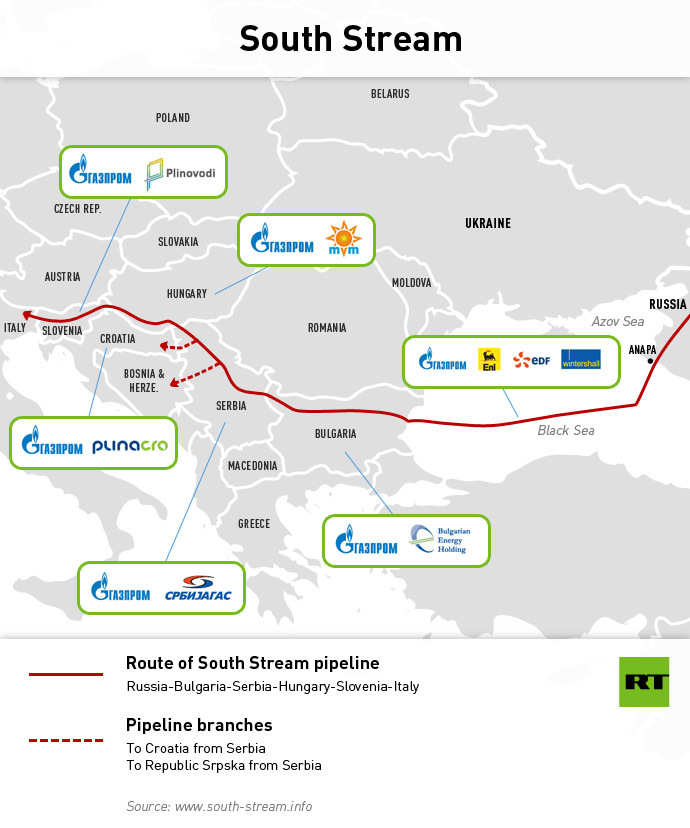 The project, which will supply Europe with 15 percent of its gas needs, requires onshore facilities in Bulgaria, Serbia, Hungary and Slovenia, all of which have signed intergovernmental agreements with Gazprom.
Setbacks from Europe
The South Stream project has faced a number of hurdles from the European Commission, and more since relations between Russia and Europe soured over Ukraine.
In order for South Stream to operate it needs approval from the EU, which is trying to stall the project until it complies with Europe's 'Third Energy Package'. In Europe, pipelines cannot be owned and operated by one company; Gazprom can only own 50 percent of the pipeline, a condition Russia does not accept.
In response to EU warnings, Gazprom said it can complete the South Stream pipeline without any outside international funding.
Gazprom broke ground on the Serbian section of the South Stream pipeline project early in 2013, and was slated to be complete within two years.
Serbia imports about 2.5 billion cubic meters of gas per year, most of which comes from Russia via Hungary and Ukraine.
Russia, Ukraine and the EU meet in Brussels to discuss Ukraine's energy debt, Sabina Berger, press secretary of the EU Commissioner Gunther Oettinger, says discussions on South Stream are not on the agenda.
On June 13, representatives of the European Commission will visit Bulgaria to discuss problems related to the South Stream project.