​EU 'shoots itself in the foot' by blocking South Stream – Gazprom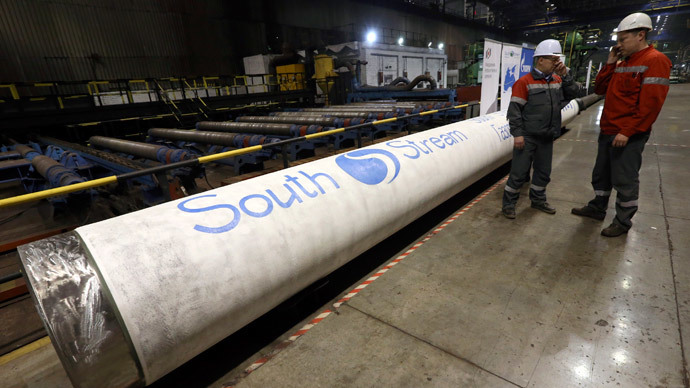 The attempts by the European Commission to delay the construction of the South Stream gas pipeline are motivated strictly for political reasons, Gazprom's spokesman has said.
"So far, the EU seems ready to shoot itself in the foot by blocking a project that will increase its energy security and help Europe satisfy increasing energy import needs, at no cost to European taxpayers," Gazprom spokesman Sergey Kupriyanov wrote in a letter to the Financial Times (FT).
It comes as a response to an article by the FT's Energy Editor Guy Chazan published on August 25, where he called the South Stream project "a pipe dream," saying the project "has become one of the biggest casualties of the east-west stand-off over Ukraine."
Kupriyanov says South Stream was designed to put an end to the over-reliance on the Ukrainian gas transit system, adding that countries in south-eastern Europe "probably have at least as many reasons as Gazprom to be 'desperate' to reduce transit risks."
Contrary to northern EU customers, who receive gas supplies from Russia via Nord Stream, south-eastern European countries still have to rely on the Ukrainian transit system.
Moreover, Kupriyanov adds, it's estimated the upgrade of the Ukrainian transit system would cost as much as $19.5 billion, with the removal of the transit risk still not resolved.
The South Stream project offers a lower cost solution, being commercially backed by leading European companies and supported by participating countries.
"We have decided on a multibillion dollar investment in one of the world's biggest energy infrastructure projects, together with several European partners. This decision was based on a rigorous economic and commercial evaluation, and we are determined to implement the project as planned," the Gazprom's spokesman said.
The South Stream gas pipeline will be 2,446 kilometers long and capable of transporting 63 billion cubic meters of natural gas a year. The project is expected to be opened by December 2019.
You can share this story on social media: