South Stream gas project irreversible - Bulgaria's Energy Minister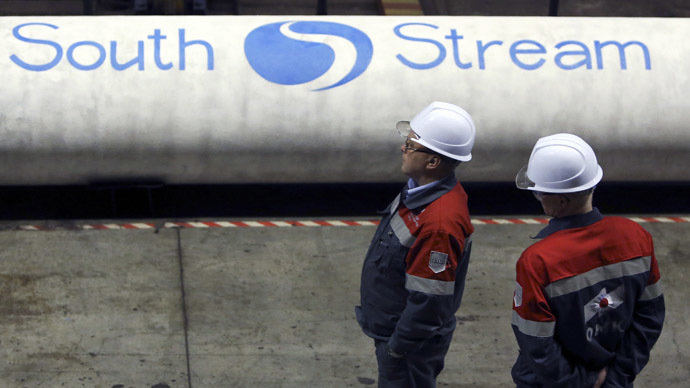 South Stream gas pipeline is irreversible, Bulgaria's Energy Minister Dragomir Stoynev said Monday, stressing that Bulgarian authorities have not given up plans to proceed with the project.
The minister's comment comes after Sunday's announcement that the country's premier Plamen Oresharski ordered a halt to the Russian Gazprom-led project which faces pressure from the EU.
"If we look at this situation strategically, not emotionally, it will be clear that the South Stream project can't be canceled. It's equally important for Europe and Bulgaria," Stoynev said.
"I'm convinced that all the issues currently on the table will be solved," Stoynev added.
In order for South Stream to operate it needs approval from the EU, which is trying to stall the project until it complies with Europe's Third Energy Package. In Europe, pipelines can't be owned and operated by the same company, and according to the law Gazprom can only hold 50 per cent of the project.
"The Prime Minister came out quite rapidly and said the project goes on, we are going to continue building, we want that several billions dollars of investment in Serbia, we need the jobs, we want to be effectively connected as a gas pipeline to the rest of Europe," Patrick Young, a global finance expert told RT.
Monday has been full of mixed messages between government officials and heads in Bulgaria, and as a result, Serbia has too.
On Monday morning, Serbia's Deputy Prime Minister and Minister of Transport Zorana Mihailovich announced that Serbia was stopping work on the gas line, is response to Bulgaria's decision to halt work. However, just hours later, Serbia's Prime Minister spoke out and said that Serbia has no plans to delay work on South Stream.
Young emphasized that the announcements from Serbia this morning were referencing infrastructure problems, and not Serbia's decision to pull out of the project completely, he said.
However, Gazprom has said the project can be completed without any outside international funding.
Bulgaria, the poorest member of the EU, imports nearly 90 percent of its natural gas from Russia. The country's president, Rosen Plevneliev, has said he hopes to cut dependence on Russia by 50 percent in the next five years.
Gazprom's $45 billion South Stream project, slated to open in 2018 and deliver 64 billion cubic meters of natural gas to Europe, is a strategy for Russia to bypass politically unstable Ukraine as a transit country, and helps ensure the reliability of gas supplies to Europe.
You can share this story on social media: