​US shale gas exports won't solve EU energy problems – Barroso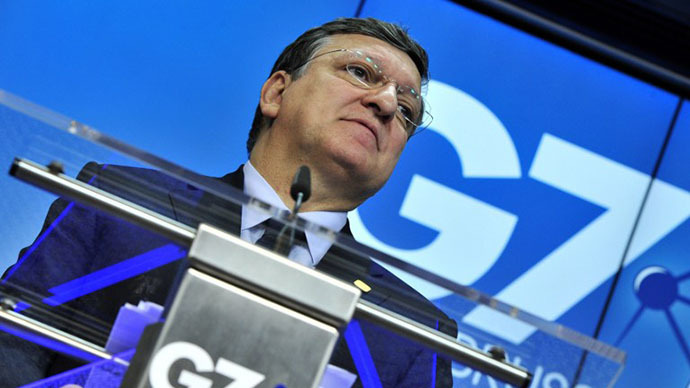 Exports of liquefied natural gas from the US won't solve the EU's energy security problems, European Commission President José Manuel Barroso said after the G7 meeting in Brussels.
Barroso said US President Barack Obama expressed readiness to increase the supply of natural gas to the EU at the March summit in Brussels, however the two leaders did not discuss the matter at their Thursday meeting in the framework of the G7.
This process will take a certain amount of time, the European Commission President said stressing the EU cannot create "the illusion that gas from the US is going to solve our problems."
EU energy security has become a key issue amid the developing crisis in Ukraine. As a result of Kiev's substantial gas debt to Russia, the price for Ukraine was raised from $268.50 to $485.50 per 1,000 cubic meters in April after Russia cancelled two discounts. Kiev authorities have been demanding Moscow lower the rate, refusing to pay back the full debt until then.
Fifty percent of Europe's gas supplies enter the continent via Ukraine from Russian supply lines. Ukraine's debt may lead to the country's failure of transit obligations and the reduction of gas supplies to south-eastern Europe, said Russian Energy Minister Alexander Novak in April.
The EC President wrote in a letter to Russian President Vladimir Putin in May that Gazprom should stick to existing contracts with Europe and gas supplies shouldn't be interrupted.
"It … continues to be Gazprom's responsibility to ensure the deliveries of the required volumes as agreed in the supply contracts with European companies," Barroso wrote.
Russian President Vladimir Putin earlier dismissed speculation that US gas supplies to Europe will impact Russia's gas supplies.
"In order to set up exports of Liquefied Natural Gas (LNG), infrastructure has to be created either side of the Atlantic, and everyone understands that. This will take both, time and money," the Russian president told energy company executives during an industry panel in St. Petersburg, which was hosting the annual International Economic Forum.
Following the hydraulic fracturing boom in the US, which has seen it overtake Russia as the world's biggest gas producer, Washington has reversed a long-standing restriction on gas exports. Seven companies have been given permission to export so far, and multiple LNG terminals, necessary for transporting gas overseas, are being built, with dozens more awaiting the go-ahead from regulators.
Despite the significance of the trend, it does not appear likely the US will replace Russia in the intermediate term. In order to do so the US would have to divert a quarter of its gas to Europe. Meanwhile, its first facility does not even open until late next year, with the majority of the first wave of LNG terminals scheduled to come online between 2017 and 2020.
You can share this story on social media: