Putin: Nazi virus 'vaccine' losing effect in Europe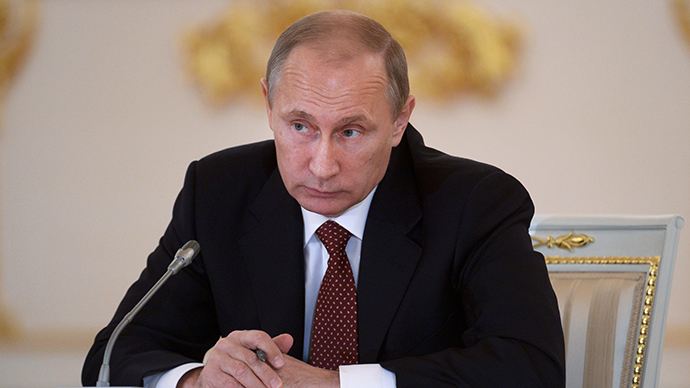 The coup d'état in Ukraine is a worrying example of growing neo-Nazi tendencies in Eastern Europe, Russian President Vladimir Putin told a Serbian newspaper. He stressed that "open manifestations" of neo-Nazism are also commonplace in Baltic states.
READ MORE: Putin: Russia's isolation is 'absurd and illusory goal'
"Regrettably, in some European countries the Nazi virus 'vaccine' created at the Nuremberg Tribunal is losing its effect. This is clearly demonstrated by open manifestations of neo-Nazism that have already become commonplace in Latvia and other Baltic states," Putin told Politika newspaper ahead of his visit to Serbia. "The situation in Ukraine, where nationalists and other radical groups provoked an anti-constitutional coup d'état in February, causes particular concern in this respect."
Below is the full text of the interview.
Politika:You are coming to Belgrade to take part in the celebrations commemorating the 70th anniversary of the city's liberation from occupation by Nazi Germany. Why, in your view, are such commemoration events important today?
Vladimir Putin: First of all, I would like to thank the Serbian leadership for the invitation to visit Serbia and take part in the celebrations commemorating the 70th anniversary of the liberation of Belgrade from occupation by Nazi Germany.
We are truly grateful to our Serbian friends for the way they treasure the memory of the Soviet soldiers who fought together with the National Liberation Army of Yugoslavia against Hitler's occupation troops. During World War II, over 31,000 Red Army officers and soldiers were killed, wounded or went missing on the territory of former Yugoslavia. About 6,000 Soviet citizens fought against the invaders in the ranks of the National Liberation Army. Their courage brought our common victory over Nazism closer and will always be remembered by our peoples as an example of bravery, unyielding determination and selfless service to one's homeland.
It is hard to overestimate the importance of the upcoming events. Seventy years ago, our nations joined forces to defeat the criminal ideology of hatred for humanity, which threatened the very existence of our civilization. And today it's also important that people in different countries and on different continents remember what terrible consequences may result from the belief in one's exceptionality, attempts to achieve dubious geopolitical goals, no matter by what means, and disregard for basic norms of law and morality. We must do everything in our power to prevent such tragedies in the future.
Regrettably, in some European countries the Nazi virus "vaccine" created at the Nuremberg Tribunal is losing its effect. This is clearly demonstrated by open manifestations of neo-Nazism that have already become commonplace in Latvia and other Baltic states. The situation in Ukraine, where nationalists and other radical groups provoked an anti-constitutional coup d'état in February, causes particular concern in this respect.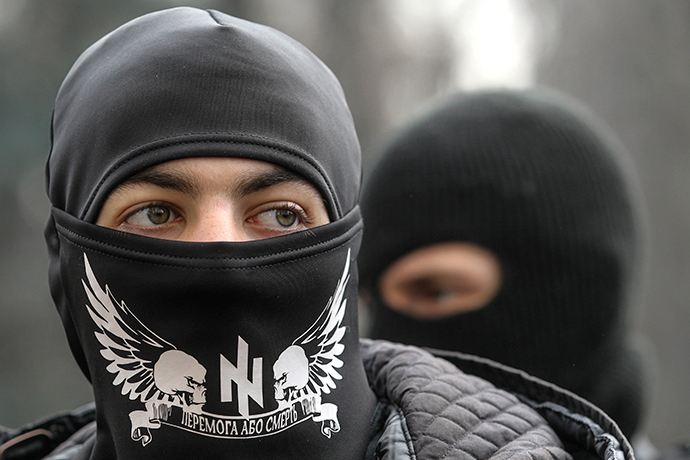 Today, it is our shared duty to combat the glorification of Nazism. We must firmly oppose the attempts to revise the results of WWII and consistently combat any forms and manifestations of racism, xenophobia, aggressive nationalism and chauvinism.
I am sure that the anniversary celebrations in Belgrade, which are to become another manifestation of the sincere friendship between our nations based on the feelings of mutual affinity and respect, on spiritual kinship, on brotherhood in arms in the years of WWII, will also contribute to addressing these challenges. We hope that the preservation of historical memory will continue to help us strengthen peace, stability and welfare of the common European space together.
Politika:How do you see the Russian-Serbian relations today? What has been achieved during the past 20 years and what future trends in the interaction between the two countries do you foresee?
Vladimir Putin: Serbia has always been and still is one of Russia's key partners in southeastern Europe. Our nations are united by centuries-long traditions of friendship and fruitful cooperation. Their development is fostered by common interests in such spheres as politics, the economy, culture and many others.
Today, Russian-Serbian relations are on the rise. In 2013, President of Serbia Tomislav Nikolic and I signed the Interstate Declaration on Strategic Partnership, reaffirming our shared intention to promote large-scale collaboration in all key areas.
We have maintained active political contacts to discuss relevant bilateral and international issues in the spirit of confidence and agree on joint practical steps. Our governments cooperate closely within the United Nations, OSCE, the Council of Europe and many other organizations.
We are satisfied with the consistent progress in our economic relations bolstered by the existing free trade regime between our countries. In 2013, our mutual trade grew by 15 percent amounting to $1.97 billion, and, in the first six months of 2014, it increased by another 16.5 percent to $1.2 billion. We expect it to reach $2 billion by the end of this year.
A positive trend continues in the field of investment as well. The total amount of Russian investments in Serbia has exceeded $3 billion. Most of these funds have been invested in the strategically-important energy industry. One example of successful cooperation is the energy giant Petroleum Industry of Serbia, which has turned from a loss-making enterprise into a major contributor to the Serbian state budget. The South Stream project will provide Serbia with more than 2 billion euro in new investments and significantly strengthen the country's energy security.
Serbia's rail infrastructure is being rebuilt and upgraded with the participation of the Russian Railways and our support in the form of loans.
I am pleased to see Serbian businesses play an active part in the promising Russian market. For example, they supply high-quality agricultural and industrial products.
I would like to note another important area of our bilateral cooperation. In recent years, the Russian-Serbian Humanitarian Centre in Nis has taken part in disaster response operations in the Balkans on several occasions. Last May, Russian rescuers helped to evacuate people during a severe flood. Russian Emergencies Ministry aircraft made several flights to deliver more than 140 tonnes in humanitarian aid to Serbia.
The growing mutual interest of Russian and Serbian people in our countries' history and culture is also evidence of deepening humanitarian relations. This autumn, Serbia is hosting Days of Russian Spiritual Culture with great success. The central event is the exhibition titled Russia and Serbia. History of Spiritual Connections, 14th-19th Century. We plan to expand cultural, educational, scientific and youth exchanges, and to promote tourism and sports events.
I am confident that my upcoming visit to Belgrade will give a new boost to the traditionally friendly Russian-Serbian relations, which will continue to grow and strengthen from year to year.
Politika:There is currently a great deal of speculation regarding the possible reduction in the supplies of Russian gas to Europe because of Ukraine's debt. Should European consumers get ready for a cold winter? What about the future of the South Stream project, which is of great interest to Serbia?
Vladimir Putin: First of all, I would like to stress that Russia is meeting its obligations in full with regard to gas supplies to European consumers. We intend to further deepen our cooperation with the EU in the energy sector, where we are natural partners, on a transparent and predictable basis.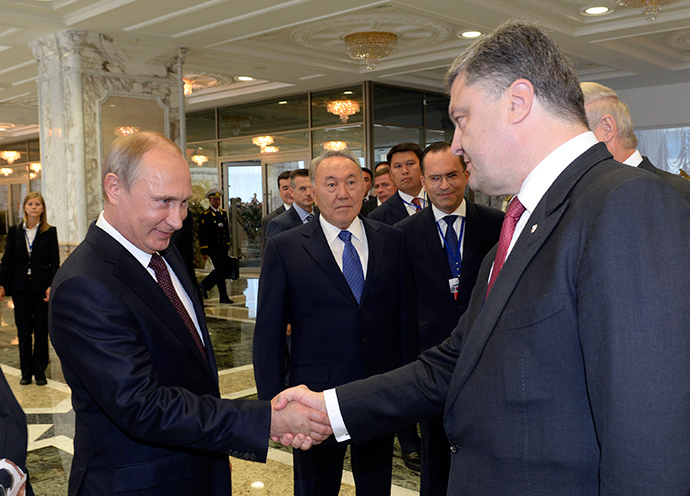 Since the beginning of the 21st century, we have successfully implemented a number of major projects together with our European partners. This includes the Nord Stream pipeline, which is an important factor in minimizing transit risks and ensuring uninterrupted gas supplies to Europe. Over recent months, Gazprom has been actively increasing gas reserves in European underground gas storage facilities. These measures are aimed to prevent transit disruptions and meet peak demand in winter.
Naturally, we are aware of the risks generated by the Ukrainian crisis. We were forced to interrupt gas supplies to Ukraine last June because the Kiev authorities refused to pay for gas supplies they had already received. In late summer and early autumn, we held a series of consultations in a three-party format with the participation of Russia, the EU and Ukraine, where we discussed possible mutually-acceptable solutions to the problem of the Ukrainian gas debt settlement, resumption of gas supplies to Ukraine - which had been stopped by the Ukrainian side itself - and continuous hydrocarbon transit to Europe. We are ready to continue constructive talks on these issues.
As for the future of Russian gas exports to Europe, the problem of transit across the Ukrainian territory remains. One of the more obvious solutions might be to diversify the delivery routes. In this regard, we hope that the European Commission will finally make a decision in the nearest future about the use of the OPAL gas pipeline at full capacity.
In addition, we need to resolve the deadlock concerning the South Stream. We are convinced that this project will significantly contribute to integrated energy security in Europe. It will benefit everybody, Russia as well as European consumers, including Serbia.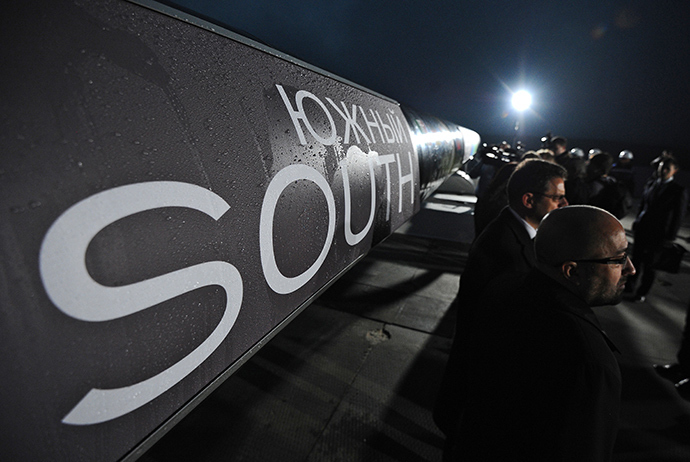 Politika:In your opinion, what is the ultimate objective of the sanctions against Russia, imposed by the EU and the United States? How long will they last, in your view, and how much harm can they do to Russia?
Vladimir Putin: This question should be addressed to the EU and the United States, whose reasoning is hard to understand. Any unbiased person knows that it was not Russia who staged the coup d'état in Ukraine, which led to the grave internal political crisis and a split in society. An unconstitutional seizure of power was the starting point for the subsequent events, including the ones in Crimea. The people of Crimea, seeing the complexity and unpredictability of the situation and in order to protect their rights to their native language, culture and history, decided to hold a referendum in full compliance with the UN Charter, as a result of which the peninsula re-joined Russia.
Our partners should be well aware that attempts to put pressure on Russia with unilateral and illegitimate restrictive measures will not bring about a settlement, but rather impede the dialogue. How can we talk about de-escalation in Ukraine while the decisions on new sanctions are introduced almost simultaneously with the agreements on the peace process? If the main goal is to isolate our country, it's an absurd and illusory goal. It is obviously impossible to achieve it, but the economic health of Europe and the world can be seriously undermined.
With regard to the duration of the restriction measures, it also depends on the United States and the European Union. For our part, we will adopt a balanced approach to assessing the risks and impact of the sanctions and respond to them proceeding from our national interests. It is obvious that the decline in mutual confidence is bound to have a negative impact on both the international business climate in general and on the operation of European and American companies in Russia, bearing in mind that such companies will find it difficult to recover from reputational damage. In addition, it will make other countries think carefully whether it is wise to invest their funds in the American banking system and increase their dependence on economic cooperation with the United States.
Politika:What do you think the future holds for Russian-Ukrainian relations? Will the United States and Russia re-establish a strategic partnership after all that has happened, or will they build their relations in a different way?
Vladimir Putin: As for Russia, its relations with Ukraine have always played and will continue to play a very important role. Our nations are inextricably linked by common spiritual, cultural and civilizational roots. We were part of a single state for centuries, and that huge historical experience and millions of intertwined fates cannot be dismissed or forgotten.
Despite the current difficult stage in Russian-Ukrainian relations, we are interested in progressive, equitable and mutually-beneficial cooperation with our Ukrainian partners. In practice, this will become possible after sustainable peace and stability are achieved in Ukraine. Therefore, we hope to see an end to the protracted deep political and economic crisis.
Today, there is a real opportunity to end the armed confrontation, which actually amounts to a civil war. The first steps in this direction have already been made. It is vital to start a real intra-Ukrainian dialogue as soon as possible involving representatives from all the regions and political forces. This approach was documented in the Geneva Statement of April 17. Such a nationwide dialogue must focus on Ukraine's constitutional structure and the future of the country, where all the citizens with no exception will live comfortably and in safety.
As for Russian-US ties, our aim has always been to build open partnership relations with the United States. In return, however, we have seen various reservations and attempts to interfere in our domestic affairs.
Everything that has happened since the beginning of this year is even more disturbing. Washington actively supported the Maidan protests, and when its Kiev henchmen antagonized a large part of Ukraine through rabid nationalism and plunged the country into a civil war, it blamed Russia for provoking the crisis.
Now President Barack Obama in his speech at the UN General Assembly named the "Russian aggression in Europe" as one of the three major threats facing humanity today alongside with the deadly Ebola virus and the Islamic State. Together with the sanctions against entire sectors of our economy, this approach can be called nothing but hostile.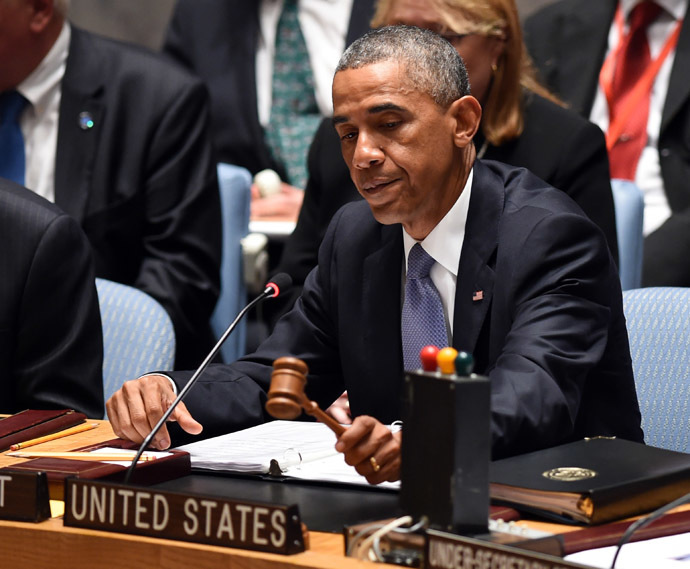 The United States went so far as to declare the suspension of our cooperation in space exploration and nuclear energy. They also suspended the activity of the Russia-US Bilateral Presidential Commission established in 2009, which comprised 21 working groups dedicated, among other things, to combating terrorism and drug trafficking.
At the same time, this is not the first downturn in relations between our countries. We hope that our partners will realize the futility of attempts to blackmail Russia and remember what consequences discord between major nuclear powers could bring for strategic stability. For our part, we are ready to develop constructive cooperation based on the principles of equality and genuine respect for each others' interests.
You can share this story on social media: