US sanctions won't undermine Russian economy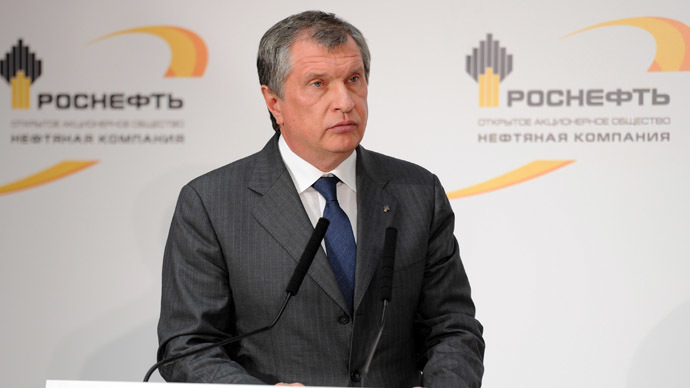 The third round of US sanctions do not heavily target Russia's key industries, but include asset freezes against 17 companies and 7 individuals, including Rosneft CEO Igor Sechin.
All companies on the fresh round of sanctions are owned by Gennady Timchenko, Arkady and Boris Rotenberg, or Bank Rossiya, which were targets of the second round, the US Treasury Department said in a statement on their website on Monday, April 28.
"Companies have been designated on the Entity List based on a determination they are involved, or pose a significant risk of becoming involved, in activities contrary to the national security and foreign policy interests of the United States," the US Office of Congressional and Public Affairs said in a press release.
The banks sanctioned are SMP Bank, Russia's 36th largest by assets, Sobinbank, the country's 90th largest bank, and Investkapitalbank, number 197.
Arkady Rotenberg's bank, SMP, was "ready" for the sanctions, according to a bank spokesperson, who said the lending institution had already taken a number of precautions to minimize any sanction-related damage to customers.
Following the announcement of sanctions, US-based payment system MasterCard suspended its services to two Russian banks, targeted SMP and Investcapitalbank. This brings the number of Russian banks that the system has stopped working with to four. In March, MasterCard suspended work with Sobinbank and Bank Rossiya, but then resumed services shortly. International payment systems Visa and MasterCard already halted services with both SMP and Investcapitalbank in March.
No publicly-listed Russian companies were included on the new sanction list, but Obama said that the US and its allies would keep broader sanctions "in reserve" in the event of further escalation on the ground in Ukraine. Before, US politicians called for sanctions against Russia's finance and energy sectors.
Sechin, Sanctioned
Igor Sechin, the head of Russia's biggest oil company Rosneft, is a prominent Russian businessman singled out by the US. Former Board of Director, Sergey Chemezov, was also placed under sanctioned. Chemezov is the current CEO of state-owned hi-tech holding company Rostec.
Sanctions, however, do not affect Russia's state-owned Rosneft.
Commenting on the newly imposed sanctions, Sechin linked the measure to Rosneft's activity and considered it as "an appreciation" of the company's "efficiency".
"We understand that the American administration noticed the company's active actions aimed at minimizing the risks, linked with the unilateral orientation of hydrocarbons exports to concrete regional markets," Rosneft's press office cited Sechin as saying in a statement. "I take the last steps by Washington as an appreciation of the efficiency of our work."
He assured Rosneft's shareholders that the US measures against him would not affect the company's effectiveness and stressed that the oil producer will continue cooperation with American partners.
Despite the sanctions, US oil giant ExxonMobil and Rosneft will continue to develop hydrocarbon reserves in the arctic waters of Russia. On Monday, Rosneft approved the development of two oil fields jointly with ExxonMobil at a board meeting, the company said in a statement.
Rosneft shares in Moscow fell 1.56 percent at 18:30 local Moscow time. The total market capitalization of the company is $64.7 billion. BP shares were down 1.3 percent.
By personally going after Sechin, the US has sent a message that the next round of sanctions could hit the heart of the Russian economy- the energy sector.
BP and 'Big Oil'
When Sechin was rumored to be on a previous EU sanction list, a spokesperson said the move was "stupid" and would "sabotage" the West, which has very tight-knit relations with 'Big Oil' companies based in the UK and US.
Rosneft is the world's largest-listed oil company, and British Petroleum (BP) has a 19.75 percent stake, making it the biggest foreign investor in Russia's oil sector.
BP, Europe's second-largest oil company is based in the UK, but over 40 percent of assets are located in the US.BP CEO Bob Dudley has told shareholders the company remains positive about business with Russia.
"We are considering today's announcement to see specifically what this may mean for BP," a spokesman for BP in London said, adding the company would comply with any "relevant" sanctions.
"We are committed to our investment in Rosneft, and we intend to remain a successful, long term investor in Russia," the spokesman said.
Other individuals on the list are politicians, including Deputy Prime Minister Dmitry Kozak and Aleksey Pushkov, Chairman of the State Duma Committee on International Affairs.
Individuals on the new list will have their assets frozen and be denied visas to travel to the US.
America's 'Cold War Mentality'
Previously, the EU and US blacklisted dozens of Russian politicians and businessmen, freezing assets and issuing travel bans. The US also imposed sanctions on Russia's 14th largest lender, Bank Rossiya.
The US Treasury Department's statement said the new sanctions were motivated by Russia's failure to deescalate violence in neighboring Ukraine.
Moscow maintains that further economic sanctions against Russia simply fuel the revival of a Cold War mentality and are counter-productive. Russian President Vladimir Putin has said that Western efforts to disrupt Russia's influence over the world energy market will backfire and hurt the US.
The EU has so far not introduced a third stage of sanctions against Russia over Ukraine, as there is little consensus among member states.
On April 17, leaders from Russia, Ukraine, EU, and the US agreed a peace plan for Ukraine in Geneva, Switzerland.
You can share this story on social media: