US lawmakers call on sanctions against Gazprom, Russian banks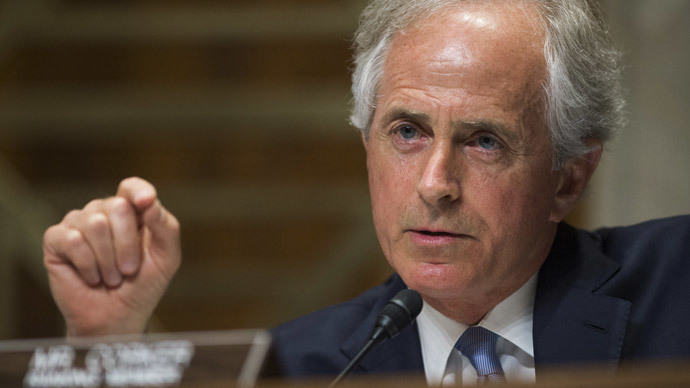 Washington is inching closer to imposing a tighter financial grip on Russia. The next round of sanctions could target more banks and the heart of the Russian economy - the energy sector. In sights is Gazprom, Russia's largest natural gas producer.
Two members of the US Senate Committee on Foreign Relations on Sunday called for more stringent business-aimed sanctions against Russia, as tension in Ukraine continues to test diplomacy between Washington and Moscow.
US Senator Bob Corker (R-Tennessee), said the US should apply pressure on Gazprom and other lucrative financial arms of the state if Russia doesn't withdraw troops from the Ukrainian border.
The next step will be Gazprom, Russia's state-owned and biggest natural-gas producer, the senator said while speaking on NBC's 'Meet the Press' program on Sunday.
"I really do believe we should be sanctioning some of the companies in the energy sector, Gazprom and others. I think we should hit some of the large banks there," Corker warned.
Gazprom accounts for 14 percent of the world's global natural gas, and is a main supplier to Europe. Nearly half of their exports to the European market travel through Ukraine.
"I think the time is now to rapidly ratchet up our sanctions, whether it's on Russian petrochemical companies or on Russian banks," Chris Murphy (D-Connecticut), also a member on the Committee on Foreign Relations, said on "Meet the Press"
Corker and Murphy are echoing President Obama's sentiments when he said the US was considering introducing sanctions on state-owned banks, energy utilities, and mining companies.
So far sanctions on Russia haven't been directly aimed at particular companies. EU and US sanctions against Russia have included freezing assets and issuing travel bans on top Russian politicians, as well as targeting the country's 14th largest bank, Bank Rossiya, and businessmen believed to be close to President Putin.
'Isolation leads to nowhere'
Corker wants to act proactively, before Russia issues any sanctions against the West, as some Russian parliament members have suggested in response to US aggression.
"Our foreign policy is always a day late and a dollar short because we're reacting," Senator Murphy said.
"I don't think Putin really believes we're going to punish them in that way," he added.
But Russian Foreign Minister Sergey Lavrov says the US should take responsibility for those whom they put in power instead of issuing ultimatums to Moscow.
"Isolation has never led anyone to anything. Those trying to isolate in various situations various countries and various governments were in the end compelled to talk to those whom they wanted to isolate," Lavrov said Monday.
Russia's ambassador to the US, Sergei Kislyak, said new economic sanctions against his country would amount to a "revival of the Cold War mentality" and would be counter-productive.
"We can withstand pressures," Kislyak said on 'Fox News Sunday' yesterday.
Fresh protests in Eastern Ukraine have led policymakers in Washington to point their finger at Moscow, accusing it of provoking separatist sentiment.
You can share this story on social media: