MPs consider sanctions against US businesses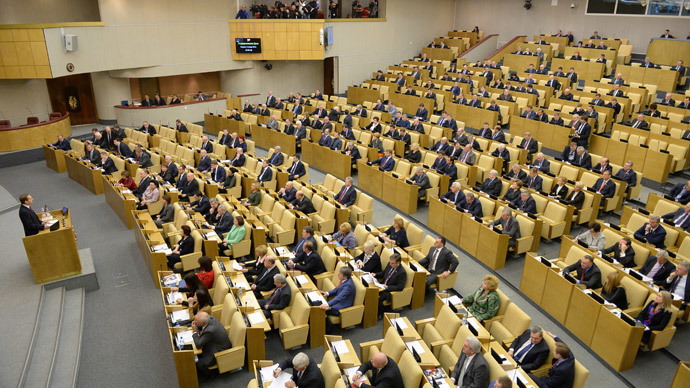 Russia might take reciprocal action against US companies as soon as it finds suitable replacements in other countries, several lawmakers have said.
The issue of mirror sanctions is often being raised in parliament, MP Vadim Dengin told the mass circulation daily Izvestia. In particular, Russia might impose limits on companies owned by US citizens or affiliated with US-owned corporations. "If the United States is not afraid to lose business contacts with us by introducing similar sanctions, we should have already given full support to a domestic producer," Dengin said.
A member of the Lower House committee for the financial markets, Boris Kashin, emphasized that sanctions against US companies would only be imposed if the United States first introduced such measures against Russia. The lawmaker also said that it was important if Russia could do without certain services and products.
"Not all of these [US-made] goods can be produced in Russia or replaced with imports from other countries. At present we cannot do without American computers, but if we discover an alternate, for example, a China-made one,we can include the US products in the possible sanctions list," Kashin said.
Upper House MP Yevgeniy Tarlo said that Russian sanctions did not have to be completely symmetrical. "We have to reply, because Russia is a great country and we have something to say in reply. But we must not mirror our opponents. First of all we must apply sanctions to politicians as it was them who made the initial decision on sanctions. We need something that would make them think ten times before they introduce new ones," the senator told the press.
On Monday the leaders of the G7 countries issued a joint declaration in The Hague saying they would not participate in the June G8 summit in Sochi and in the April G8 meeting of foreign ministers in Moscow. The declaration attacked Russia's position over the crisis in Ukraine and the support for the Crimean Republic that has opted to secede from Ukraine and join the Russian Federation.
A short time earlier the United States and some other Western nations announced that they were slapping visa bans and asset freezes on Russian officials and top businessmen over the situation in Crimea.
Senior Russian officials, including President Putin's press secretary Dmitry Peskov have said that these moves were harmful for both sides and called upon the West to continue cooperation.
The Associated Press has quoted several business experts as saying that Western sanctions might push Russia closer to other markets, such as China and other ASEAN countries.
Besides, the dispute with Russia is putting in jeopardy some important political decisions, such as the nuclear deal with Iran, the destruction of Syrian chemical weapons and the retreat from Afghanistan, AP's sources pointed out. Space exploration could be hit as the United States is using Russian carriers to deliver crews to the International Space Station, they added.
You can share this story on social media: