G8 nations' refusal to cooperate is counterproductive - Putin's spokesman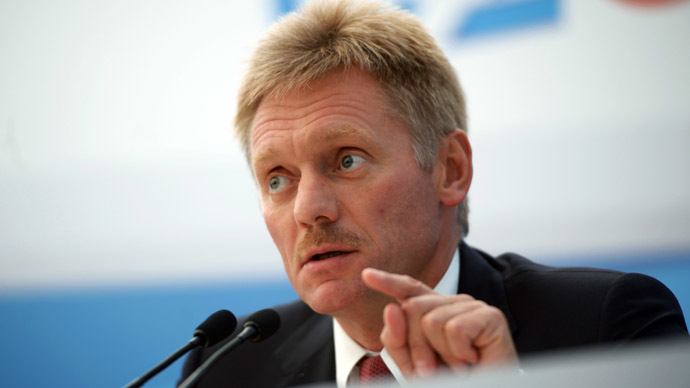 Russia considers promises of future pressure from the World's top economies harmful for both sides, and invites its partners to continue cooperation, presidential spokesman Dmitry Peskov has said.
"Russia remains open for contacts on all levels, including the top level. We are interested in these contacts," the Interfax news agency quoted Vladimir Putin's press-secretary as saying.
Peskov also noted that cooperation between Russia and the rest of the G8 continued at the expert level and in other broader formats. "So far, we have not received any information on our partners' intent to postpone or cancel these contacts," he said.
These include such events as the Russia-Germany summit consultations scheduled for April and the invitation to Vladimir Putin to participate in the celebrations dedicated to the 70th anniversary of the allies' landing in Normandy, France.
On Monday the leaders of the G7 countries issued a joint declaration in The Hague saying they would not participate in the June G8 summit in Russia's Sochi and in the April G8 meeting of foreign ministers in Moscow. The declaration attacked Russia's position over the crisis in Ukraine and the support for the Crimean Republic that has opted to secede from Ukraine and join the Russian Federation.
Commenting on this move Russian Foreign Minister Sergey Lavrov told the press on Monday evening that his country was not clinging to the G8 format, as all major world problems can be discussed at other international venues such as G20."Generally speaking, there are also other formats for considering many questions, including the UN Security Council, the Middle East Quartet and the P5+1 on the Iranian nuclear problem," Lavrov added.
The top Russian diplomat also attacked Australia for suggestions it could decide not to invite President Putin to the November G20 meeting in Brisbane. "The G20 was not established by Australia, which voiced the proposal not to invite Russia to the meeting. We created the format all together," Lavrov said.
Foreign ministers from Brazil, Russia, India, China and South Africa (BRICS) also addressed the issue in their joint statement issued after the meeting held on the sidelines of the nuclear summit in The Hague. The statement said that the custodianship of the G20 belongs to all member-states equally and no one member-state can unilaterally determine its nature and character.