Sanctions won't hurt Russia – veteran MP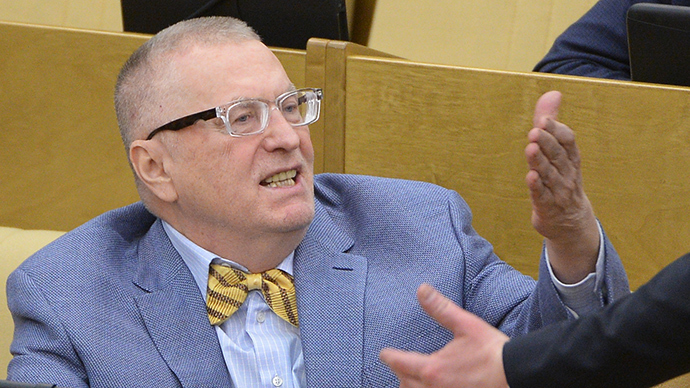 Possible sanctions against Russia are an insult but would hardly do any serious damage, the head of the Liberal Democratic Party has announced in the State Duma.
Western nations such as the United States and the EU countries are very limited in their ability to influence Russian politics through sanctions as they themselves depend on Russia in many ways, including aspects of international security, Vladimir Zhirinovsky told reporters on Wednesday before the start of the parliamentary session.
"Any sanctions should be imposed by international bodies after some terrible events. Trying to raise the issue of sanctions when we only try to protect the people – this is what only barbarians would do," the ITAR TASS news agency quoted the politician as saying.
"The USA is ready to support anyone if this would help them spite Russia, this is still the remnants of the Cold War," Zhirinovsky added.
"The same applies to economic sanctions, they cannot have any direct negative impact on us," the LDPR leader said."No sanctions are currently possible and the threats of their application should be perceived as an insult," he concluded.
Earlier this month European Union leaders threatened Russia with visa bans, asset freezes and various economic restrictions for refusal to unconditionally recognize the coup-appointed government in Ukraine, and for steps to support the ethnic Russian residents of the eastern and south eastern regions of the country. Polish PM Donald Tusk told the press on Tuesday that the decision to impose sanctions had already been made and they would start as soon as Monday.
Last week US authorities announced they had imposed visa restrictions on Russian and Crimean officials and private citizens who they accused of "threatening Ukraine's sovereignty and integrity."
After this Russian Foreign Minister Sergey Lavrov had a telephone conversation with US State Secretary John Kerry and told him that any sanctions introduced by the US against Russia will have a "boomerang" effect and urged Washington to steer away from actions that could hurt relations between the countries.
A short time after this President Vladimir Putin talked to Barack Obama on the phone and told him that Russia could not ignore the pleas for help from the Ukrainian Russian-speaking population, and that all Russia's actions were in full compliance with international law.
The Russian president emphasized that he regarded Russian-US relations as of paramount importance to guarantee stability and security in the world. "These relations should not be sacrificed to differences over individual – even though very important – international problems," the press release says.
You can share this story on social media: