Putin to Obama: Russian-American relations shouldn't be sacrificed for differences over intl problems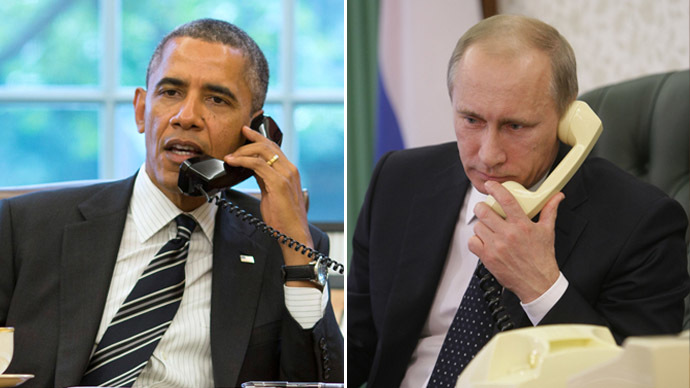 The presidents of Russia and the US have once again explained to each other by phone their diverging views on the situation in Ukraine. Vladimir Putin said he did not want relations to be sacrificed to their differences on just one issue.
An hour-long phone call on Thursday was initiated by Barack Obama several hours after he announced new visa restrictions and financial sanctions against Russians who the US accuses of contributing to the Ukrainian crisis.
"President Obama emphasized that Russia's actions are in violation of Ukraine's sovereignty and territorial integrity, which has led us to take several steps in response, in coordination with our European partners," a White House press release reads.
President Putin told his American counterpart that the government, which came to power in Ukraine following a coup, is not supported by all of the country but "is imposing its absolutely illegitimate decisions upon eastern, southeastern and Crimea regions."
"Russia cannot ignore calls for help it receives in this situation and it acts accordingly, in full compliance with international law," Putin said as cited in a Kremlin statement on Friday.
The Russian president emphasized that he regarded Russian-US relations as ones of paramount importance to guarantee stability and security in the world.
"These relations should not be sacrificed to differences over individual – even though very important – international problems," the press release says.
Both the US and Russian presidents said that heads of their foreign offices, John Kerry and Sergey Lavrov respectively, will continue intensive talks over Ukrainian crisis.
On Thursday the parliament of Crimea, mostly Russian-speaking autonomous region and epicenter of the current tensions between Moscow and Kiev, made a decision to secede from Ukraine and become part of Russia. That decision still has to be approved by a simple majority of Crimeans at a referendum scheduled for March 16.
The news was unwelcome by the coup-imposed government of Kiev, which described the Crimean referendum as illegitimate.
The reaction from the White House was a spontaneous briefing by President Obama, who said the referendum being considered in Crimea would violate international law if approved.
"Any discussion about the future of Ukraine must include the legitimate government of Ukraine," Obama said. "In 2014, we are well beyond the days when borders can be redrawn over the heads of democratic leaders."
Washington also announced on Thursday that the US had begun imposing sanctions against Russia, including visa restrictions against anyone "who threatens the sovereignty" of Ukraine.
EU leaders have also threatened Russia with sanctions, which could include visa bans, asset freezes and various economic restrictions unless it engages in direct talks with the coup-appointed Ukrainian government.
Facts you need to know about Crimea and why it is in turmoil
More than half the Crimean population are Russian and use only this language for their communication.
Crimean authorities denounced the self-proclaimed government in Kiev and declared that all Ukrainian law enforcement and military deployed in the peninsula must take orders from them. The majority of troops in Crimea switched sides in favor of the local authorities.
You can share this story on social media: