'Visa bans, asset freezes are next': Europe announces three step sanctions against Russia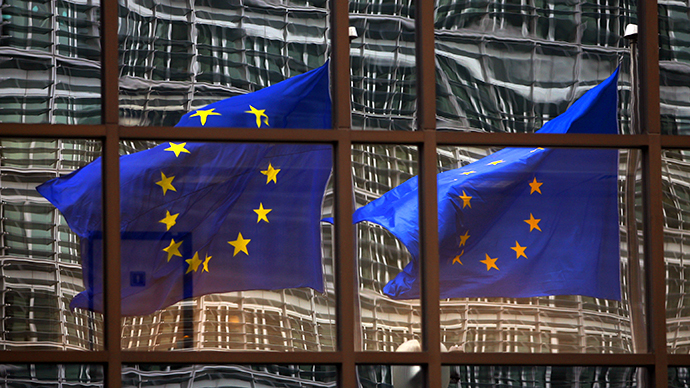 EU leaders have threatened Russia with sanctions, which could include visa bans, asset freezes and various economic restrictions unless it engages in direct talks with the coup-appointed Ukrainian government.
As a first step, the EU has halted G8 summit preparations and visa-free talks with Russia.
The European Council President, Herman Van Rompuy, on Thursday warned that if Moscow does not manage a de-escalation of the situation in Ukraine, it will "seriously affect the relations between the EU and Russia."
"If there is no de-escalation, the EU will decide on additional measures, such as visa restrictions, asset freezes and cancellation of the Russia-EU summit," Rompuy said at a press conference as quoted by Interfax.
British Prime Minister David Cameron threatened that asset freezes and unspecified travel bans could be imposed on Russia "relatively quickly," unless progress is made on dialogue with Ukraine.
French President Francois Hollande said that further economic measures against Russia are also possible.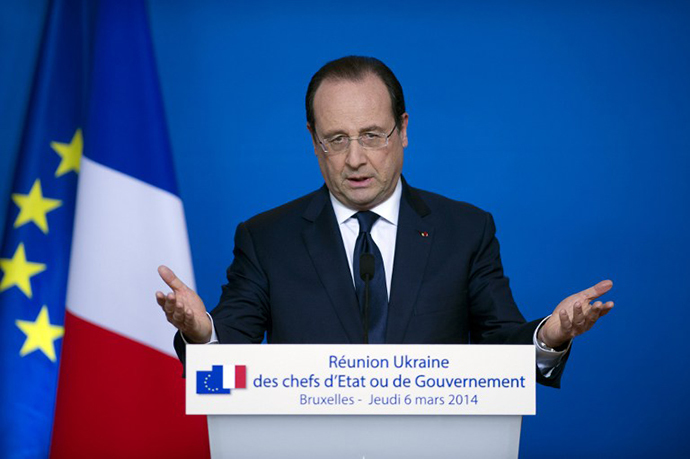 According to Cameron, those would be step-three in the sanctions and could carry "far-reaching consequences including in a broad range of economic areas."
Polish Prime Minister Donald Tusk said there was "no enthusiasm" in Europe for sanctions on Russia but the move was "inevitable."
German Chancellor Angela Merkel also blasted the referendum on joining the Russian Federation announced by Crimea's parliament on Thursday as "illegal and incompatible with Ukraine's constitution."
Following an emergency meeting of European leaders in Brussels, Merkel said they "condemn the violation of Ukraine's sovereignty with regard to Crimea," and "consider its territorial integrity to be essential."
The EU leaders urged the immediate withdrawal of what they believe are Russian troops blocking military installations in Crimea. All troops not part of the Ukrainian Armed Forces must lay down their weapons, Merkel said.
Ukraine should also receive the first portion of EU financial help swiftly, the German Chancellor believes. The EU plans to send 610 million euro to Kiev in the near future, which will later be followed by an aid package of 1 billion euro.
Quick signing of the political part of the EU association agreement with Ukraine is also a top priority task for the European leaders, according to Merkel. The trade-related part will be further discussed, taking into account close economic ties between Kiev and Moscow, she said.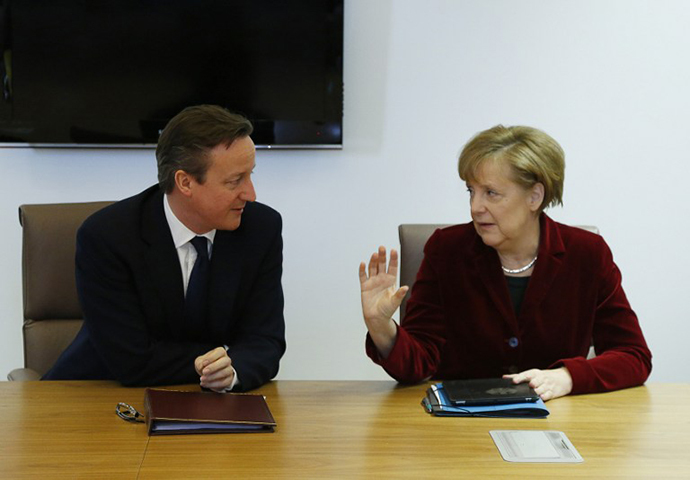 US President Barack Obama on Thursday also gave a speech on the situation in Ukraine, calling to start "direct negotiations between Russia and Ukraine with participation of the international community," Itar-Tass reports.
Speaking at the White House, Obama said the solution to the crisis should "take into account Russia's interests" but heed the sovereignty and territorial integrity of Ukraine. A proposed referendum in Crimea to join Russia would violate international law, he added.
Earlier on Thursday, Russian Foreign Ministry spokesman Aleksandr Lukashevich said that Moscow will react to any attempts to hamper the process of obtaining visas for Russian citizens travelling to European countries.
"Should consular posts of any of the EU member countries move toward a certain tightening of visa application proceedings, we will immediately react to that," he said.
He added that Russia was "surprised" by EU's decision to freeze talks on a visa-free regime with Russia.
"It is obviously a politicized, unconstructive and baseless approach, which goes contrary to the existing agreements between Russia and the EU on further simplification of rules for mutual citizens' travels," Lukashevich stressed.
Russian President Vladimir Putin urged world leaders to consider the "consequences" of sanctions against Russia on Tuesday.

"I believe that in the modern world, where everything is interconnected and interdependent, it is possible to cause damage to another country, but this will be mutual damage and one should bear this in mind," Putin said.
Meanwhile, the Crimean Prime Minister, Sergey Aksyonov, said he was bewildered by the threats of sanctions coming from the West with regard to the situation in Crimea.
"We live here, we can choose our future on our own – since when is it punishable by sanctions? What is it, political persecution? In Lvov, a military installation was seized, the prosecutors and police were thrown out and regional authorities were self-proclaimed – and nobody imposed any sanctions," Aksyonov told journalists at a media conference.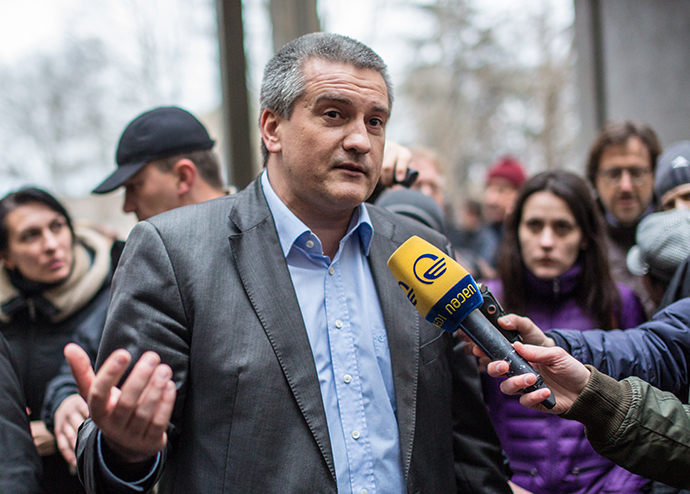 "As soon as the Russians for the first time concentrated on defending their interests – and not just Russians, the Ukrainians living here also, everyone got agitated and started talking sanctions. Do we advise America or Germany how to deal with their autonomous regions and tell people what to do? This is their own right, as is the right of the Crimeans for self-determination," Aksyonov stressed.
The Crimean authorities have denounced the self-proclaimed government in Kiev and declared that all Ukrainian law enforcement and military deployed in the peninsula must take orders from them. The Crimea authorities have asked Russia to provide assistance to ensure peace and order in the region.
Crimeans began protesting after the new Kiev authorities introduced a law abolishing the use of other languages for official purposes in Ukraine. More than half the Crimean population is Russian and uses only this language for their communication.
Facts you need to know about Crimea and why it is in turmoil
Many units within the national armed forces have started joining up with the pro-Russian Crimean government and the locals who organized self-defense against right-wing radicals. Recently, the commander of the Ukrainian navy and most of the military stationed in the peninsula took new oaths.
Under the Russian-Ukrainian Partition Treaty determining the fate of the military bases and vessels in Crimea – signed in 1997 and prolonged in 2010 - Russia is allowed to have up to 25,000 troops, 24 artillery systems (with a caliber smaller than 100 mm), 132 armored vehicles, and 22 military planes, on the peninsula's territory. The Russian Black Sea fleet is allowed to stay in Crimea until 2042. Moscow annually writes off $97.75 million of Kiev's debt for the right to use Ukrainian waters and radio frequencies, and to compensate for the Black Sea Fleet's environmental impact.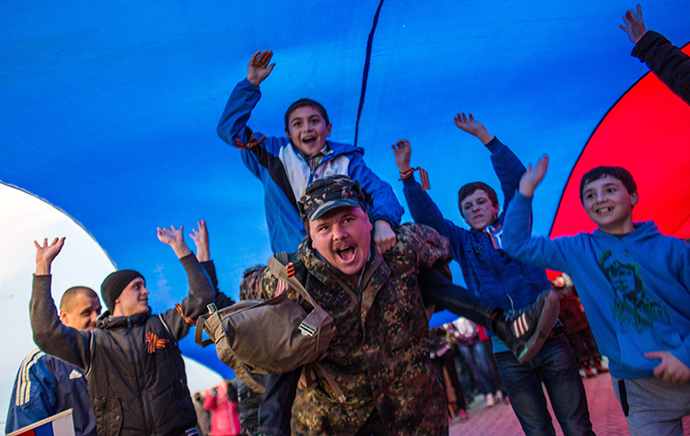 You can share this story on social media: