​US in tenuous sabre rattling over Ukraine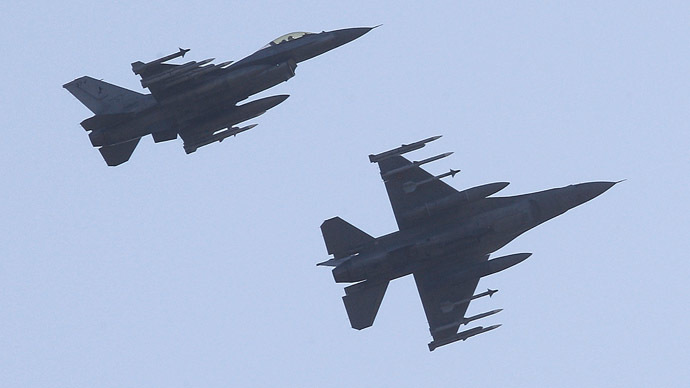 Under the pretext of "deterring Russian aggression" in Ukraine, the US Defense Department has announced plans to add several fighter jets to US aircraft squadrons based near Russian borders, in a move to embolden the Baltic states and Poland.
Following NATO Secretary General Anders Fogh Rasmussen announcement that alliance officials would put "the entire range of NATO-Russia cooperation under review," Pentagon head, Chuck Hagel, outlined plans on Wednesday to broaden military cooperation with Poland and the Baltic states, without elaborating on the details.
An unnamed source told Reuters that the Pentagon plans to send six additional F-15 fighter jets, and a Boeing KC-135 refueling Stratotanker, to beef up the squadron of four F-15 currently flying air patrols over the Baltic states. NATO has been carrying out patrols in the Baltic states for the last 10 years.
In Poland the US Air Force has a training squadron of F-16 fighters and Lockheed C-130 Hercules transport planes, and the same source said that more aircrafts might be added there.
Washington is accusing Moscow of deploying troops to the Ukrainian region of Crimea and has already called off all planned exercises and training with the Russian military in protest.
It should be noted that according to a Russian-Ukrainian treaty signed in 2010, Moscow has an agreed and constant military presence in the Crimean peninsula. Russia pays Ukraine $97.75 million annually for use of the naval base in Sevastopol. The treaty underpins Russia's right to bolster personnel in the Crimea to up to 25,000 troops.
Earlier this week, President Vladimir Putin said that Russia's military involvement in Ukraine would take place only as a "last resort."
"If we see this lawlessness starting in eastern regions, if the people ask us for help – in addition to a plea from a legitimate president, which we already have – then we reserve the right to use all the means we possess to protect those citizens. And we consider it quite legitimate," he said.
Last week Russia's Federation Council unanimously approved President Vladimir Putin's request to use Russian military forces in Ukraine if civil rights of the Russian minority in the country are violated.
Western capitals remain skeptical of Moscow's policy and continue to blame Russia of "military intervention" in Ukraine.
"This morning the Defense Department is pursuing measures to support our allies," Hagel told American lawmakers, specifying that this will include expansion of aviation training in Poland and deployment of additional US aircraft for patrol missions in the skies above Estonia, Latvia and Lithuania.
It is "time for all of us to stand with Ukrainian people in support of their territorial integrity," Hagel told the Senate Armed Services Committee.
The general dismissed Moscow's assertion that Russian troops are not deployed in the Crimea peninsula in Ukraine and called to "deter further Russian aggression."
Hagel also said that the head of the US European Command, General Philip Breedlove, also planned to hold consultations with central and eastern European defense chiefs.
'Deterring Russian aggression'
After Crimea's self-defense forces took control of the peninsula, Poland requested a NATO emergency meeting under the pretext of 'Article 4', which empowers any NATO member to request consultations if it believes its security, independence or territorial integrity are under threat.
"Regardless of the limited trust the world and Poland have to words spoken in Moscow, it must be said that we treat some of President Putin's remarks as proof that pressure … to stop a brutal intervention, a paramilitary intervention in Crimea is working," the Polish prime minister said last Tuesday, urging Russia to "abandon its aggressive plans toward Ukraine."
This statement was made after Russian President Vladimir Putin accused Poland and Lithuania of inciting protests in the capital of Ukraine, and training the protesters who battled against police forces in Kiev.
Ukraine is not a NATO member country, yet the recent developments in Ukraine caused Secretary General Anders Fogh Rasmussen to make a statement that NATO plans to "intensify our partnership" and "strengthen our cooperation" with Ukraine in order to "support democratic reforms."
Russia's NATO envoy, Aleksandr Grushko, told reporters "that NATO still has a double standard policy" and that "Cold War stereotypes are still applied towards Russia."
"Ukraine cannot join NATO because the West realizes what Kiev's NATO membership would mean for Russia," noted Deputy Foreign Minister Vassily Nebenzia .
You can share this story on social media: