US suspends trade talks, military cooperation with Russia over Ukraine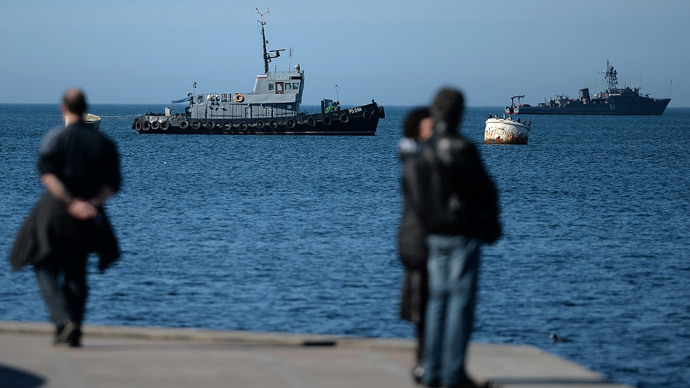 The US has suspended forthcoming trade and investment talks with Russia over situation in Ukraine, according to a US official. In addition, the Pentagon announced that the US has also suspended all joint "military engagements" with Russia.
"We have suspended upcoming bilateral trade and investment engagement with the government of Russia that were part of a move toward deeper commercial and trade ties," a spokesman for the Office of the US Trade Representative said.
Earlier Monday evening, Pentagon spokesman Rear Admiral John Kirby announced in a statement that US-Russia "military engagements," such as military exercises and port visits, are on hold for now.
"Although the Department of Defense finds value in the military-to-military relationship with the Russian Federation we have developed over the past few years to increase transparency, build understanding, and reduce the risk of military miscalculation we have, in light of recent events in Ukraine, put on hold all military-to-military engagements between the United States and Russia," the statement reads. "This includes exercises, bilateral meetings, port visits and planning conferences."
Kirby said the events in Ukraine have not changed US naval movements in the region.
"Some media outlets are speculating on possible ship movements in the region," Kirby said. "There has been no change to our military posture in Europe or the Mediterranean; our Navy units continue to conduct routine, previously planned operations and exercises with allies and partners in the region."
US President Obama met with his national security advisers late Monday. The group discussed how the US and allies could "reinforce that the Russians still have an opportunity to take immediate steps to de-escalate the situation or they face further political and economic repercussions from the international community," an anonymous White House official told Reuters of the meeting.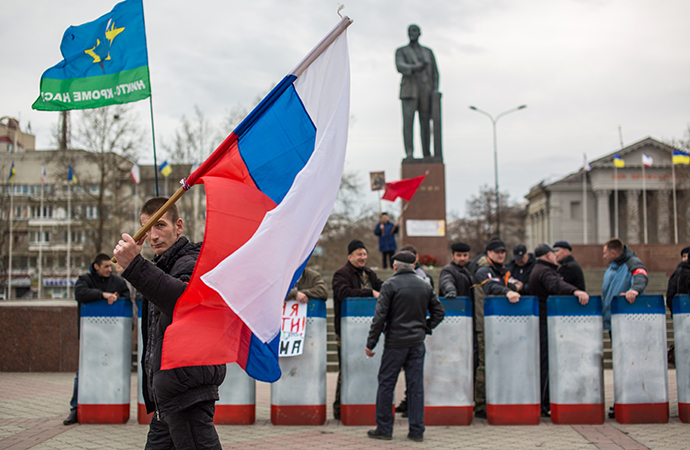 Earlier Monday, US State Department spokeswoman Jen Psaki told reporters in a conference call that the US "has a broad range of options available" against Russia should tensions with Ukraine escalate.
"At this point we are not just considering sanctions given the actions Russia is taking, it is likely we will put those in place and we are preparing that," she added.
Top members of Congress announced they are considering loan assistance to Ukraine, as well as possible sanctions against Russian officials and "individuals."
"We will also begin reviewing what authorities...we may provide the Administration so that the President can take actions to impose sanctions on Russian officials, oligarchs, and other individuals complicit in Russia's efforts to invade and interfere with Ukraine's sovereign affairs," House Majority Leader Eric Cantor said in a statement.
Senate Foreign Relations Committee Chair Robert Menendez said his committee is crafting legislation to offer $1 billion in "loan guarantees to support Ukraine's economy," according to Reuters.
Russia's prime minister, Dmitry Medvedev, and US Vice President Joe Biden discussed the events in Ukraine during a telephone call early on Monday, ITAR-TASS reported.
During the conversation, requested by Biden, Medvedev stressed "the need to protect the interests of all Ukrainian citizens, including people in the Crimea and the citizens of Russia, located on Ukrainian territory," Medvedev's press secretary, Natalia Timakova, said.
Medvedev and Biden did not raise the topics of economic sanctions against Russia or US participation in the G8 summit, scheduled for Sochi in June, Timakova said.
Meanwhile, at a United Nations Security Council (UNSC) meeting to discuss the situation in Ukraine, both the Russian and American ambassadors insisted their respective positions put the well-being of the Ukrainian people first.
Russian Ambassador to the UN Vitaly Churkin said that ousted Ukrainian President Viktor Yanukovich sent a letter to Russian President Vladimir Putin asking him to use military force in Ukraine. Churkin told the UNSC that it is about protecting the rights of the Russian-speaking population there and urged all sides in Ukraine to fulfill the commitments adopted on February 21.
"Under the influence of Western countries, there are open acts of terror and violence," Churkin quoted the letter from Yanukovich to Putin in the third emergency meeting of the UNSC.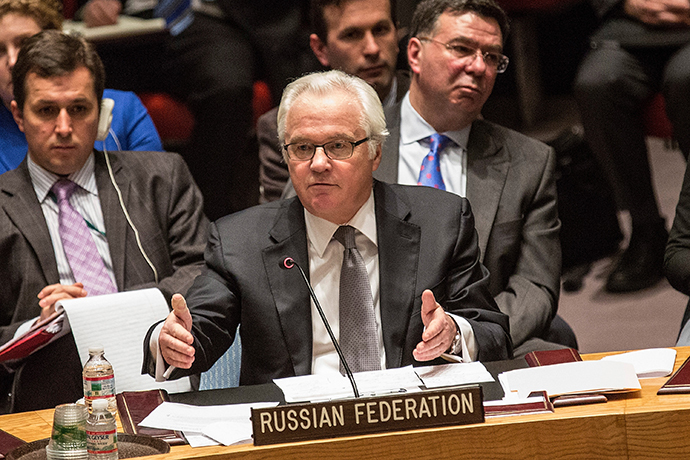 "People are being persecuted for language and political reasons," Churkin read. "So in this regard I would call on the President of Russia, Mr. Putin, asking him to use the armed forces of the Russian Federation to establish legitimacy, peace, law and order, stability and defending the people of Ukraine."
Churkin clarified at the UNSC meeting that Russia's goal is not to return ousted leader Yanukovich to power, but acknowledged that he is still the legitimate president of Ukraine and that his fate should be decided by the people of Ukraine.
US Ambassador to the UN Samantha Power followed Churkin's comments in front of the UNSC, saying that Russia's actions regarding Ukraine are a "violation of international law."
"It is a fact that today Russian jets entered Ukrainian airspace," Power said. "Russian military action is not a human rights protection mission. It is a violation of international law and a violation of the sovereignty and territorial integrity of the independent nation of Ukraine...Russian mobilization is a response to an imaginary threat."
"Russia needs to...engage directly with the government of Ukraine," Power added.
Power appealed for human rights monitors to be sent to Ukraine, while calling on Russia to "immediately pull back" deployed forces.
The White House also announced on Monday that it will not send a US delegation to the Paralympic Games in Sochi. The Paralympics are set to begin this week.
"President Obama continues to strongly support all of the US athletes who will participate in the Paralympics and wishes them great success in the Olympic competition," National Security Council spokeswoman Caitlin Hayden said.
Crimean authorities requested Moscow's assistance after the new self-proclaimed government in Kiev introduced a law abolishing the use of languages other than Ukrainian in official circumstances in the country. More than half the Crimean population is Russian and use only this language for their communication. The residents have announced they are going to hold a referendum on March 30 to determine the fate of the Ukrainian autonomous region.
On Saturday, Russia's Federation Council unanimously approved President Putin's request to send Russian military forces to Ukraine to ensure peace and order in the region "until the socio-political situation in the country is stabilized." Putin has yet to make a decision on troops.
Crimea officials have denounced the self-proclaimed government in Kiev and declared that all Ukrainian law enforcement and military deployed in the peninsula must take orders from them. The majority of troops in Crimea switched sides in favor of the local authorities. Other regions of Ukraine have seen similar unrest, as thousands of people across eastern and southern Ukraine have flooded the streets of major cities, urging local authorities to disobey Kiev's orders.
Facts you need to know about Crimea and why it is in turmoil
You can share this story on social media: