Communists warn fellow legislators against visiting USA, EU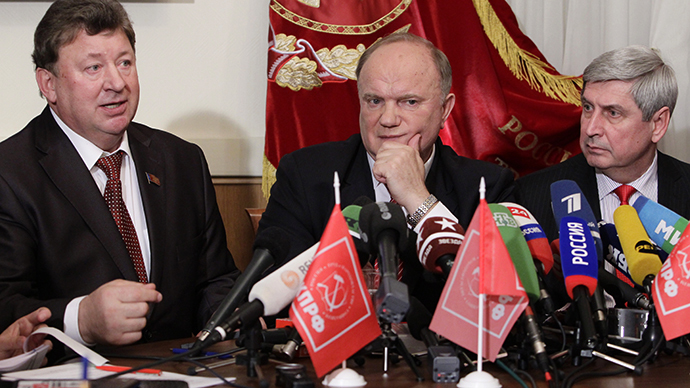 Russian MPs from the Communist Party are advising parliamentary colleagues not to visit the European Union or the USA in the near future due to fears of aggression and provocation caused by the ongoing crisis in Ukraine.
The Communists say unfriendly acts against Russian politicians would harm not only them, but also the image of the country, and thus any potential confrontation should be avoided.
The head of the party's legal service Vadim Solovyov has told Izvestia daily that the suggestion only concerns private visits and should remain in force until the situation in Ukraine is resolved. He added that any scandal involving Russian citizens could be damaging to Russia's reputation, and also for relations with those involved in the crisis and could affect a political settlement.
Yevgeniy Fyodorov, a representative of the parliamentary majority caucus United Russiahas called the Communists' step "timely and urgent" and added that legislators should remember the various threats and be extremely attentive and careful in foreign countries, especially in the United States. "I know that those of my colleagues whose careers are connected with the US State Department are not sharing this stance, but I am sure that I would be definitely targeted and I have not planned any private recreational trips to the United States for several years," the politician said. "Of course, I go there on business, but when I do, I am very cautious about my environment," he added.
Fyodorov also added that according to his information over half of Russian lawmakers had been subjected to provocation during foreign trips.
Oleg Nilov of the center-left Fair Russia party disagreed with the move saying that it was improbable that lawmakers would make private trips abroad during the parliamentary session and even if they did this could become a positive factor, demonstrating Russia's openness and refusal for self-isolation. Besides, during their travels Russian politicians could participate in open and constructive discussions, the MP said.
US officials announced on Monday that they were prepared to impose sanctions against Russian officials over their alleged involvement in the crisis in Crimea as the White House called off trade talks and suspended all military ties with Russia.
President Barak Obama said that if Russia "continued on its current trajectory" the US administration was ready for "a whole series of steps — economic, diplomatic — that will isolate Russia and will have a negative impact on Russia's economy and its standing in the world."
Russian officials have condemned the threats as one-sided and selfish. "Those who try to interpret the situation as a type of aggression and threaten sanctions and boycotts, are the same who consistently have encouraged the sides to refuse dialogue and have ultimately polarised Ukrainian society," Foreign Minister Sergey Lavrov told the UN Human Rights Council on Monday. "I call upon them to show responsibility and to set aside pure political calculations and put the interest of the Ukrainian people above all," the top Russian diplomat said.
You can share this story on social media: