​Visa, Mastercard block US-sanctioned Russian banks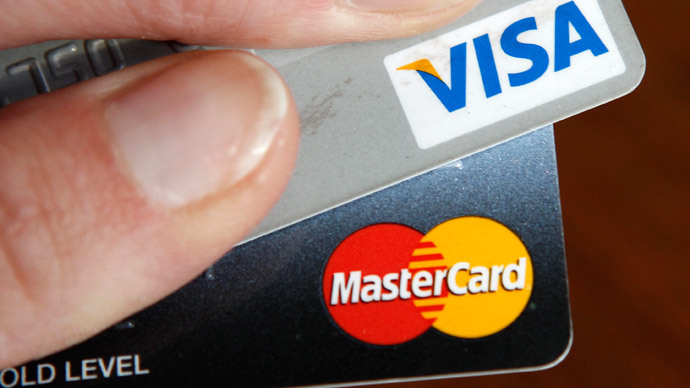 International payment system Mastercard has stopped serving clients of seven Russian lenders, after the US issued sanctions against it regarding Russia's position over the Ukrainian turmoil.
Rossiya Bank was blocked by both - Master Card and Visa, and with the latter also cutting ties with Sobinbank, SMP Bank and Investcapitalbank.
Seven Russian banks are involved in the suspension, according to Timur Batyrev, the head of the national payment system department at the Central Bank of Russia.
The blockade came without warning, Rossiya bank said.
"The management of Rossiya understands the difficulties of clients in the current situation and will do all it can to solve them," the bank said in a statement.
The bank added that its own services relating to Visa and Mastercard cards, like withdrawing cash from the bank's ATMs works fine.
Apart from the payment blockade, Rossiya is operating "in stable regime" and is fulfilling all its obligations, the bank said.
Visa and Mastercard did not immediately comment on the news.
Washington's move is meant to put pressure on people they see as members of President Vladimir Putin's "inner circle". The bank's owner, Yury Kovalchuk, is on the list as well, as an individual.
Visa and Mastercard have a record of bowing to political decisions from Washington, most notably in blocking donations to the WikiLeaks whistleblower website.
Garegin Tosunyan, the president of the Association of Russian Banks (ARB), said the action of the card payment companies was unacceptable.
"..the international payment system should correspond to the standards of the international payment system. That means it should not switch the tumblers on and off, depending on their own will, especially as it undermines their own foundations," he said.
The head of ARB said he wishes his "colleagues from the international payment systems and all those who stands behind them, would show enough wisdom to stop these actions".
You can share this story on social media: